School Rumble Volume 19 Manga Review

–> Click the link to buy School Rumble Volume 19 from Amazon.com!
Summary/Synopsis: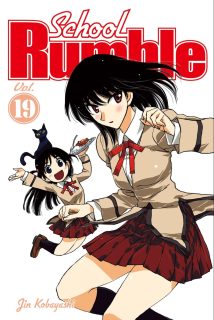 Imadori pays Karen a visit at her job and discovers her male, college coworker is hitting on her. As such, he decides to ask Lala out on a whim, and she accepts. Lala turns out to be quite nice to him. Then her dad shows up. Meanwhile, Karen gets talked into reluctantly going to a club. Imadori shows up and rescues her.
The Astrology Club members want to have a star viewing. Miki suggests getting her crush, Hanai, to help with the heavy equipment. Since club president Yuuki also likes Hanai, she agrees. Since Yakumo is part of the club, Hanai readily agrees to help. Unfortunately for Yuuki, Miki aggressively goes for Hanai. However, while the other girls sleep, Yuuki is able to talk to Hanai. He remembers their first encounter, but she's unable to confess her feelings to him.
Tenma has her friends over for a sleepover. They speak of walking their final year together. However, Tenma turns this into getting the class to do a walking marathon. Meanwhile, Yakumo visits the recuperating Harima in the hospital. He learns that Tenma's crush, Karasuma, won't be able to attend the walking event. As such, he initially wants to turn this to his advantage.
On the day of the event, Eri's butler kidnaps Harima to take him to Africa, after a misunderstanding from Itoko-sensei (Harima's cousin and teacher). When he thinks Tenma is in trouble, he gets free, only to "save" Yakumo.
At some other time, Tenma finds herself in a seal outfit and has a series of misadventures. Togo siblings Haruna and Masakazu get ready for a visit from their father, who comes disguised as a panda. Yakumo's friends prepare a surprise birthday party for her.
Thoughts/Review:
It was 2016 when I last read a volume of School Rumble. At the time, I don't believe Kodansha Comics had yet published anything digitally. Since it was clear that School Rumble Volume 19 would never get a print edition, I decided to do the unthinkable. I scored all of the remaining volumes from Kindle. 😅
Returning to a Fun World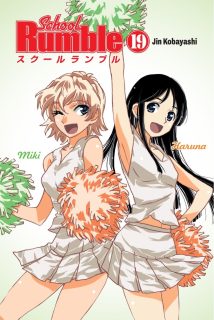 Because it had been so long since I had read School Rumble, I actually dusted off the print volumes I had on my bookshelf. Because I only read print manga in bed before going to sleep, it did take a while to get through all sixteen printed volumes. However, I remembered what it was that I loved so much about this world that Kobayashi-sensei had created. And as such, it annoys me I'll never get print copies of the remaining volumes.
That aside, for School Rumble Volume 19, we get the typical, unrequited love hijinks so prevalent in the series. I couldn't help but chuckle at Miki glomping onto Hanai. Yet at the same time, I felt bad for Yuuki, who's had a more quiet crush on Hanai. Of course Hanai crushes on Yakumo, and Yakumo has a silent crush on Harima.
Speaking of Harima, he's no closer to bridging the game with his crush, Tenma (Yakumo's older sister). And poor Eri is still uncertain about how to handle her tsundere-like crush on Harima. Another kinda sad part is Tenma's crush on Karasuma. Once again, Kobayashi-sensei brings up the plot device of Karasuma leaving for the States. We'll see how that ultimately goes. (I vaguely remember something from School Rumble Z.)
Side Stories
For the longest time, I never understood why the School Rumble manga had chapters that broke away from the main story and did their own thing. As I recall, School Rumble was published in multiple manga magazines. So the main story chapters are denoted with the sharp musical notation (♯). Side stories were given either the flat musical notation (♭) or the natural musical notation (♮).
The side stories in School Rumble Volume 19 were mostly of the silly variety. Despite its absurd nature, the side story in the Toga family did have an element of interest. And I loved the side story about Yakumo's surprise birthday party. Sure, it is a bit of a cliched trope, but it was still fun.
Final Thoughts and Conclusion
Let me wrap up my review of School Rumble Volume 19 with some final thoughts.
We had a different translator for this volume. On the whole, I detected no real problems. HOWEVER, while the new translators did follow the honorific pattern laid out years before, they did screw up with Itoko-sensei. Maybe they didn't realize that Itoko is the characters name. So when Harima rudely calls her "Itoko", he's not calling her "cousin". He's calling her by her name, sans any honorifics. That was an unfortunate overlook by the translators. Since this is a digital release, Kodansha should be able to fix it.
Kobayashi-sensei had me in tears with this gag. Yeah, sometimes my mind is that of a little boy.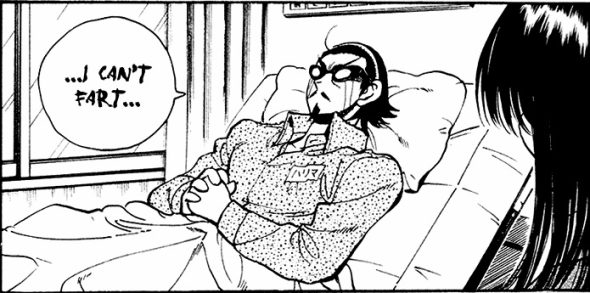 In the end, School Rumble Volume 19 was a fun and sometimes funny volume. It is a shame we will only see this in digital form.