Yashahime: Princess Half-Demon 27
半妖の夜叉姫 弐の章 03
Hanyou no Yashahime: Sengoku Otogizoushi episode 27
SPOILER Summary/Synopsis:
Within the Tree of Ages, Sesshoumaru visits his wife and notes the quest his daughters are on. Jaken recalls how many years prior, when the Red Comet came, Zero placed the silver-scale curse on Rin, which would eventually cover her body and kill her. Sesshoumaru cannot kill Zero since she placed a fate line between herself and Rin. As such, if Zero dies, Rin dies. However, Zero offers Sesshoumaru a deal–the life of his twins for his wife.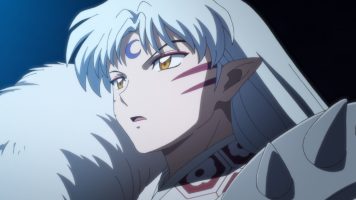 Jaken is ready to give up then info, but Rin stops him, ready to die for her daughters. This bemuses Zero, so she leaves. The curse knocks Rin out, so Jaken comes up with the plan to seal Rin in the Tree of Ages. Sesshoumaru seals Inuyasha and Kagome in the Black Pearl to keep them from killing Zero. The Dream Butterfly stops time for Rinby taking Setsuna's dreams.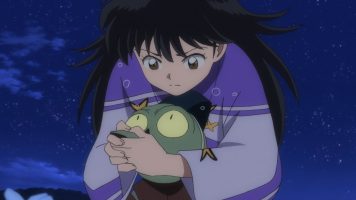 Meanwhile, Setsuna trails back and challenges three oni who'd been tailing the yashahime. One has a Green Rainbow Pearl, which Riku takes after killing the oni. After chatting with Riku, he gives Setsuna accurate information on Bokusenou. They find the old tree youkai, who's aware of the yashahime and their quest. Moroha tricks the youkai into revealing that they need to travel to Mount Musubi, where the Dream Butterfly originates.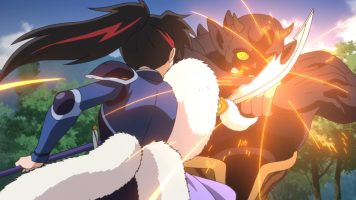 Elsewhere at Zero's mansion, Riku brings her the final three Rainbow Pearls. Zero communes with her brother via Riku. He is puzzled by this, so Zero reveals that Riku was created from the horn that Touga cut off from Kirinmaru. As such, Zero casts him out. Zero makes the horrifying discovery that Izayoi's memories are in the Red Pearl. Further, since Towa and Setsuna had Rainbow Pearls, their memories are implanted, preventing Zero from using them.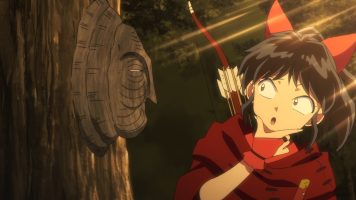 Meanwhile, the yashahime arrive at Mount Musubi.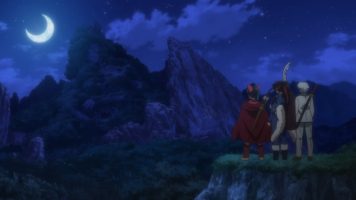 Thoughts/Review:
Well, we get some interesting and touching lore elements with Yashahime: Princess Half-Demon 27. And that made this a rather enjoyable episode.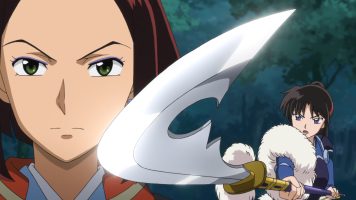 Sesshoumaru and Rin
The flashback in Yashahime: Princess Half-Demon 27 was probably the best part of an already good episode. We learned how Rin became cursed and why she had to be sealed away. But more importantly, one can see why Sesshoumaru fell in love with Rin. While she may not be a warrior like Sango or Kagome, Rin may be the bravest and strongest human of that era. She's never even held her daughters, yet she was willing to die for them.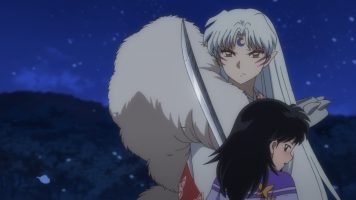 Further, she was prepared for her husband to end her life. I've no doubt that Sesshoumaru respected that strength of character from Rin. But, he doesn't want her to die, thus we get Jaken's plan to seal Rin in the Tree of Ages. And we see why the Tree of Ages told them to use the Dream Butterfly to further protect Rin.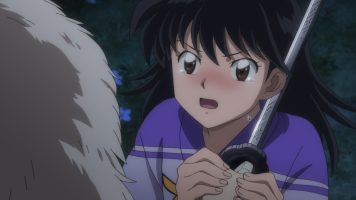 I really love how Sesshoumaru frequently visits Rin in her sealed condition. I wonder if she's aware of his presence. Not going to lie — I rather hope she is in a sense as it would be a comfort to her. Heh. Who would have thought that Sesshoumaru's love story would be as awesome as it has turned out?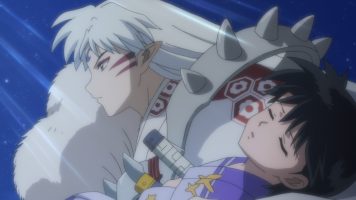 Yashahime Quest
I gotta admit, I was insanely wrong about the yashahime going after the Rainbow Pearls as a quest. It really seemed like this is what the writers were setting up. However, in Yashahime: Princess Half-Demon 27, Zero has recovered all of the Rainbow Pearls. So that ends that. And I have to say, I'm actually kinda happy. Otherwise, it would have seemed too much like the quest in Inuyasha to gather the shards of the Shikon no Tama.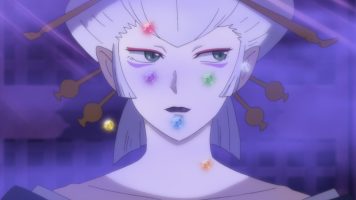 The quest for the yashahime is getting Towa a new sword. And for Setsuna, her side quest is the mastery of her upgraded naginata, Yukari no Tachikiri. Both of these were advanced somewhat in the episode. Setsuna's lack of mastery of her weapon meant she couldn't slay the three oni and thus Riku had to bail her out. So no doubt, this story will continue as it is clear, Setsuna will need to be the one to cut Rin free from Zero.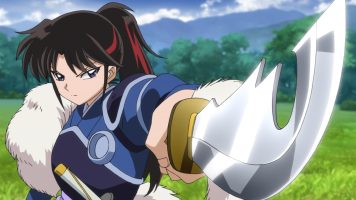 As to the quest to get Towa's sword, I enjoyed seeing Bokusenou show up. I know he was in a few Inuyasha episodes. It was fun seeing Moroha have some fun with the tree youkai in order to get the information they needed for the Kyuyokon. Now that the girls are at the base of the mountain, it seems the resident of said mountain awaits them.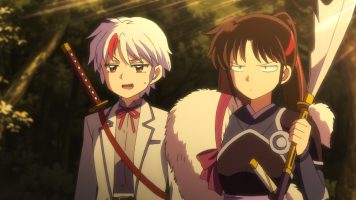 Final Thoughts and Conclusion
Work is very busy, so let me wrap up my review of Yashahime: Princess Half-Demon 27 with some final thoughts.
Towa whines instead of being a Mary Sue. This amused me for some reason.
Riku is an offshoot of Kirinmaru, eh? Kinda like Naraku and all his detachments. I should have guessed this, but oh well. The clues were there, such as Setsuna noting that Riku smelled like Kirinmaru. I just interpreted them wrong.
If Riku is a detachment of Kirinmaru, then I'm going to guess that Kirin-sensei is also a detachment of some kind.
Not sure why the Rainbow Pearls having memories of their former users is a barrier to Zero uses them. We'll see where that goes.
Interesting how Mount Musubi looks like a woman, which her arms cradling her belly, where the cave that houses the girl is. I wonder if this is a sealed goddess or something.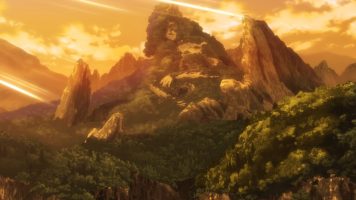 In the end, Yashahime: Princess Half-Demon 27 was a really enjoyable episode. I loved the additional backstory lore, and the other stories within as well.