Yashahime: Princess Half-Demon 28
半妖の夜叉姫 弐の章 04
Hanyou no Yashahime: Sengoku Otogizoushi episode 28
SPOILER Summary/Synopsis:
In the past, Touga defeats Kirinmaru in combat, cutting off his arm. Kirinmaru's daughter Rion witnesses this. Enraged, Kirinmaru returns to his ship with Rion, his arm, and his broken horn. He transforms the horn into Riku, who has no personality. Zero orders Riku to get rid of Kirinmaru's arm. As such, Riku takes the arm to the Bone-Eater's Well and deposit it.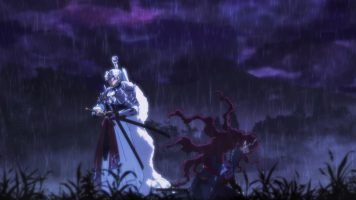 In the present, the yashahime pass through the barrier at Mount Musubi. Moroha finds a carver where an egg-shaped thing hangs suspended from the cavern roof. Rion is sleeping on top of it. Moroha discovers Rion is incorporeal. Rion wakes up and introduces herself. She recognizes Moroha has both youkai powers and miko powers. Moroha agrees to help Rion get free of this place.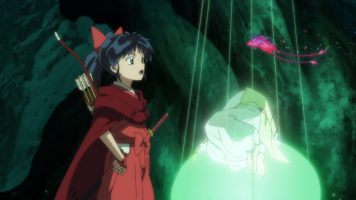 Towa finds herself in an empty, black-and-white version of the modern world. Setsuna finds herself within the subspace of the Tree of Ages, looking at her mom. Meanwhile, Rion opens a path for Moroha to go after her friends. This path can transcend both past, present, and future as well as this world and the afterlife.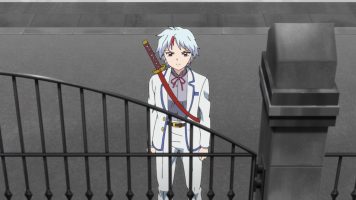 Moroha is sent down flying down the vortex. She fires an arrow and enters the realm of the Black Pearl. She sees Touga's giant skeleton as well as Inuyasha and Kagome before flying out. Meanwhile, Towa hears Kirin-sensei offer her advice as she makes her way to the Sacred Tree. Elsewhere, Setsuna gets advice from the Tree of Ages and some information on her mom, Rin. Moroha grabs Towa and arrives within the Tree of Ages.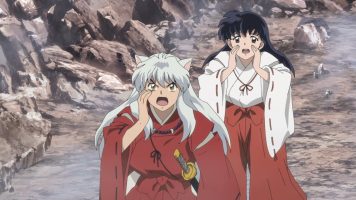 Setsuna vows to save her mother, so the barrier releases Towa and Setsuna. In the modern world, Kirin-sensei heads to the Higurashi shrine. He asks Kagome's grandfather about the Shikon no Tama, but the old man doesn't know what that is.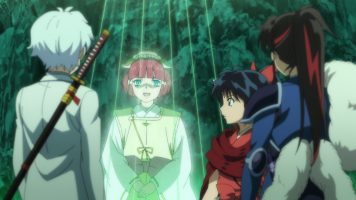 Thoughts/Review:
A lot went on in Yashahime: Princess Half-Demon 28. We got some more backstory lore complete with more explanations. And the yashahime quest moves forward with an unexpected cameo.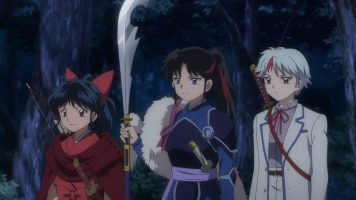 Kirinmaru Backstory
I've mentioned this before, but I rather enjoy getting episodes where we learn more about characters. As such, Yashahime: Princess Half-Demon 28 decided to do some exploration of Kirinmaru's past. In the process, we get to see Touga again as the two fight. I don't know where in their history this flashback took place. We've seen flashbacks where Touga is working with Kirinmaru. So I guess that information is still to come.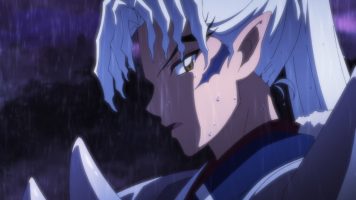 Next, we learn that Kirinmaru has a daughter. No clue whom the mother is. And to explain her absence, she's been sealed in Mount Musubi for however long. I can't help but think she may be another antagonist for the yashahime despite offering them the Kyuyukon root.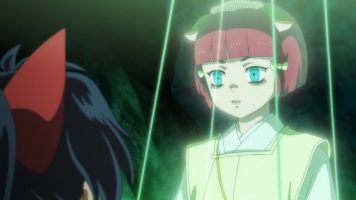 Riku's creation is explained. Now we know Kirinmaru created Riku from his cut off horn. I like how Riku's personality at the beginning is pretty much a blank slate, unlike today. But, I suppose a couple hundred years or more of life will cause you to learn a thing or two.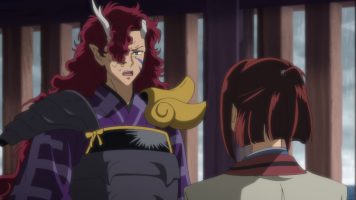 Finally, we get confirmation that Kirin-sensei is another detachment of Kirinmaru. Further, Kirin-sensei got to the present time after Riku cast the arm into the Bone-Eaters Well. The question is, why couldn't he get back during the events of Inuyasha? We'll see what happens there.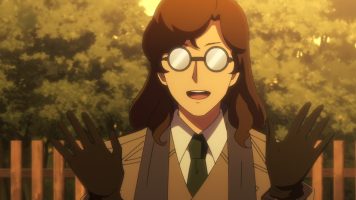 Final Thoughts and Conclusion
I know I'm starting to sound like a broken record, but work is stupid busy of late. So let me wrap up my review of Yashahime: Princess Half-Demon 28 with some final thoughts.
I really liked that Moroha got to see Inuyasha and Kagome, even if for a moment. Further, Inuyasha and Kagome got to see Moroha. I do have questions on how they've survived within the Black Pearl, where Inuyasha's father's body resides. That aside, with Towa and Setsuna getting more parental stuff, it was nice seeing a bone tossed to Moroha.
Speaking of Setsuna and Towa, they both have separate sub-quests. Clearly, both twins want their mother freed. However, only Setsuna can do this. For Towa, her quest seems to be tied to the present day.
It would seem that the history of the present time is changing. Kagome's grandfather had no clue what the Shikon no Tama was when Kirin-sensei talked to him. I'm going to guess that this is what Towa will have to fix with her new weapon, when she gets it.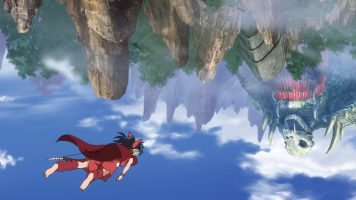 In the end, Yashahime: Princess Half-Demon 28 was a rather enjoyable episode. I like that we get interesting backstories and intriguing mysteries here.