Lupin the Third Part 6 – 05
Lupin III Part 6 05
ルパン三世 PART6
SPOILER Summary/Synopsis:
Lupin is "dropped" into 1930s Japan, where he's known as Gold Mask, due to the mask he's wearing. Zenigata shows up, going by the name of Inspector Namikoshi. Lupin manages to escape, but as he attempts to gather himself, a version of Fujiko (Kuro Tokage–Black Lizard) arrives on an autogyro to take him to safety. Detective AKECHI Kogoro pays Namikoshi a visit to discuss the situation.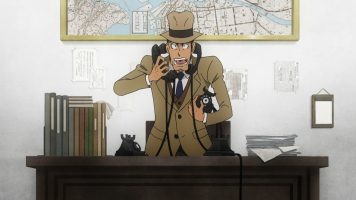 Meanwhile, Lupin is imprisoned. Kuro  communicates with Lupin to get his help, but to no success. Military Colonel Daidoji and his major adjutant (Jigen) pay Black Lizard a visit as they hired her to get a treasure. Lupin cons them to escape his cell. Col. Daidoji is not amused. Lupin decides to seek out Ruriko-san, the young woman bringing home said treasure for her family. Through a news reel, he learns the treasure is unique clock unearthed in China.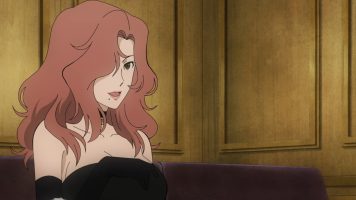 Lupin gets himself attached to the staff taking the treasure clock to Tokyo by train. While on the train, Ruriko-san explains the history of the automaton clock to Namikoshi and why her family wants it. However, she thinks Namikoshi is Lupin in disguise. Her bodyguard and clock keeper, Sarantuya, exposes Lupin. However, Col. Daidoji stops the train to take the treasure for the military. Lupin quietly escapes as Detective Kogoro enters with a cable, indicating this train was a decoy. Daidoji is not happy, but his troops leave. Kogoro reveals the cable was faked.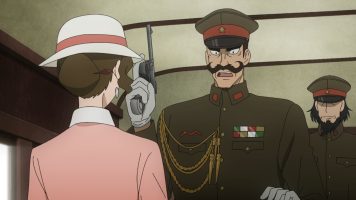 That night, Ruriko and Sarantuya recount how they met and Ruriko's plans. The next day, the clock goes on display at the Shigetomi Department Store. When night comes, Col. Daidoji observes Sarantuya in the closed store. Ruriko goes to find her, but runs into Lupin. However, Goemon arrives to attack Lupin.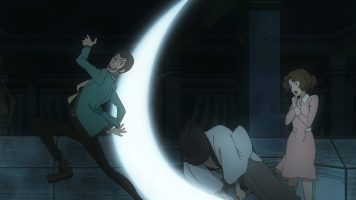 Thoughts/Review:
I guess because it is the 50th anniversary of the Lupin III franchise, TMS is allowing all sorts of things to happen. As such, for Lupin the Third Part 6 – 05, classic Japanese author Edogawa Ranpo-sensei (1894-1965) gets a nod.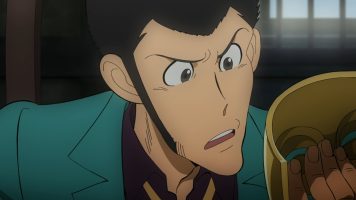 Lupin in the Past
I don't know what the device was that sent Lupin to the past. (Goemon was briefly there as well.) However, since TMS wanted to give a nod to Ranpo-sensei's mystery novels, it makes sense that they'd use the past as a setting. After all, Ranpo's "Gold Mask" character is his version of Maurice Leblanc's Arsène Lupin. His Detective AKECHI Kogoro is based off of Sir Arthur Conan Doyle's Sherlock Holmes. So it does sorta fit the Lupin III vs Sherlock Holmes motif this series has established.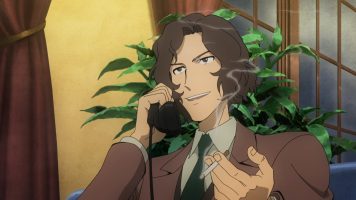 Beyond that, it was interesting seeing Jigen, Zenigata, and Fujiko in similar but different roles in Lupin the Third Part 6 – 05. I do like the pre-World War II setting. I thought TMS might be playing coy on the war in China, but this story appears to be from ~1934/35. The second Sino-Japanese War didn't start until 1937. But there were some military actions as early as 1931. That's likely what the characters refer to.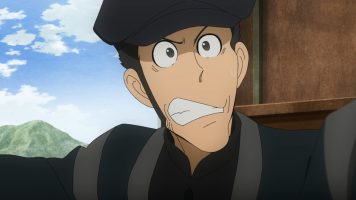 As to the remainder of the story, it was fine for what it was. We'll see where things go in the next episode. But I did wonder about the character of Sarantuya. She seems almost like a clone of Karin from UQ Holder.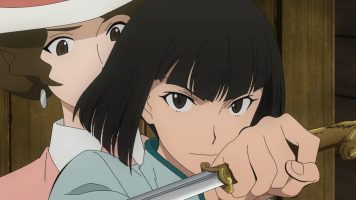 Final Thoughts and Conclusion
In the end, Lupin the Third Part 6 – 05 sends Lupin III to mid-1930s Japan, allowing him to play in a new era. At the same time, TMS does a nod to classic Japanese novelist, Edogawa Ranpo. In that light, the episode was fine.