Lupin the Third Part 6 – 08
Lupin III Part 6 08
ルパン三世 PART6
SPOILER Summary/Synopsis:
In London, Jigen gets into a gun battle with Brad Roark, who's a "rival" of sorts with Jigen. Jigen wins despite his Smith & Wesson Model 19 being damaged so that he can't use .357 Magnum bullets.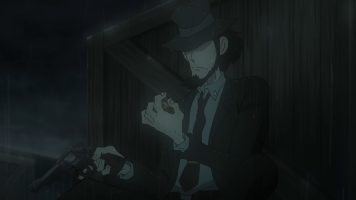 At Lily's school, a boy named Kenny has growing feelings for Lily. At a school field trip to an art gallery, a man in drag attempts to kidnap her. Kenny prevents the man from getting away, allowing Lupin to send the man running. Lupin makes Kenny promise not to tell Lily about him. Meanwhile, Holmes arranges for Scotland Yard to get Lily home from school. However, the officers are intercepted by enemy agents.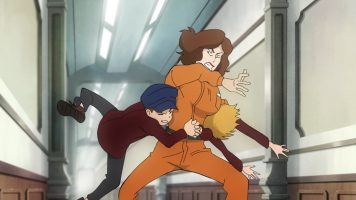 The enemy agents pose as Scotland Yard officers and take Lily. Brad is contacted to meet the agents and possibly kill Lily due to the client's fear of her memories restoring. However, at the country road meeting spot, Jigen uses a sniper rifle to kill the two agents. He forces Brad to flee. After grabbing Lily, they run into a police barricade, which is actually enemy agents. Jigen has to overcome the fact that his revolver is not as powerful as it once was.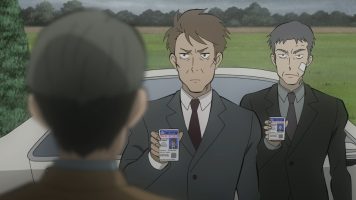 Brad gets back into the fray. Jigen cannot shake him, so he causes Brad to rear end Jigen's car and crash. Brad emerges to kill Lily, but Jigen has Lily pull off a mask to reveal Kenny. Jigen and Brad get into a gun battle. Jigen uses a .357 round which causes his revolver to break. The barrel flies into Brad's chest, killing him.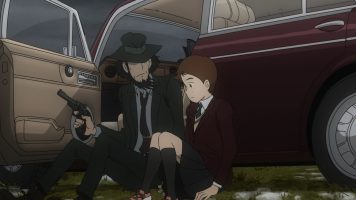 Lily gets home safely. Later, Jigen has a gunsmith make custom parts to repair his weapon. Afterward, Lupin and Jigen take off and chat.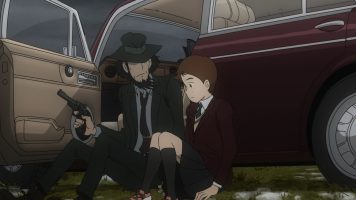 Thoughts/Review:
Jigen and his Smith & Wesson Model 19 gets a nice episode in Lupin the Third Part 6 – 08.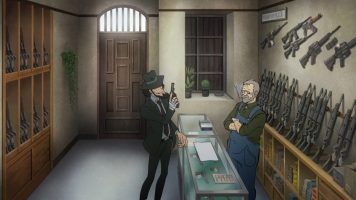 Jigen and the School Boy
Initially, I wasn't sure I was going to be interested in Lupin the Third Part 6 – 08. However, as it became clear that this would be a Jigen episode, I became more interested in things. Further to that, Jigen's Smith & Wesson Model 19 became a character of sorts. Other Lupin outings have made attempts to make Jigen's revolver a character, but none worked the way it worked in this episode.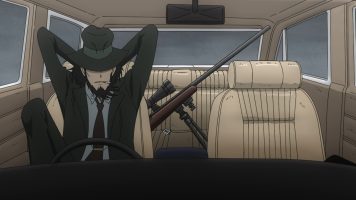 I think the biggest reason Jigen's weapon became a character was because it was damaged. Long time fans of the Lupin franchise know how the Smith & Wesson Model 19 is Jigen's trademark weapon. So to see it damaged and unable to safely fire .357 Magnum rounds had an impact on me. Further, the fact that the gunsmith was unable to get parts to repair the weapon added to that impact.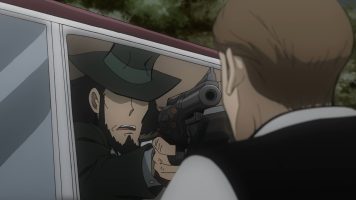 Jigen then became temporary partners with Kenny, who's a school boy in love with Lily. I loved that they had Kenny in a mask to pretend to be Lily in order to be a decoy. This was an unexpected moment for me. That aside, I really liked Kenny's character. He not only had a crush on Lily, but he was willing to put his life on the line for her multiple times.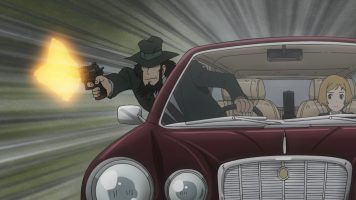 Finally, I kinda hope Jigen and Kenny meet up again. I got the feeling that Kenny might have decided to follow Jigen's way of life, so what better mentor to have than Jigen?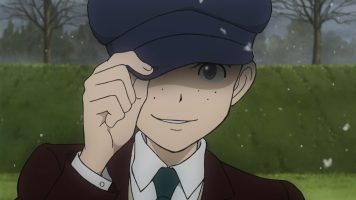 Final Thoughts and Conclusion
Broken record time — work is insanely busy, so I need to wrap this review of Lupin the Third Part 6 – 08 up.
Again, Goemon and Fujiko were MIA in this episode. However, I didn't even miss them and only thought about it afterward. Still, I hope those two will get some good episodes.
I mentioned this on Twitter, but I really wish TMS would have put a bit more effort into getting things right. Lily's London school is basically a generic Tokyo school, only with different furniture. And all of the kids and teachers are Japanese, not British.
Finally, someone mentioned to me that they thought Inspector Lestrade might be the Raven person Lily saw. After this most recent episode, I'm kinda thinking that theory has validity. It would explain Lestrade's interest in Lily, but also his being unavailable to get her home safely.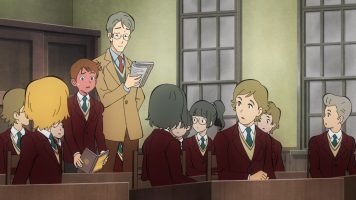 In the end, Lupin the Third Part 6 – 08 was a really enjoyable Jigen episode. But it also had a nice side of new kid with a crush on Lily, Kenny.