My Senpai is Annoying 09
Senpai ga Uzai Kōhai no Hanashi 09
先輩がうざい後輩の話 Episode 09
SPOILER Summary/Synopsis:
Kazama, Takeda, Yuuto, Sakurai, Futaba, and Natsumi arrive at the beach for some fun. After the girls change into their swimsuits, Natsumi and Sakurai play volleyball against Kazama and Yuuto. Takeda takes Futaba out into the water on an inflatable. Natsumi joins them, so Takeda gives Futaba some swimming lessons. After the normal watermelon smash and some rock/shell pickup, the group leave the beach.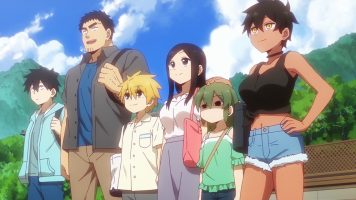 The group head to Shiraito Ryokan to spend the night. After having a large meal together, they head out to light some fireworks. Yuuto opens up a bit to Natsumi. On the way back to the inn, Futaba freaks out because of the darkness. After playing some games, the guys and girls split up. Natsumi starts prodding Futaba about Takeda. When Sakurai rats her out, Futaba turns tables on Sakurai regarding Kazama.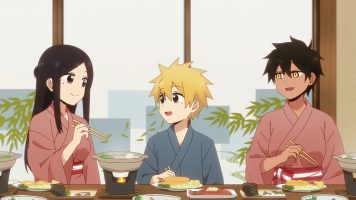 The next morning Futaba and Kazama overhear Sakurai and Takeda discussing them. The group returns to the beach for more fun. Sakurai and Kazama take off for some cold beverages and deserts. After completing the day, the group takes the train home. The next day, Futaba shows up embarrassed at being tanned.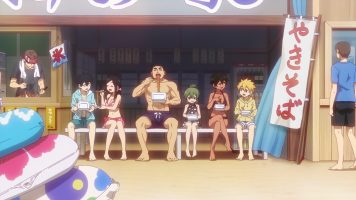 Thoughts/Review:
While I don't remember everything in the manga, I do get a bit bummed when changes are made. And there were some changes made in My Senpai is Annoying 09.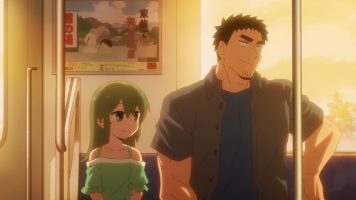 Traditional Beach Episode
I need to read the volumes of the manga from Seven Seas, but I do remember some elements depicted in My Senpai is Annoying 09. For example, Natsumi, Sakurai, Takeda, Kazama, and Futaba did go to the beach together, but there was no ryokan stay. Yuuto did not go with them. Further to that, prior to going to the beach, Natsumi, Sakurai, and Futaba went shopping for swimsuits. And that was where Natsumi and Sakurai first met.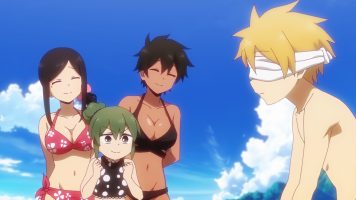 As I stated, the nature of the source manga is such that the anime writers have to do a lot of changes, mostly in padding things out. That was evident as we got a 2-day beach episode instead of the normal single day. So it did feel a bit draggy at times, but that's fine. For the most part, all of the added material wasn't a problem.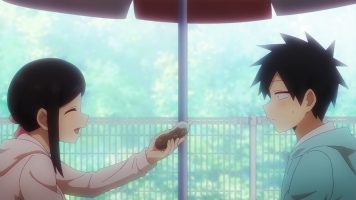 My one issue is Futaba's tan. Yes, that is in the manga, BUT it is from Futaba going to her grandfather's place and falling asleep in the sun. It didn't make sense to me for Futaba to not have a tan after TWO days in the sun, but suddenly have a deep tan the third day.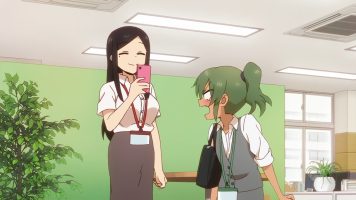 Natsumi x Yuuto
My other issue with My Senpai is Annoying 09 (and the series in general) is how they are really playing down Yuuto's mad crush on Natsumi, and her subsequent teasing him. Yes, Natsumi teased Yuuto here, but it was less of a "I know this high school shouta is crushing on me, so I'm going to tease him a bit." And Yuuto suddenly has a girl his own age that he apparently likes and seeks advice from Natsumi about.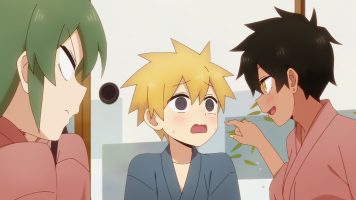 That fell flat to me as someone who's read the parts of the manga published on Twitter. To be fair, the anime adaptation is drawing heavily from the longer, extra chapters from the tankoubons. And I've not read most of those, so maybe Yuuto does have a moment he confides in Natsumi like that. But I kinda doubt it.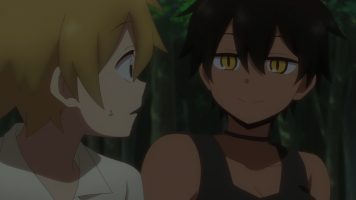 I get that even though Yuuto is in high school, and he's not an actual "shouta", he was created to fit that trope. And I get that in reality, Natsumi getting involved with Yuuto, even if no sex is involved, would probably still be "not cool" from various perspectives. However, I felt that in the manga, Manta-sensei accurately captured the feeling a nice guy, teen male has for an adult girl he's attracted to.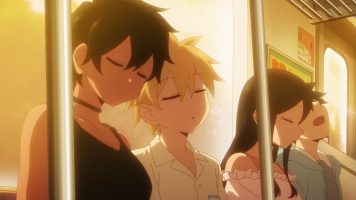 That aside, the anime version of this pairing is making them more of a "Yuuto has another oneesan, only this one he's not related to." I'm kinda bummed about that.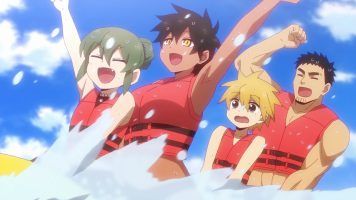 Final Thoughts and Conclusion
In the end, My Senpai is Annoying 09 does the traditional beach episode, only it drags it out slightly longer since they end up being at the beach for two days. The episode is pretty good if you've never read the manga. But for me, a tad disappointing on the Yuuto x Natsumi front.