My Senpai is Annoying 10
Senpai ga Uzai Kōhai no Hanashi 10
先輩がうざい後輩の話 Episode 10
SPOILER Summary/Synopsis:
Sakurai discovers she's gained weight, so she decides to go running with her brother, Yuuto. However, this makes her very sore. Kazama notices her pain, though she denies it. Mona notices Sakurai's weight gain and grabs her waist as a result.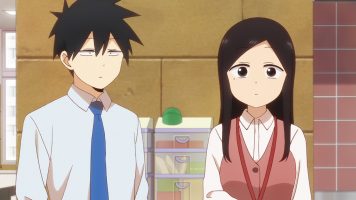 Takeda enters Itomaki Ramen, where the owner has a new nikuman (steamed pork bun) eating contest. Mona enters to challenge Takeda, but immediately gives up. Elsewhere, Kazama finds Yuuto practicing basketball in a park. Since Kazama had been a good player, he helps Yuuto. Later at work, Sakurai thanks Kazama for helping her brother and offers to make onigiri for their next practice.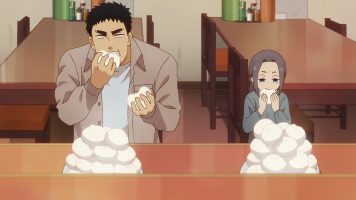 That night, Sakurai and Yuuto make onigiri. The next day, Sakurai is happily enjoying time with Yuuto and Kazama. However, when Natsumi, Takeda, and Futaba show up due to Kazama's invite, she's not so happy. That evening, Natsumi realizes Sakurai's unhappiness, so she takes the others away to allow Sakurai to have alone time with Kazama.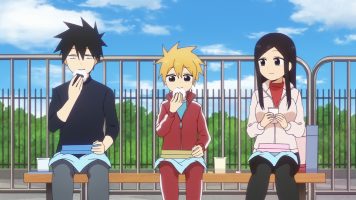 Natsumi, Yuuto, Takeda, and Futaba head to a bathhouse with an outdoor onsen. Sakurai and Kazama have some vending machine hotdogs outside at a vending machine station.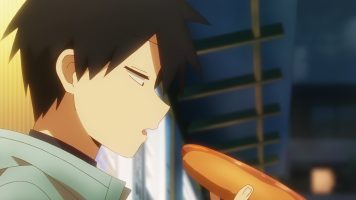 Thoughts/Review:
I think it is pretty clear from My Senpai is Annoying 10 that relationships are not going to progress beyond what they are now. However, the episode is fun for what it is.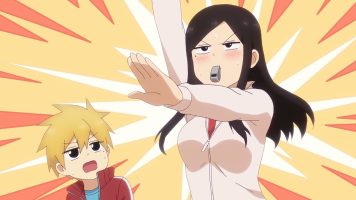 Sakurai x Kazama
As is usual, some of the story in My Senpai is Annoying 10 is from the manga, with a lot added to fill in the gaps or make things bridge together. So the Kazama x Sakurai stories are mostly from the manga. The basketball part of the episode is HEAVILY padded from what it was in the manga. I don't remember the vending machine moment, but then my memory isn't what it was.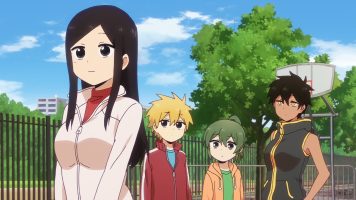 That aside, as I watched this episode, I actually found myself being a little bummed. Why? Because even without the manga knowledge, it is pretty clear that where Sakurai's and Kazama's relationship is now is all it will ever be.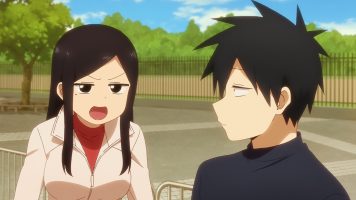 In reality, the two should be officially dating. I mean, they only go out together all the time. Years ago when there was a girl whom I was constantly going out to lunch and doing things with, I asked her out as a prospective boyfriend. I got shot down with the, "You're such a great friend, I don't want to lose that by becoming boyfriend/girlfriend." (Whatever that rubbish means.)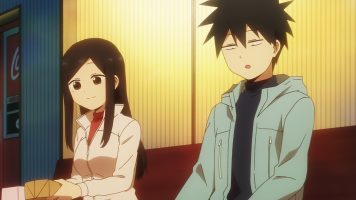 That said, I want Kazama and Sakurai to become an official couple. But even though there's no real reason this couldn't be done, it won't be done.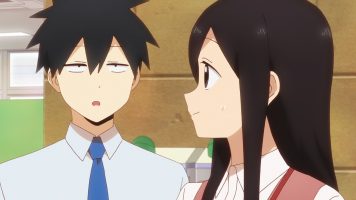 Final Thoughts and Conclusion
I'm stupid busy (as usual), so let me wrap up with some final thoughts.
Although some of the Natsumi x Yuuto stuff was from the manga, the anime still feels like it is playing down the relationship. However, the anime did bring in Yuuto's nose bleed for Natsumi.
The onsen bathhouse stuff was from the manga. Despite this, I still laughed when Yuuto got to see the buff, naked Takedo's junk in the onsen. It was funnier in the anime than the manga.
There was a lot of eating in this episode. No wonder I'm so hungry!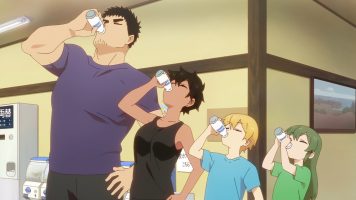 In the end, My Senpai is Annoying 10 was fine and enjoyable for what it was. But, since I know relationships won't advance beyond where they are now (will they or won't they become a couple), that provides a major drag on my enjoyment of the series.