Tonikaku Cawaii Chapter 160
Tonikaku Kawaii Fly Me to the Moon 160
トニカクカワイイ 160
Spoiler Summary/Synopsis:
At the bathhouse, Kaname advises Nasa to show Tsukasa she can count on him. A woman in a kimono enters the bathhouse, inquiring if this is the Yuzaki residence. Nasa announces himself, so the woman happily checks him out. Tsukasa shows up and informs Nasa that this is Shiori, Tokiko's daughter.
At Nasa and Tsukasa's home, Shiori formally introduces herself to Nasa, who returns the favor. He recognizes her name from the marriage form. Shiori mentions hearing about Nasa from her mother and her daughter, Chisame. She and Tsukasa chat. Tsukasa doesn't like it when Shiori refers to herself and Tsukasa as dumb.
Shiori states that things stressful since she's had to liquidate Tokiko's assets. She gives Tsukasa a key to Kyomaru Mansion, the place Tsukasa lived at when she's in Japan. Shiori wants Tsukasa to check the place out to see what things she might want to keep. Tsukasa doesn't think there's anything there that she wants. However, Shiori notes her mother's advice and so encourages Tsukasa to return to the home and make sure.
After Shiori leaves, Nasa expresses a desire to see the place so that he can see another side of his wife. Tsukasa tries to dissuade him by mentioning that they can't get there without a car. As such, Nasa decides to get a driver's license.
Thoughts/Review:
And so we are finally introduced to Shiori, daughter of Tokiko and mother of Chisame in Tonikaku Cawaii Chapter 160.

Shiori
If you've only read Viz's hideous Fly Me to the Moon adaptation, the name "Shiori" is going to be new to you. However, her name was on the marriage form in chapter 3 of the manga. Unfortunately, the adapter apparently decided that "Shiori" should be replaced with "Chisame" 'cause "reasons". (This kind of utter dung adaptation is why I don't support the Viz releases! And to make matters worse, Viz has never corrected this, even when the marriage form is displayed again.)
That aside, it was interesting meeting Shiori in Tonikaku Cawaii Chapter 160. On one hand, she doesn't have Tokiko's snarky personality. She does seem to be a bit of an airhead, which she acknowledges. And she doesn't resent Nasa the way her daughter, Chisame, does. But, she does where a kimono like her mother, so I suppose she's more of a traditionalist.
That aside, Hata-sensei mostly used Shiori to start a new story thread. I'm pretty sure I've seen other images out of Japan featuring Shiori, so she'll be back. I look forward to that.
Kyomaru Mansion
We've seen Kyomaru Mansion several times before. However, Tonikaku Cawaii Chapter 160 is the first time the place has actually been named. And believe it or not, it is an actual place in a remote part of Japan. (Real image courtesy of @naminoriakira.)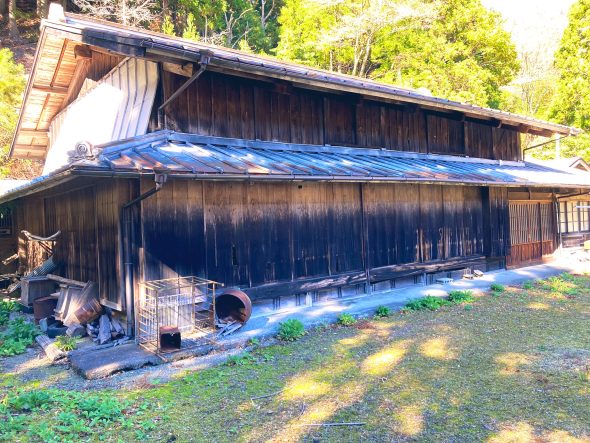 The place is shuttered up, but there are images out there showing some of the wood shutters pulled back. Regardless, it is massively cool that Hata-sensei found this place and incorporated it into his story. And based on how Hata-sensei has been of late, I fully expect we'll see Nasa and Tsukasa head up there. But for now, we are no doubt going to get chapters on Nasa getting a driver's license.
Final Thoughts and Conclusion
Hmmm…I didn't say much about the contents of the actual chapter itself. However, since I've got to get to bed, I'll just say that Tonikaku Cawaii Chapter 160 is an interesting chapter. We are introduced to Shiori, and we have a new quest.