Tonikaku Cawaii Chapter 163
Tonikaku Kawaii Fly Me to the Moon 163
トニカクカワイイ 163
Spoiler Summary/Synopsis:
Nasa sits in the bath of the bathhouse, contemplating his wife giving him the okay to look at her in a lewd fashion. He then thinks about the state of their relationship. After three months of marriage, he realizes that things feel like a newly dating couple. On one hand, he feels like he should take things slow in advancing their relationship. On the other, things do need to progress on the intimacy front.
When he returns home, Nasa realizes that their cat, Toast, is a major obstacle to becoming more intimate with Tsukasa. Whenever they attempt intimacy, Toast is either staring at them, trying to climb on them, or otherwise interrupting them. Thus it is impossible to do anything. As such, Nasa starts pondering the back seat of a car.
Meanwhile, Tsukasa is still in the bathhouse, embarrassed at what she told her husband. She feels that since Nasa is rational and intelligent, it will be OK. However, Nasa has stacked their futons up to the height of a back seat of a car or even a couch. He then uses a pillow to simulate Tsukasa, but she comes in and catches him.
Toast attacks Nasa after Tsukasa confronts her husband.
Thoughts/Review:
We get a humorous chapter about marital intimacy in a small home while owning a cat in Tonikaku Cawaii Chapter 163.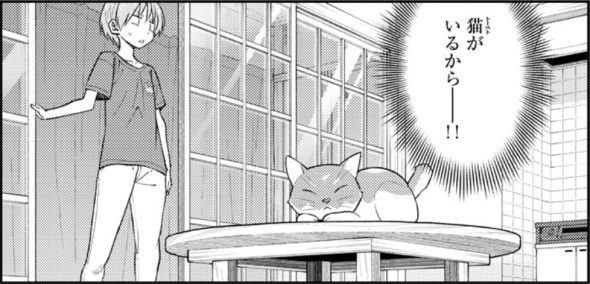 Heading for Home Plate!
Since Tonikaku Cawaii is a shounen manga series, there's only so far Hata-sensei is allowed to go. And frankly, I don't need to see super-ecchi/hentai stuff in this series. Implied stuff is perfectly fine. Chapters like Tonikaku Cawaii Chapter 163 suggest that Tsukasa and Nasa still have not consummated their relationship. Some of the omake chapters in the tankoubon releases suggest otherwise.
Obviously, Hata-sensei is going for the cheap humor aspect in this chapter, but it works for what it is. Nasa has discovered the concept of another use for the back seat of a car. This is what Kaname had been suggesting to Tsukasa. That said, this provides another reason for Nasa to go ahead and buy a car, one with plenty of room in the back. 😅
Nasa also pondered getting a couch. Not sure their tiny residence has the space for one, but even if they did get one, Toast would still be a problem. (Kaname as well.) Cats like to be annoying when one wants to do something fun. So I think in order to get away from the cat and Kaname, the car will be the thing.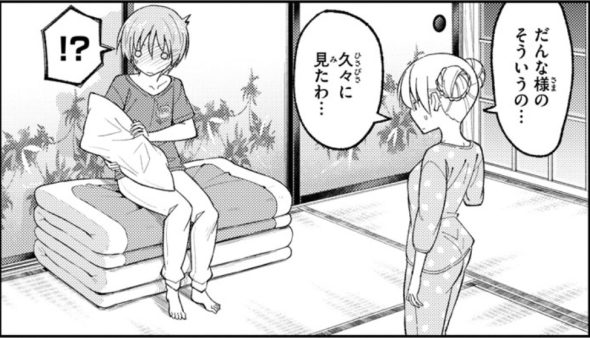 Plus, the car will get them to Tsukasa's old place.
Final Thoughts and Conclusion
In the end, Tonikaku Cawaii Chapter 163 is a fun little chapter, going back to the issue of finding a place for a young couple to be intimate in, especially when they own a cat.