Lupin the Third Part 6 – 13
Lupin III Part 6 Episode 13
ルパン三世 PART6
SPOILER Summary/Synopsis:
At their New York City hideout, Jigen makes Japanese Spaghetti Neapolitan with a fried egg on top for himself and the bored Lupin. Fujiko enters and shows Lupin info on an upcoming gem auction. Since the gems are from all over, Lupin is interested. However, a red gemstone catches his eye. He recognizes it as a gem that was stolen from his grandfather's collection of stolen artifacts. Lupin says the thief was a woman and decides to reclaim a family treasure.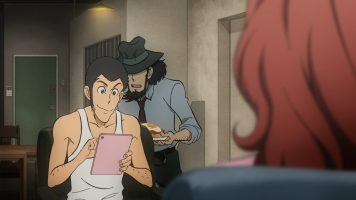 Zenigata and Yata arrive after Lupin sends his traditional greeting to the place holding the auction. Lupin disguises himself as a retired man and learns how security is being tightened. He notices flower arrangements in the gallery, so he finds the florist who makes them. Still in his old man guise, Lupin strikes up a friendship with the shop owner, Mattea. He begins buying flower arrangements daily from her under the guise of giving them to his wife.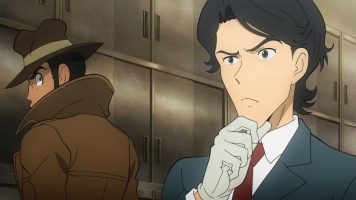 In reality, Lupin is sending an army of flying insect drones into the gallery via Mattea's flowers. Meanwhile, Fujiko manages to score some NYPD uniforms and Goemon is summoned to assist. On the night of the auction, Fujiko temporarily kills the power. Lupin's drones create the illusion that all of the gems are missing. However, a gang of red-headed women blow up the wall and knock out all of Lupin's drones. They steal all of the gems and flee.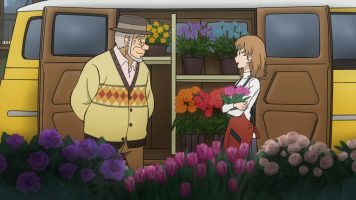 Lupin gives chase, killing several of the women who appear identical. However, when one woman fires a rocket-propelled grenade at him, Lupin is forced to give up the red gemstone in order to save Mattea. One of the women shows up with the gem and expresses her disappointment. She name-drops Tomoe, whom Lupin tells Jigen was his mother.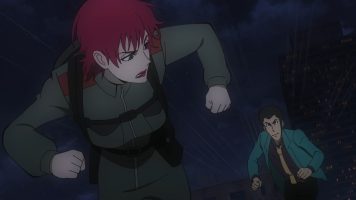 Thoughts/Review:
I know some folks are jazzed by the start of this new arc. However, Lupin the Third Part 6 – 13 fell into the "its okay" category for me.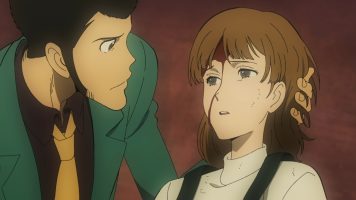 Red-Headed League?
I'm told that this second half of Lupin III Part 6 has nothing to do with the first half. Other than the cameo newspaper mention of Sherlock Holmes, that should be it. And yet the fact that these identical looking women all had red hair made me think of the "Red-Headed League" Sherlock Homes short story. But that may just be a coincidence.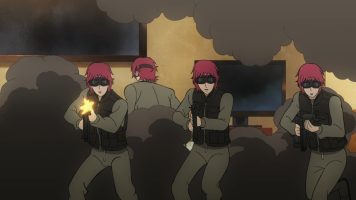 The red-headed women in Lupin the Third Part 6 – 13 seem to be clones though. And the fact that the series is casually killing them would seem to further indicate this. After all, if a clone dies, there are others around.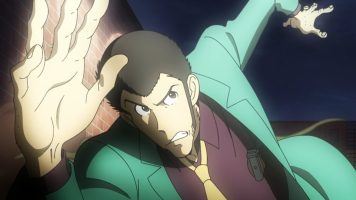 Girls, Girls, Girls
There are a bevy of women that Lupin will apparently deal with. They all get cameos at a minimum in Lupin the Third Part 6 – 13. And some apparently conveniently get to see Lupin chase the Red-Headed League of Clone Women.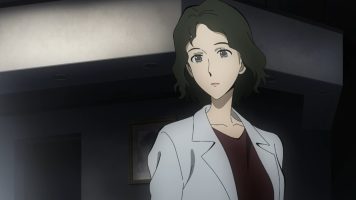 Mattea is the only girl we get to know at any level. And that was just because Lupin was using her without her knowledge, but paying her off via flower purchase. The others…well, at this point, I don't care. But maybe I'm a bit bitter.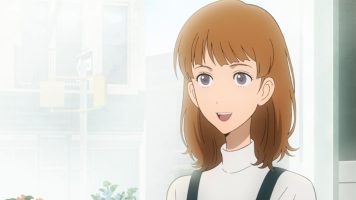 I wouldn't mind the series further exploring Lupin x Fujiko. And I'd love to see Rebecca return. Heck, even some of the other babes from previous Lupin series, OVAs, or movies would be nice. But I doubt any of that is going to happen, beyond the usual Lupin pursuing Fujiko hijinks, which were pretty tame in this episode.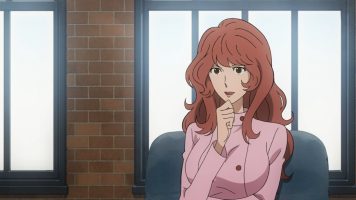 The only woman of interest was Tomoe, who's supposed to be Lupin's mother.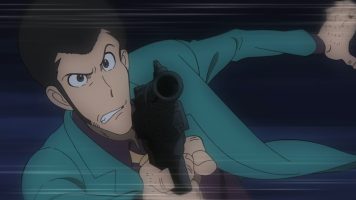 Final Thoughts and Conclusion
In the end, Lupin the Third Part 6 – 13 wasn't an episode that did much for me. I am mildly interested in learning about Lupin's mother, assuming that even turns out to be legit.