Yashahime: Princess Half-Demon 38
半妖の夜叉姫 弐の章 14
Hanyou no Yashahime: Sengoku Otogizoushi episode 38

SPOILER Summary/Synopsis:
Setsuna and Towa have some final words with Riku and Rion. The two yashahime then leave to see their mother. Towa worries she might not see Riku again. Rion takes Zero's staff and tells Riku she's going to kill her father. Riku knows this means his death, but he is thankful for learning about love through Towa. And he is there to help Rion in her quest.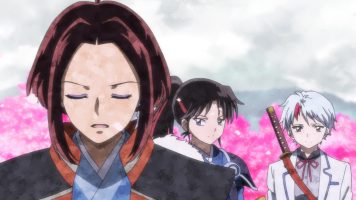 Meanwhile, at the Tree of Ages, Kirinmaru confronts Moroha, demanding he bring him the spirit Akuru. Moroha refuses to help and transforms herself to Beniyasha. She immediately attacks Kirinmaru, who only takes defensive actions. However, Sesshoumaru notices the battle within the Tree of Ages. He tells Rin to say inside the tree and for Jaken to protect her.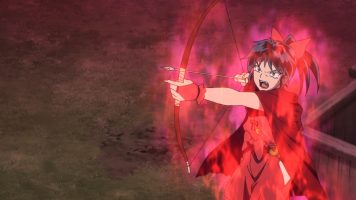 Sesshoumaru emerges as Kirinmaru knocks Moroha to the ground. Setsuna and Towa come to her aid. At this, Sesshoumaru goads Kirinmaru into facing him. The two clash, but Moroha decides to join the fray as well. She's backed by Towa and Setsuna while Sesshoumaru observes. However, when Kirinmaru becomes enraged, Sesshoumaru tanks Kirinmaru's massive attack without using his sword.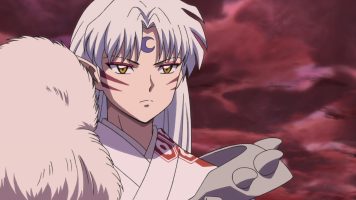 Sesshoumaru taunts Kirinmaru as Rin and Jaku emerge from the Tree of Ages. He then flings the Black Pearl at at the yashahime before crashing to earth. The Black Pearl absorbs them in, where the girls discover their grandfather's grave in the distance. Kagome and Inuyasha see they have a visitor and take off. Kagome finds the girls and has a tearful reunion with her daughter. Inuyasha shows up and is surprised to see his daughter there.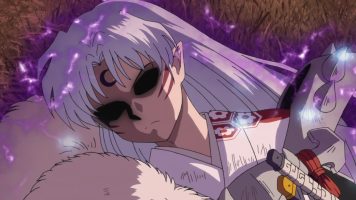 Thoughts/Review:
Frack me! After a short break, the writers of Yashahime: Princess Half-Demon 38 took me on an emotional roller coaster, and I loved every bit of it!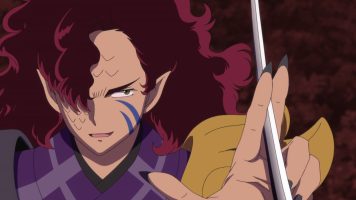 Rion and Riku
I tagged this blog post as "It's a Family Affair", the name of a song by Sly and the Family Stone. In the case of Yashahime: Princess Half-Demon 38, the episode was all about family, starting with Kirinmaru's family. The episode starts with the aftermath of Zero's death, Kirinmaru's older sister. Rion had no issues about her aunt's death. Riku, another version of Kirinmaru, born from his horn, did. But then Riku served her for a long time and called her "anesan".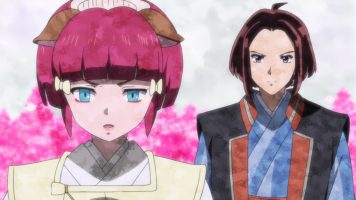 "Ane" is a term for sister, but unlike "oneesan", "anesan" isn't used by family. However, it is apparently used by the yakuza to show respect for high ranking female members. Thus in anime or manga, you may see a group of thugs with a female leader being addressed as "Anesan". And thus it is for Riku. Technically, as a genetic creation of Kirinmaru, Riku is her brother.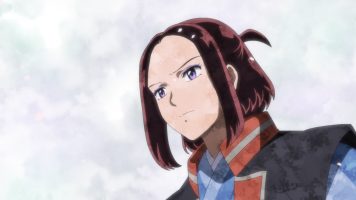 That aside, Rion is Zero's niece. I liked how she took her aunt's staff. Assuming she can use it like her aunt, Rion just got a massive power up. But more than that, Rion is even more determined to kill her father in order to save the world. She knows it will also kill Riku. That's why their chat was so lovely. Despite his love for Towa, Riku is ready to lay down his life for Rion's quest. And he considers the time he spent with Towa to be enough. Score one for the writers!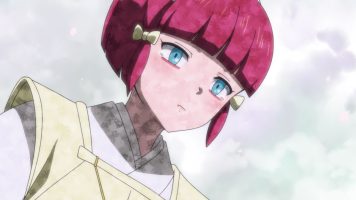 Setsuna, Towa, and Rin
I was heavily disappointed that Setsuna and Towa didn't get to meet up with their mother, Rin, in Yashahime: Princess Half-Demon 38. However, the twins retained the bonds from the previous episode, something I don't think Takahashi-sensei would have permitted. (She was all about keeping the status quo, save for power creep for the characters.) As such, I liked the moment when they came to Moroha's aid. They reminded her that they aren't just friends, they are family. It was a nice moment for Moroha. More on her in a bit.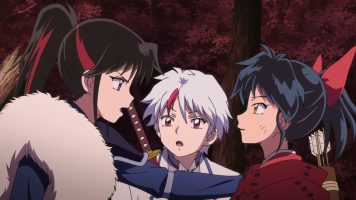 It is understandable that Setsuna and Towa aren't referring to Sesshoumaru as their father. I'm hoping that changes in the future. But for now, I loved how the twins plus Moroha jumped in to help Sesshoumaru in his fight with Kirinmaru. More on Sesshoumaru in a bit.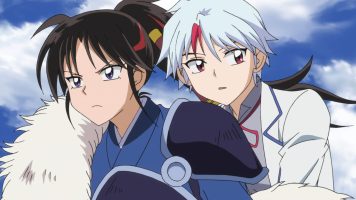 As for Rin, well, she wasn't going to obey her husband. And to be honest, even though I may have said, "NO!" when she emerged from the safety of the Tree of Ages, I actually understood why she left. She's only just been reunited with her husband in the flesh. And she's going to stand by him, come hell or high water. I think that's why Sesshoumaru loves her. For a human, she may not be a warrior, but she's a strong woman to be admired.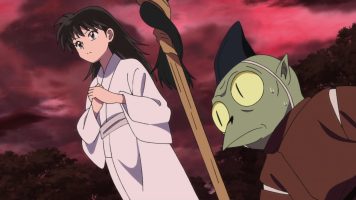 Hopefully, we get a proper family reunion between Sesshoumaru, Rin, Towa, and Setsuna.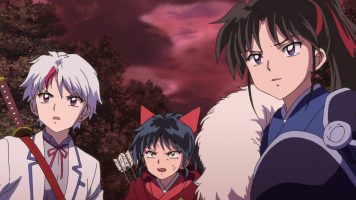 Sesshoumaru
I gotta say, I was pretty excited when Sesshoumaru became annoyed and emerged from the Tree of Ages to deal with Kirinmaru. Now that Zero is dead and the curses on Rin are lifted, the bonds that tied Sesshoumaru's hands are now gone. As such, it is time for him to get some revenge. And the way he goaded Kirinmaru into fighting him was awesome. Sadly, the fight didn't go all that long, just enough to show that he was a match for Kirinmaru.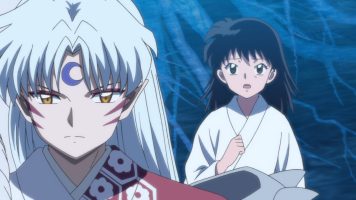 I liked the moment when he decided to observe his daughters and niece jump into the fray. I like to think that he had a moment of pride when they caused Kirinmaru pain with their more powerful attacks. But a moment was all there was. Sesshoumaru was clearly irritated by Kirinmaru's reaction. He jumped in to save his family members from Kirinmaru's massive attack.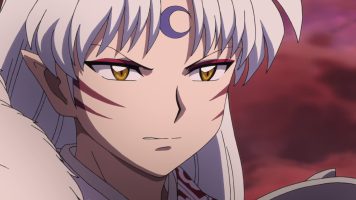 So why did Sesshoumaru tank it? Since he doesn't do anything without purpose, I suspect he was doing this for a couple of reasons. First, by absorbing the attack, there's no collateral damage. His daughters and niece are safe. Second, he's buying time for the yashahime, whom he sent into the Black Pearl, to free Inuyasha and Kagome. And at the same time, Kirinmaru isn't doing anything that might destroy the Black pearl.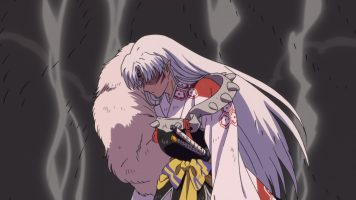 That aside, I really love how far Sesshoumaru has come in this franchise. And Yashahime: Princess Half-Demon 38 really brought that home for me.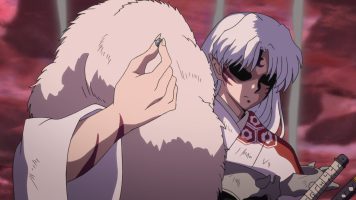 Moroha, Kagome, and Inuyasha
Riku's decision to sacrifice his life, even though it means losing Towa, was a bit emotional. However, the biggest emotional event of Yashahime: Princess Half-Demon 38 was Moroha's reunion with her mom, Kagome. So lets get things started.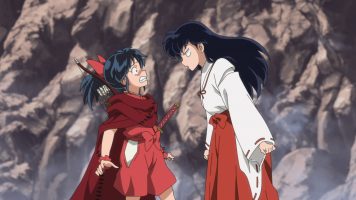 First, it seemed a bit odd for Moroha to refer to Kagome as "Ofukuro." This is a less formal term to speak of one's mother to others, or to address someone else's mom (Ofukuro-san). However, anime/manga often bend grammar rules. And in this case, I think the writers wanted to show there is some distance between Moroha and her mom. At the same time, it is a reflection of Moroha's more wild, "rude" behavior, which is like her dad.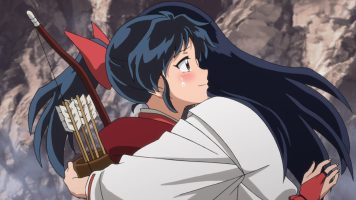 I did get a chuckle when Kagome had this look of suspicion and disbelief for a bit. But then when the hugs started, well…😭 And the Inuyasha music playing helped the moment as well. I loved it.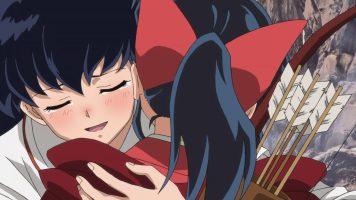 Having Inuyasha show up a moment later was a nice touch. That way, Kagome could have her moment with Moroha as mother and daughter. However, Inuyasha's initial reaction to Moroha was a bit humorous. Moroha's reaction to her father was emotional, since Kagome had already broken through any emotional barrier Moroha at attempted to raise.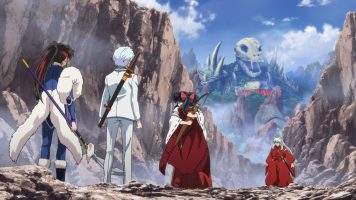 Finally, I liked how Moroha felt bad for causing Sesshoumaru to be injured the way he was. After all, if she hadn't jumped in to attack Kirinmaru while he fought Sesshoumaru, things wouldn't have gone the way they did. We didn't get to see the twins response.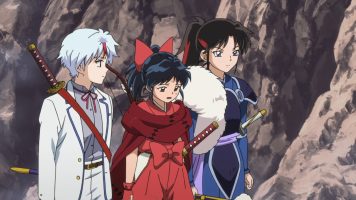 Final Thoughts and Conclusion
I'm running a bit late, thanks to work, but let me wrap up this review with some final thoughts.
When Kirinmaru stated that his attack on Sesshoumaru would cause Sesshoumaru to start losing his "haku", I didn't know what that meant. This is where fansubbers would have thrown in a note. But as I understand it, "haku" is Yin energy (moon-based) and spirit. That sounds different from Sesshoumaru's youkai energy, known as youki.
I don't normally watch previews to avoid spoilers, but there was new ED music I wanted to hear. Another Inuyasha character is returning next episode. He's been conspicuous by his absence from the show to date, at least to me.
Speaking of the new OP/ED music, I didn't care for the OP music that much. The new ED is OK, but it doesn't make me want to buy the song like the old ED did.
In the ED imagery, we see moments where Setsuna and Towa are in kimonos, and Moroha is in a miko outfit, like her mother wears. I can't help but wonder if this represents life as it might have been, had it not been for the Kirinmaru threat. It might also represent them in the present, but I'd need to go and check Kagome's family shrine grounds.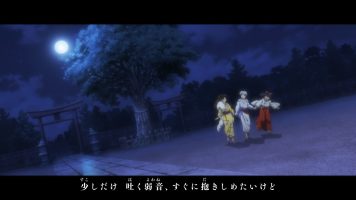 In the end, Yashahime: Princess Half-Demon 38 was a really good episode with a strong, family theme. If the writing continues to be good like this, then I would love to see another 26 episode run when the current one is done.