Lupin the Third Part 6 – 16
Lupin III Part 6 16
ルパン三世 PART6
SPOILER Summary/Synopsis:
A well known fashion designer named Gabby has her boat among the icebergs. She observes Goemon training when he has an accident. Gabby saves him, so he agrees to be a model for her next show. Her partner, Lagerfeld, isn't so sure about this. Meanwhile, Lupin is on a date with Fujiko. She agrees to "reward" him if he steals Gabby's stuff, which is basically priceless. So the two begin plotting to steal her entire collection at her next show.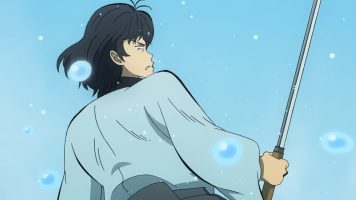 Meanwhile, Goemon has a difficult time understanding most of what Gabby says when she's trying to get him and a couple of other male models to strut their stuff. She tells him to practice walking the runway 1000 times a day. He takes her literally until one day, he passes out from exhaustion.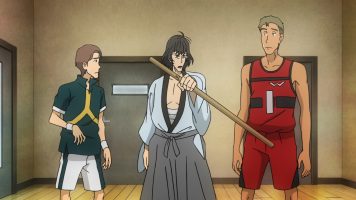 After he recovers, Goemon does some samurai training in the woods. Gabby asks him if he ever felt like giving up on training. Goemon tells her the path he is on has no end. She confesses she became a designer for the freedom. However, fame has left her feeling trapped. He gives her Zantetsuken to hold so that he can put everything into her upcoming fashion show.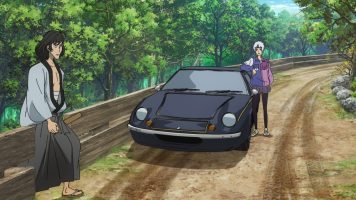 On the night of the fashion show, Zenigata and Yata are there, figuring Lupin will show up to steal the collection. Fujiko is in the audience. Lupin crashes the show, but his antics with Goemon inspire Gabby and are a big hit. Lupin tries to make off with the collection, so Gabby tosses Goemon his sword. Goemon stops Lupin, and when Fujiko attempts to steal stuff, stops her too. Gabby's show is a massive success.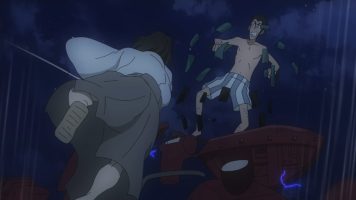 Thoughts/Review:
While I can't say that Lupin the Third Part 6 – 16 was a bad episode, it just wasn't an episode I wanted to see, even if a Goemon one. But, it did have a small element of fun in it.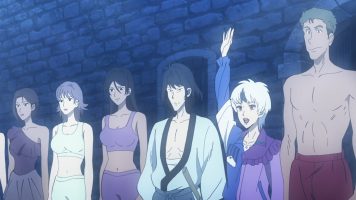 Goemon Tale
One of the trademarks of a Goemon tale is that there's some single woman with a problem of some sort. For Lupin the Third Part 6 – 16, Gabby isn't the normal "damsel in distress." She's a bored, wealthy, fashion designer. Goemon's arctic training caught her attention. And his convenient accident allowed for them to meet when she saves his life. And in traditional fashion, Goemon's honor means he works for her as a fashion model.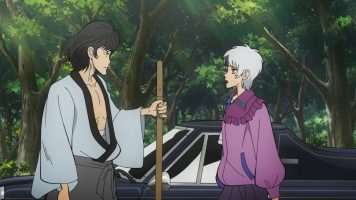 I'm guessing the writers thought this was funnier on paper than it turned out to be. Seeing Goemon struggling to be a fashion model wasn't amusing to me. The only mildly amusing part of the episode was when Lupin crashed the fashion show and annoyed Goemon. Otherwise, I didn't care about the episode. Indeed, I kept thinking, "I wish Rebecca was back instead of this Gabby chick."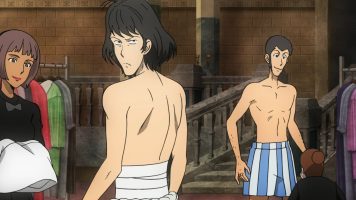 Final Thoughts and Conclusion
I'm running behind, so let me wrap up my review with some final thoughts.
I don't need to see Lupin and Fujiko getting it on. However, I am tired of the whole teasing shtick. They go on a date, but then that's that. Lupin goes nutty, Fujiko makes a clown out of him, promising future delights to come, and so forth. After all that business in the previous series, I wouldn't mind seeing her kiss him.
The relationship between Gabby and her older, male partner Lagerfeld was a bit odd to me. If Lagerfeld was her actual father, I don't think she'd address him by name. But they live together and work together. And the photo indicated they've been together for years. Maybe he's a father figure to her. Maybe there's something else. But it just struck me as odd.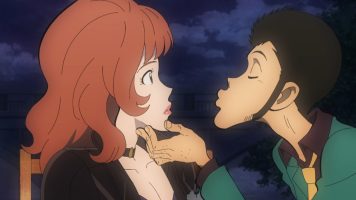 In the end, Lupin the Third Part 6 – 16 was just a "meh" Goemon episode.