Princess Connect! Re:Dive Season 2 – 01
プリンセスコネクト!Re:Dive S2 episode 01

SPOILER Summary/Synopsis:
The members of Gourmet Guild gather to have breakfast and discuss some things. Kokkoro reveals a map she got from Karin for a quest to find Drops of the Sea, where a legendary seasoning is supposed to be. Karyl is reluctant, but she gets talked into going on the journey.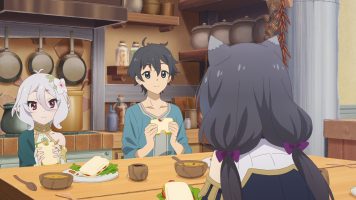 After a long journey, the group end up in a forest of coral. Various fish and normal sea life live in this forest, swimming through the air as if it were water. Karyl is tired of eating fish and passes out. As such, Pecorine and Yuuki set out to find some meat, using Yuuki as bait. So when Karyl wakes up, she has a new pelt as a blanket. Initially, she's quite happy about this as she scarfs meat with the others. However, the party comes under attack and Karyl realizes they've been eating one of these monsters.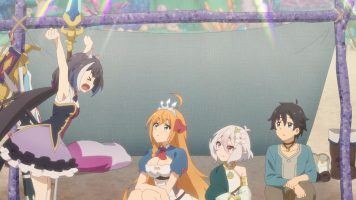 Karyl pukes and is paralyzed. The others do as well. An old man leaps in and saves the party. He drives off the monsters, then makes a tea to help the members of Gourmet Guild recover. The old man is a former adventurer who was part of a guild looking for the Drops of the Sea, but never found them. He explains that the drops are from the tears of a giant turtle laying their eggs.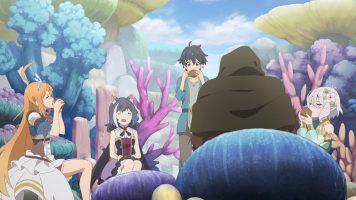 After guiding the party to a location, they are attacked by a trio of undead. Kokkoro recognizes them at part of the old man's guild. As such, she lifts the curse and the party pass onto the afterlife. The Gourmet Guild take a flying craft and after a long journey, find a giant turtle on a rock. But it is a male, meaning the quest is a bust.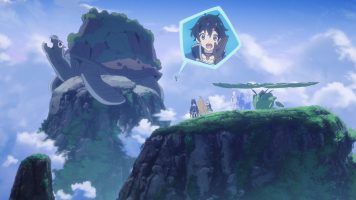 Thoughts/Review:
"Much ado about nothing" is how I'm tagging Princess Connect! Re:Dive Season 2 – 01. That's because there was little here beyond a few laughs and one plot moment.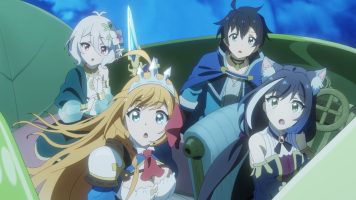 Old Jokes, But Funny
One of the things present in Princess Connect! Re:Dive Season 2 – 01 were some old jokes, with slightly different twists. For a start, we get the googly-eyed wolves (or whatever they are) try to drag Yuuki away. The change here is that Yuuki felt that he could befriend them. Even though I could see the gag a mile a way, I still ended up laughing when the joke happened. Ditto sometime later in the episode when they try to drag Yuuki off again, but flee when they realize Pecorine wants to eat them.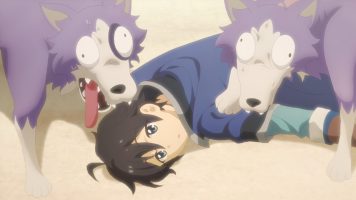 Another old joke is the rainbow puke. I admit, I laughed out loud at this, even though I saw it coming a mile away. At the same time, I also laughed when Pecorine is still scarfing down the monsters' cooked companion while facing them in combat. Yes, I'm twisted like that. The only downside was that I'm sick as I write, and laughing makes me have a coughing fit.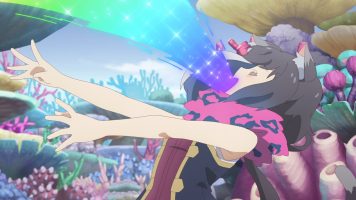 The final gag may have been new to this series, but I've seen it before. The moment they saw the turtle, I knew it would be a guy. But I still chuckled at the revelation. So I guess the humor aspects were okay.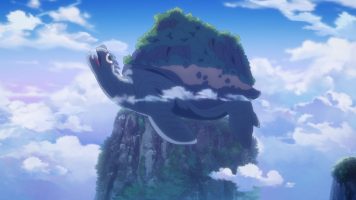 One Moment of Plot
A decent amount of Princess Connect! Re:Dive Season 2 – 01 were montages of Gourmet Guild traveling. We also get a breakfast moment early in the episode, and some time with the old man (including montages) later. Otherwise, this episode was much ado about nothing. There wasn't anything here of note story-wise, and that was sad.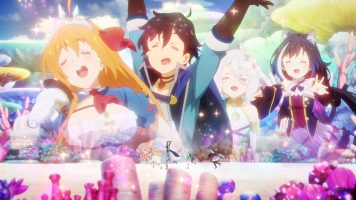 However, there was one plot moment, picking up an element from the first season. If you recall, it was revealed that Pecorine's parents had sent her out on a journey, but her parents no longer remember her as an usurper has basically taken over the throne in Pecorine's name.  To that end, at the beginning of the episode, we see Pecorine standing on a ledge of another tall building, looking wistfully at her old home. I suppose it indicates the writers haven't forgotten the plot they laid out before, even if that's all the did with it here.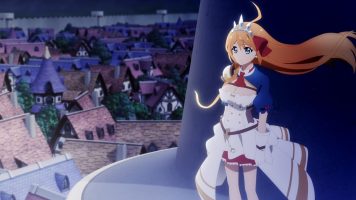 Final Thoughts and Conclusion
In the end, Princess Connect! Re:Dive Season 2 – 01 reintroduces us to our main characters, and it has comedic moments to be sure. However, the episode feels like a waste of time.