Tonikaku Cawaii Chapter 170
Tonikaku Kawaii Fly Me to the Moon 170
トニカクカワイイ 170
Spoiler Summary/Synopsis:
Nasa surprises Tsukasa with his announcement that they are going to Kyomaru Mansion. However, Nasa detects Tsukasa's reluctance. He heads into town to pick up some things. As he ponders the situation, he wants to speak to someone about this. He then sees a very large poster with Shiori on it, mentioning her art exhibit.
Nasa heads to the art gallery and is amazed by Shiori's art. Shiori greets him. She encourages him to buy something, but the one piece of art he sees costs ¥2,245,000 (just under $19,500 as of this posting). Shiori then invites Nasa to tea. The man in charge of the exhibit/gallery pleads with her not to leave, but she does so anyway.
The two end up at Donguri Cafe. Shiori tells Nasa that Tsukasa always believed she'd meet her destined person and would marry them. This was based off of what some monk told her. Shiori then opens up on how much Tsukasa has changed since she married Nasa. For a start, Tsukasa is interacting with many people even though none of them know her secret. Further, she took a part time job, which really shocked Tokiko and Shiori.
Nasa asks what Tsukasa might do if everyone around her knew her secret. Shiori wonders if there's really a way to let people know. Even if they do find out her secret, eventually they die. Shiori wistfully hopes Nasa makes Tsukasa's dream come true.
Thoughts/Review:
And so we have an interesting chapter in Tonikaku Cawaii Chapter 170.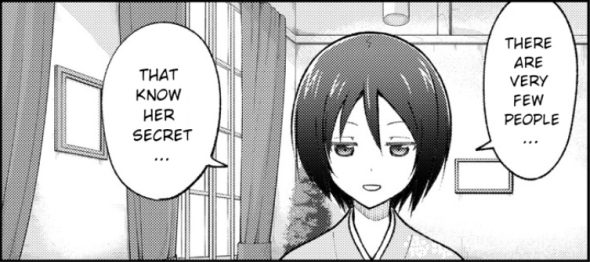 The Unexpected Shiori
To date, Hata-sensei has portrayed Shiori as an airhead of sort. Even in Tonikaku Cawaii Chapter 170, she just blithely leaves her art exhibit in order to have a chat and tea with Nasa. But at the same time, she's no idiot. She's a very big artist who's work sells for lots of money. And she knows how to tease, when she prompted Nasa to buy some expensive art.
However, she's also a very thoughtful person. She understands the difficulties of Tsukasa's situation. Before she learned Tsukasa's secret, she could see something was wrong. Tsukasa never aged and even her hair clip remained the same. That is weird and unnatural. And back then, I get the sense that Shiori thought this situation was weird, even if Tsukasa was supporting Shiori's artistic dreams.
Now, Shiori sees how Tsukasa has changed since marrying Nasa. Her mannerisms are softer. She has more people around her than she has in years. And she even took a job. That's something the old Tsukasa wouldn't do…at least, as Shiori saw it.
Tsukasa
I do believe Tsukasa's retreat to Kyomaru Mansion was something done out of depression. The NASA moon missions ended up being a bust from Tsukasa's perspective. Since her dream was crushed, there was no point being around others. Eventually, Tokiko would die and Tsukasa would be alone again, as she was before she saved Tokiko.
And maybe the weight of the passage of time is getting to Tsukasa. After all, we have seen from flashbacks that she traveled the world and interacted with people. In that light, it really is amazing that Tsukasa marries Nasa. But, Tonikaku Cawaii Chapter 170 does establish that a monk once told Tsukasa that one day, she'd meet the man she was destined to marry.
To that end, I'm going to propose a wild theory, but one that works in this universe, thanks to Hayate the Combat Butler. What if Nasa gets sent back in time? That could be an interesting story, where he ends up disguising himself as a monk and talking to Tsukasa. Maybe this could be how Tsukasa is able to keep moving forward across the centuries.
As an aside, whether my outlandish monk theory comes true, I do hope Nasa is the reincarnation of Prince Umayado. Although he too supposedly told Tsukasa she'd eventually meet the man she was destined to marry.
Final Thoughts and Conclusion
In the end, Tonikaku Cawaii Chapter 170 was an interesting chapter, allowing us to learn a bit more about Shiori, but also giving us some additional insight on Tsukasa. And I loved that the cafe Shiori and Nasa had tea in is the one from Hayate the Combat Butler.