Princess Connect! Re:Dive Season 2 – 03
プリンセスコネクト!Re:Dive S2 episode 03
SPOILER Summary/Synopsis:
Yuuki and Kokkoro are in town doing some grocery shopping. They encounter Aoi, who is now attending the St. Theresa's Academy for Girls. She confesses that despite attending school for a while, her shyness has prevented her from introducing herself. However, a senpai wants to meet her and Aoi wants backup. Yuuki and Kokkoro follow Aoi to the Ivory Tower, which is the school's impressive library.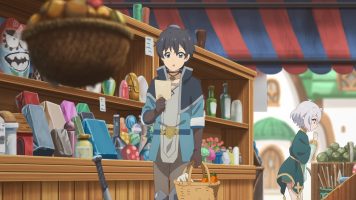 Yuuki finds a female student named Yuni, buried under a pile of books. She has a theory that there's a great deception in the world. They are joined by the elf Hanako and human Chieru. Since the academy is full of ojousama, the trio are attempting to win scholarship money.  They want to recruit Aoi as a forest guide as they investigate the Green Guardians. Apparently, there have been incidents on the road going through the forest.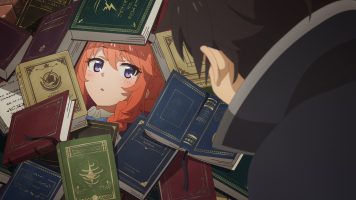 Yuuki and Kokkoro brief Karyl and Pecorine. The the two agree to assist and they meet up with the academy girls. As night falls, the group discover a large graveyard that wasn't there before. Things start happening, including discovering giants in the dark. This causes great panic in the group.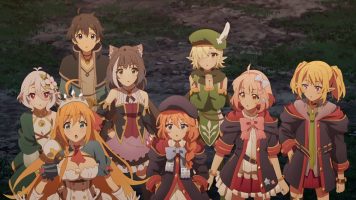 An actual skeleton appearing proves there's something else going on besides Aoi protecting her secret friends. The forest becomes a burning town, with the skeletal king and subjects. Bandits destroyed the town, so the kind killed them. In the process, he accidentally kills a young elf girl. Pecorine forgives the king and the undead pass on.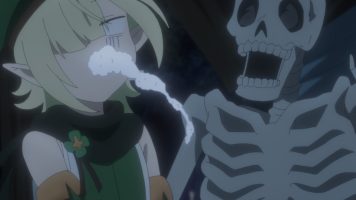 Later, Aoi has a party at her home. Yuni tells Yuuki and Kokkoro that what they experienced could prove that other planes of existence are real since history records no village having been in those woods.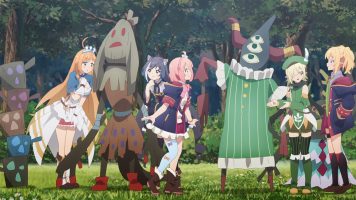 Thoughts/Review:
Although it was a stand alone episode, and I doubt has any connection to the plot of the series, Princess Connect! Re:Dive Season 2 – 03 ended up being the most interesting story of the new series.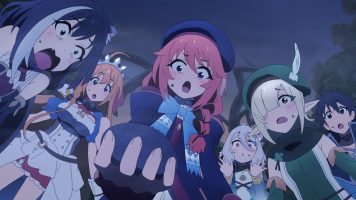 Another Guild
As is normal for the anime adaptation of the game of the same name, Princess Connect! Re:Dive Season 2 – 03 brings in yet another new guild. Well, I say "guild", but it is more like a school club. Hanako and Chieru are mostly just here 'cause they have to be. But they don't contribute much to the story. However, Yuni does contribute a fair amount. She has a theory that there's a big deception in the world. It is possible that this aspect could tie into the main plot, but we'll see.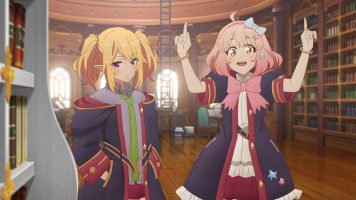 That aside, at the end of the episode, Yuni has a lot of exposition regarding things. For a start, she couldn't find any historical record that indicated the village they found themselves in ever existed. As such, she now has her theory on other planes of existence. I found this to be intriguing and wished the series would actually explore this more. But somehow, I don't think it will.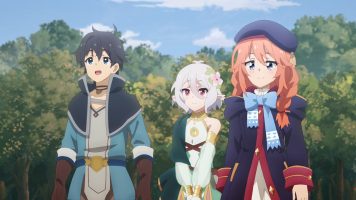 The Mystery Village
I had to rewatch the "memory transfer" sequence of Princess Connect! Re:Dive Season 2 – 03 a few times. Whether Yuni's theory is correct about it being in another plane of existence or not, it did exist in some form. I guess that the king may have been some kind of mage or demi-human. As such, when the bandits attacked his village and set it ablaze, he transformed and slaughtered the bandits. The tragic part was that while the king saved a little elf girl, he accidentally killed her by touching her in his transformed state. So it is no wonder he couldn't forgive himself.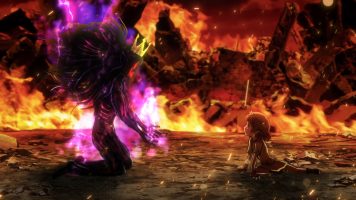 One thing that struck me as odd about the episode is that no one had weapons in the woods. As such, it felt convenient that Pecorine, sans her sword, would now realize that the skeletal king was trying to communicate. That aside, I did appreciate Pecorine forgiving the king and hugging him, allowing him and the others to pass on. As I said earlier, I kinda wish the series would explore this more, but I don't think it will.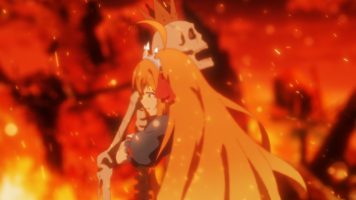 Aoi
Aoi returns from the first series in Princess Connect! Re:Dive Season 2 – 03. While she's her normal panicky, shy self, she also provides most of the comedy in the episode. That spawned from her embarrassment over creating giant and small wooden dolls to be her friends. So when the others started discovering them, Aoi had to "take them out" at all costs.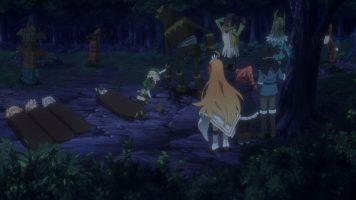 Still, it was a bit freaky when she snapped Karyl's neck in a way that people do in movies to indicate they've broken their opponent's neck. I knew there was no way Karyl would be killed, but at the same time, that moment didn't make me laugh.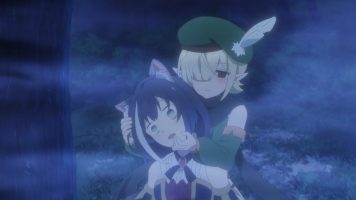 Finally, I don't understand why Aoi wasn't wearing her school uniform the whole time. Well, I can see her wearing her normal uniform when they had the party at her home. But during the outing with her schoolmates, one would think she'd still wear her school uniform. It's a minor thing, but I couldn't help but notice it.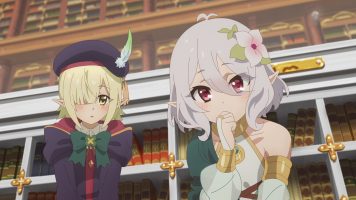 Final Thoughts and Conclusion
In the end, Princess Connect! Re:Dive Season 2 – 03 was a more interesting and entertaining episode than the previous two, though somewhat less funny than the first episode.