Princess Connect! Re:Dive Season 2 – 04
プリンセスコネクト!Re:Dive S2 episode 04
SPOILER Summary/Synopsis:
Yuuki has a dream that he, Pecorine, and other are facing Karyl's queen, who now has an eye patch. She addresses them as the Seven Crowns and launches an insanely powerful attack from the sky. He then awakens.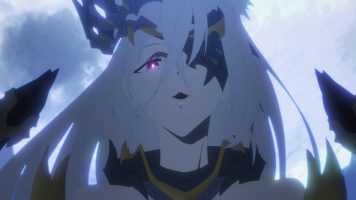 Sometime later, Gourmet Guild are fleeing from a giant monster. Karyl is having to carry the unconscious Pecorine. Yuuki gets knocked into the sky and is caught by a giant monster bird. He's saved by a wolf-girl named Makoto. At Yuuki's request, she and her guild come to the cave where Pecorine, Karyl, and Kokkoro are. After slaying the beast with a giant rockfall, the members of Caon introduce themselves. However, three of them are horrified when they learn Pecorine is butchering the giant monster as a thank you feast.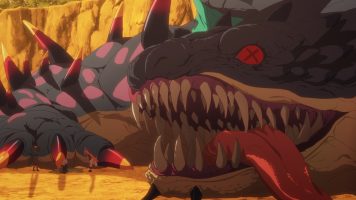 They eat anyway and afterward, Caon discuss that they came to the island to help the beast folk who live here as Shadows are attacking. Caon detective, Kasumi, has pinpointed where the Shadows will appear. The Shadows appear and attack. One shadow becomes a doppelgänger of Kasumi. After the fight, they secure her in a jail cell and call her Kiiri. She responds to Yuuki and they determine she's not dangerous. Indeed, she likely became passive due to Yuuki's powers.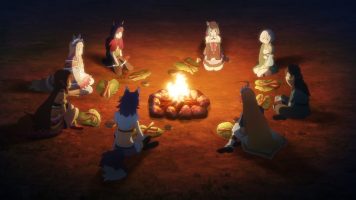 Pecorine, Karyl, Makoto, and Kaori discover the Shadows swarming a giant golem from the old mines. They report back on the situation. A butterfly turns into a girl named Metamorregnant, who knows Yuuki. She explains she's in the golem and needs rescuing. However, her avatar announces the golem has been taken over and she disappears.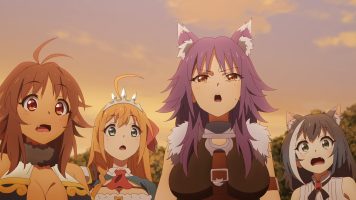 The next day, both guilds do battle to stop the golem from attacking the city. Before Pecorine can stop it, a ring Karyl's queen gave Karyl activates, teleporting Pecorine back to the palace at Landosol.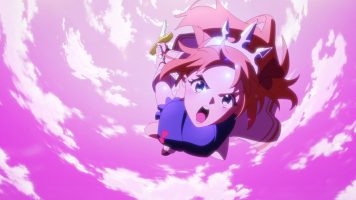 Thoughts/Review:
Man, this series has been so uneven. But with Princess Connect! Re:Dive Season 2 – 04, the writers not only got down to plot, they actually created some laugh out loud moments.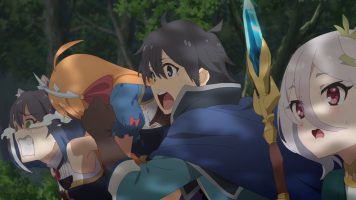 Yuuki's Vision
I'm calling the dream Yuuki had in Princess Connect! Re:Dive Season 2 – 04 to be Yuuki's vision. I recall that in episode 12 of the previous season, Yuuki had flashes of a vision with the eye-patch version of Karyl's queen, but his guildmates all down for the count. Ameth wouldn't say if it was the past or future. But I suspect it is future.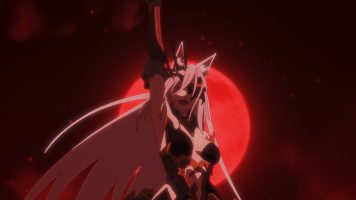 One interesting element of Yuuki's vision that Labyrinth's guild master was in the vision and called Queen Labyrinth by Karyl's queen. Further, she mentioned Seven Crowns and points to Christine as one as well as Labyrista. There were other new characters here in addition to Yuuki and Pecorine. Seven Crowns implies seven people. There were seven folks in Yuuki's vision, counting himself and "The Queen". Maybe Pecorine is one, which would explain "The Queen's" interest in her and taking over her throne. Likewise Yuuki. We'll see though.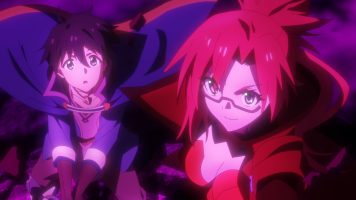 Shadows Again
Because Princess Connect! Re:Dive Season 2 – 04 jumped so hard back into the plot, I almost feel like I need to rewatch the few plot episodes of the first season. 😅  Anyway, I remember "The Queen" creating these Shadow things 'cause "reasons". I also remember them having a doppelgänger effect at times. But maybe they were always hostile. I can't remember.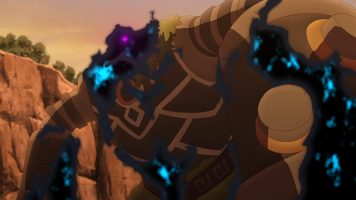 Nevertheless, Kiiri is apparently a "good" Shadow, thanks to Yuuki. I suppose we'll learn more about her soon.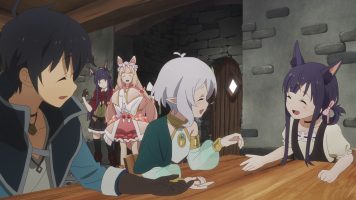 And we were introduced to another new character who knew Yuuki from before. Metamorregnant seemed fairly nonchalant about being overrun by Shadows. And indeed, the two guilds didn't seem to be in that big of a hurry to try to rescue her. Granted it was night, but still, someone comes to you for help, one would think you'd go help, even if carefully. Further to that, she's supposed to be a member of Seven Crowns, which seems important.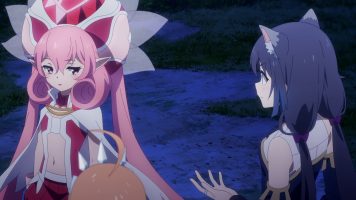 Gag Humor
There were two, laugh out loud moments for me in Princess Connect! Re:Dive Season 2 – 04. The first came when they were fleeing from the giant, lizard-like monster. The fleeing was humorous, but when Yuuki was knocked into the sky, Skyrim style, I laughed out loud. The giant bird monster coming in was expected, but still humorous.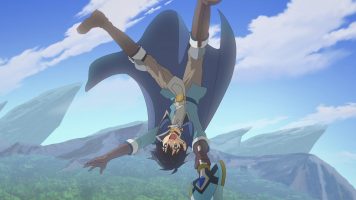 The next laugh out loud moment came after the fight was done. While the Caon guild seem to be of the dog/wolf variety of beast folk, they are still "kin" of sorts with Karyl, who's also beast race. That aside, it was amusing seeing Maho, Makoto, and Kasumi become horrified by Pecorine butchering the monster to eat. And then there was Kokkoro bring in large bugs as well. Karyl had sympathy for them, but gave them the bad news — there's no escape from eating it! 😂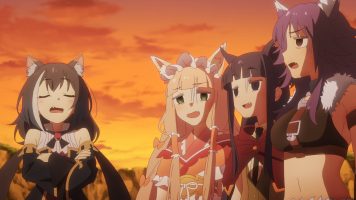 While that was funny, the part that really made me laugh out loud was how the monster was naught but a skeleton after Pecorine was done. I laughed so hard at the implication that she and the others ate that whole freaking giant monster. 🤣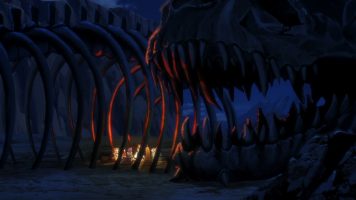 Final Thoughts and Conclusion
I'm running behind, so let me wrap up with some final thoughts.
I recently started casually playing the source Princess Connect! Re:Dive game. I'll post about that later. However, what little story I've done (properly doing the story would eat a ton of time as it is fully voiced and even has anime sequences at times) lets me know that the anime is pretty much its own story, though taking some cues from the game.
I did not expect Pecorine to get teleported to her palace where The Queen could confront her. I feel bad for Karyl, who's keen on approval of her Queen. Nevertheless, I am VERY interested in seeing where this goes.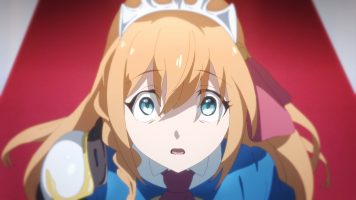 In the end, after a rough started, Princess Connect! Re:Dive Season 2 – 04 decides to stop playing and smacks us hard with plot. But at the same time, there was plenty of humor as well.