Keroro Gunsou Episode 118
ケロロ軍曹/Sgt. Frog Anime Review
SPOILER Summary/Synopsis:
Keroro's latest scheme is to "haunt" Natsumi's school, along with Yuurei-chan, the ghost girl from another historical period. Yuurei-chan is going to consult with Keroro when she collides with Natsumi's classmate, Satsuki. This causes Yuurei-chan to possess Satsuki. Unfortunately, their class has a swim match against a class with an ojousama rival of Natsumi. Yuurei-chan doesn't know how to swim, but after encouragement from Keroro, she manages to pull her weight. Natsumi is in the last leg and behind. Keroro tries to pull a kappa move on her, but she doesn't see him and launches off him for the win. During the celebration, Yuurei-chan detaches from Satsuki, having had fun at school.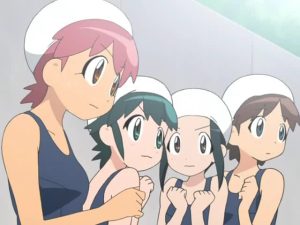 Natsumi and Fuyuki don't like a curry Keroro made. This depresses Keroro. His plans to open a curry restaurant the following day are now looking like a failure. Kururu, who loves curry, does something with the curry vats. The next day, Keroro's curry shop is a massive success. Giroro is suspicious and Mois reports she saw Kururu doing something to the curry. Keroro rejects this, but the next day, his untouched curry is a failure. Giroro visits Kururu, who tells him the secret ingredient is love. Natsumi and Fuyuki tell Keroro that you can't take shortcuts with curry, which is where the love comes in. Keroro abandons his curry invasion plans.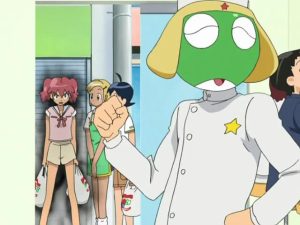 Thoughts/Review:
I have no idea why I'm so "inspired" to watch more of this series, beyond a sense of it being a title I've blogged off and on for years on end. But, here I am for Keroro Gunsou Episode 118.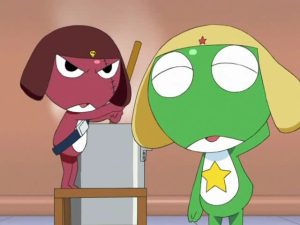 Yuurei-chan's (Omiyo) School Day
I had forgotten that Yuurei-chan's actual name is Omiyo. (I had to look it up.) But they never used it in Keroro Gunsou Episode 118. That aside, it was nice seeing this ghost girl get some love. I guess she's never possessed anyone before. As such, everything happens 'cause "plot". That includes her sudden ability to swim, though I suppose she could have tapped into Satsuki's abilities. Nevertheless, Omiyo's little school adventure was cute and fun for what it was.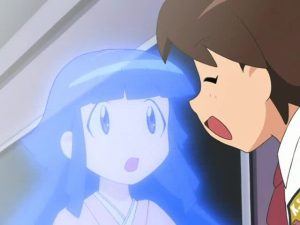 Curry Time
I'm not sure how opening a curry shop would help Keroro's invasion plans. Nevertheless, that was the thing for the second story in Keroro Gunsou Episode 118. Keroro has already had these failed invasion plans that center around selling food. So at that level, it is "been there, done that." The one humor aspect came from Natsumi getting jealous that Keroro was having some success, thanks to Kururu.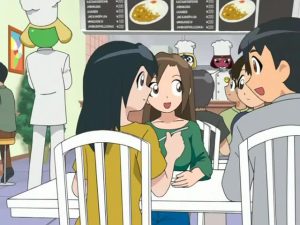 The other humor aspect was Keroro discovering Kururu fills a bathtub with curry, complete with rice at one end. Then Kururu bathes in the tub of curry. That made me chuckle since it is so bizarre. It also made me want to gag since Kururu was eating the curry in the tub he's bathing in. Yuck!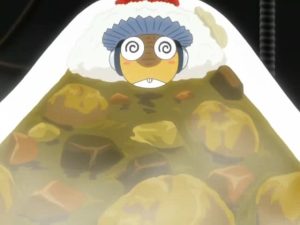 Final Thoughts and Conclusion
In the end, Keroro Gunsou Episode 118 was some more mindless fun. I was happy to see Omiyo (Yuurei-chan) get some love though.