Princess Connect! Re:Dive Season 2 – 05
プリンセスコネクト!Re:Dive S2 episode 05
SPOILER Summary/Synopsis:
The group are horrified by the sudden disappearance of Pecorine, as she was about to defeat the golem. In the jail, the Shadows go after Kiiri. Yuuki saves her, but has a memory flash of the "real world". Ameth pulls him to her realm to prevent him from recalling more. She explains what the Shadows are, then after giving him energy, returns him to the world. Yuuki saves Kiiri and escapes with her and Kasumi.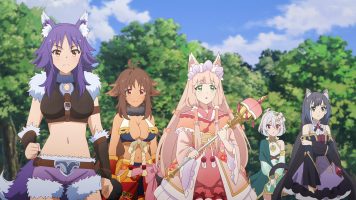 Karyl suspects she knows what happened to Pecorine. Meanwhile, Kokkoro, Kasumi, and Yuuki take Kiiri to a different location. The swarm of Shadows changes directions to get to her, as does the golem. Kiiri is eager to help. Back at Landosol Castle, The Queen torments Pecorine. She wants Pecorine broken and plays on Pecorine's fears of being forgotten.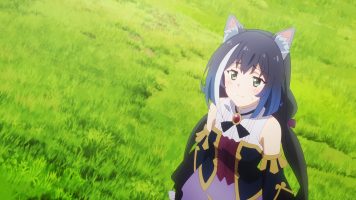 On the island, the Shadows and golem have been lured to a lake. However, a "glitch in the Matrix" causes Kiiri to start to dissipate. Yuuki uses his powers, but cannot save her. He again has a vision of the "real world", were a girl like Kasumi has a cat named Kiiri. Vision over, Kiiri thanks him for his efforts. Unbeknownst to them, in Ameth's realm, Queen Labyrinth has helped Ameth save Kiiri's personality. They discuss Yuuki and the decision to reset things for him.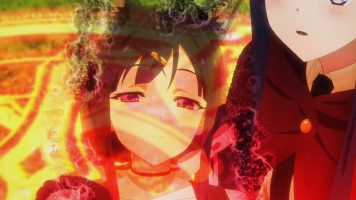 Yuuki, Kokkoro, and Kasumi get in their aircraft to help deal with the golem and Shadows. At Landosol Palace, Pecorine overcomes the Shadows about to consume her. She wants to have a meal and discuss things with The Queen. Pecorine's request is denied. As such, The Queen sends Pecorine back to the battlefield to "ripen" more. Pecorine falls toward the golem and uses her power to destroy it and the Shadows. However, The Queen appears to have captured Metamorregnant.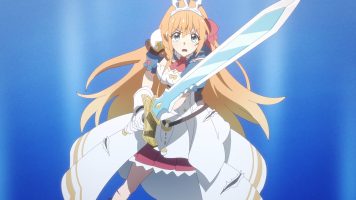 Thoughts/Review:
We get more plot and such in Princess Connect! Re:Dive Season 2 – 05. However, I am disappointed with one plot element. And I'm afraid I won't like another plot element when it comes to fruition.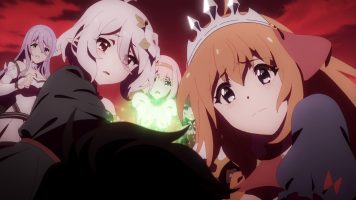 The "Real World"
The plot element introduced in Princess Connect! Re:Dive Season 2 – 05 is one I don't like. Having recently started playing the game, I do know that in the game, there's a "real world" aspect introduced to the story. (I only read a few character summaries, so I don't know how far it goes.) However, the game's story vs. the anime's story are not the same. They have similar elements and even share some points. But they are different.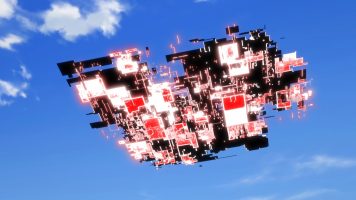 That said, the moment the writers introduce the idea that the characters in this series are actually in some VR game, my interest level starts dropping massively. I've never watched Sword Art Online, but I know the characters there knew they were trapped in a game. In Monster Rancher, a kid is sucked into a game world. And there are several titles like that. And of course, there's .hack//SIGN, where a character is apparently trapped in a VR game. So the genre is not unknown to me.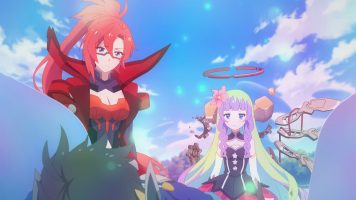 However, Princess Connect! Re: Dive was a much more interesting concept to me when it was a real world, fleshed out with real people, even if silly ones. But if this is some VR world, where the inhabitants don't know they are game players (I assume all the various guild girls are real, and other characters are NPCs), I suddenly don't care. It is meaningless because now any interesting lore is just "game".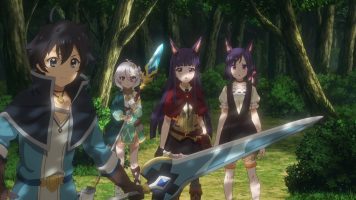 We'll see how this plays out, but Yuuki's visions suggest at minimum, he's trapped in some game world.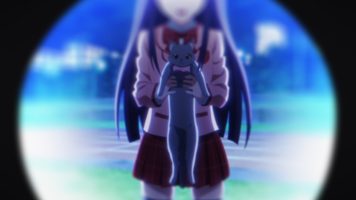 The Queen vs. Pecorine
I didn't care for the confrontation between "The Queen" and Pecorine in Princess Connect! Re:Dive Season 2 – 05. My negative feeling wasn't based on the "real world" problem. For starters, Pecorine is rambling on about sharing a meal, which translates to a kind of "nakama" solution. Pecorine gets "soul crushed" as it were, then recovers 'cause "plot". And she still offers that sit down and discuss things meal. 🙄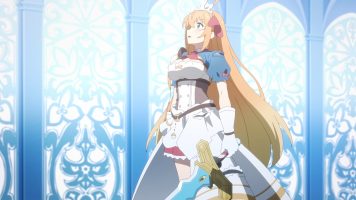 As for "The Queen", her motivation seems to be pure insanity. And if they are trapped inside of a game, then she's doubly insane. She torments and mentally tortures Pecorine and would have succeeded, but for "plot". So why not kill Pecorine and have done? Nothing about "The Queen" makes sense, regardless of a real world connection or not.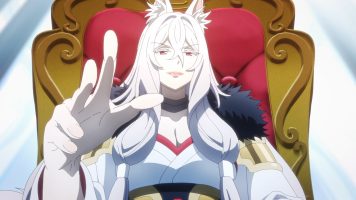 Final Thoughts and Conclusion
It is tax season, so I'm busier than ever with work. As such, let me wrap up my review of Princess Connect! Re:Dive Season 2 – 05 with some final thoughts.
Kiiri's departure would have had more impact, had we not seen that Kiiri was apparently Kasumi's cat in the real world. I don't believe the cat is in this VR world, if that's what it is. But then there's a bloody llama, so what do I know.
The Queen appears to have captured Metamorregnant, who's now sealed in a device. Not sure how, unless the Shadows did something to teleport the stone away. The episode was unclear on that.
Ameth and Queen Labyrinth are even more mysterious now than before. I thought Yuuki was with one guild, but now it seem he knew Pecorine, Kokkoro, Karyl, and the others in a previous encounter with The Queen. But before he could die, Ameth yanked him to her realm and she and Queen Labyrinth reset things and returned him to the world for Kokkoro to find again.
Pecorine better report on what happened to her to the others. It makes no sense for her not to report the incident.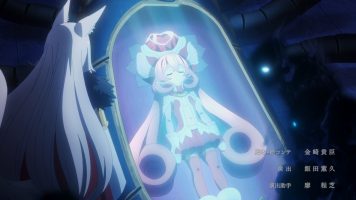 In the end, Princess Connect! Re:Dive Season 2 – 05 started pretty good. Then the concept that everyone is in some VR simulation seriously drained my enthusiasm for the series. But I'll keep watching to the bitter end, if indeed the end it bitter.