Lupin the Third Part 6 – 22
Lupin III Part 6 22
ルパン三世 PART6
SPOILER Summary/Synopsis:
Lupin does research at his hideout as Goemon and Jigen hang out with him. Elsewhere, an orphaned, teenage girl named Finn travels to Revonland and to the home of the couple (Daniel and Anna) who sheltered her pregnant, teenage mother. They put Finn into the room her mother, Mariel, stayed. Anna believes Finn is actually Mariel.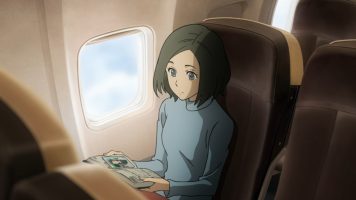 Finn reads her mother's diary and learns that Mariel is in love with a football player named Sean. However, Mariel's diary is cut short and she stopped taking Sean's calls. Finn learns of Mariel's tutor from a befuddled Anna. She calls her grandfather to learn why he hired the tutor for Mariel. He states it was to help her with traumatic memories.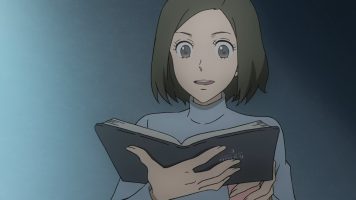 Finn finds audio tapes recorded by her mom. These include the sessions with her tutor, Tomoe-sensei. Finn uses her podcast to broadcast the tapes. These podcasts are heard by Lupin and Mattea. Both make their way to Revonland. Meanwhile, Finn is distressed to learn that fellow student football player Allen is suddenly in the picture. However, Tomoe-sensei appears to be attempting to brainwash Mariel into believing it was Allen she loved, not Sean.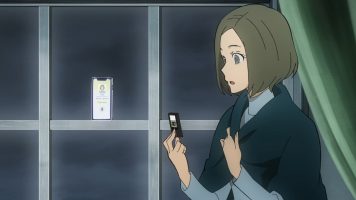 Goemon and Jigen join Lupin in Revonland. Zenigata learns Mattea went to Revonland, so he heads there as well. Meanwhile, Finn plays her mom's final tape. On it, Mariel takes a call from Sean. However, Allen jumps in and we learn that Allen probably raped Mariel. Mattea, listening to the broadcast, also watches school security footage that shows Allen and Sean fighting. A girl comes up, kills them both, then kills herself, done at Tomoe's request.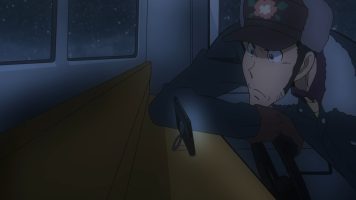 Lupin races into the house to help Finn. Anna holds the freaked out Finn and suddenly becomes lucid. Lupin leaves, observed by Mattea. He, Jigen, and Goemon find Zenigata walking on the road and stop to chat with him.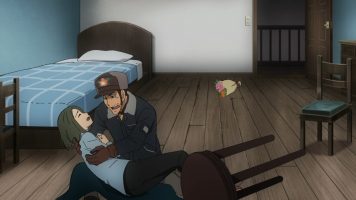 Thoughts/Review:
I have to say, Lupin the Third Part 6 – 22 was certainly a different kind of episode. I wasn't even sure it was going to be plot-related until well into the episode.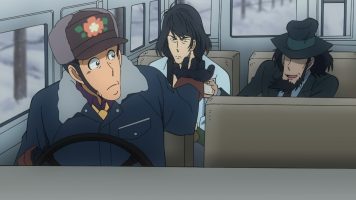 Confusing but Interesting Episode
I'm not a fan of jumbled narratives. Unfortunately, at times, Lupin the Third Part 6 – 22 has a confusing story structure. This starts by having some random Lupin stuff interjected in so that we know this is a Lupin episode, and not some unknown anime. Then all of the sudden, Lupin is onto Finn's podcast. This is implied at first and not strictly stated, which added to the sense of confusion that was injected into the episode.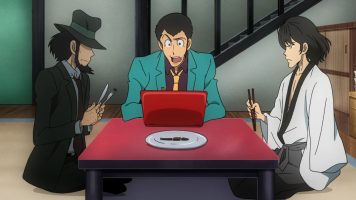 Also, at times, we'd jump into a flashback scene that was done in a way to disorient the viewer. This often centered around Tomoe-sensei. As such, there's a scene of Tomoe-sensei in the snow, observing the house which may be a flashback, or it may be modern times. It was hard for me to say, other than if it were modern times, Mattea may have seen her.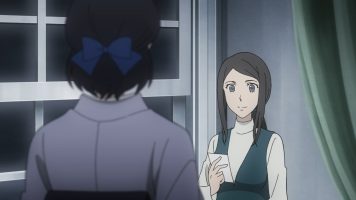 And speaking of Mattea, another confusing moment was how the production team made it seem like she got hit by a train while walking down the tracks. Yet then, she somehow is off to the side of the train as it blows by her. Very strange and confusing. And yet, it didn't irritate me. However, this was not all that was confusing.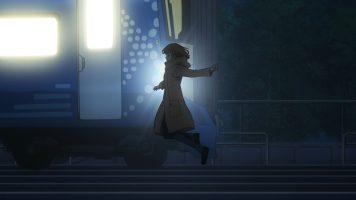 Tomoe-sensei and Mariel
As I understand the story in Lupin the Third Part 6 – 22, Mariel was a teenage, high school girl. She was one of the water girls for the school's football team. Mariel was in love with one of the players, Sean. She didn't like the team stud, Allen. At some point, Allen has sex with Mariel. Sean basically accuses him or raping her. Allen says it was consensual since she didn't say no. Regardless, Mariel becomes pregnant and leaves America for Revonland.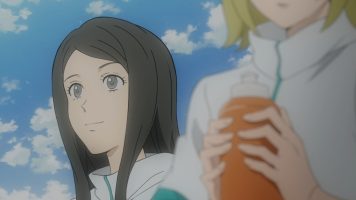 The first question I have is, "Why did Mariel go to Anna and Daniel's country home in Revonland?" This was also Finn's question (at least, the leaving America part), and it was never answered. What connection did Mariel's family have with Anna and Daniel? Clearly, Mariel wasn't in hiding. Sean had her phone number in Revonland. Mariel's father hired Tomoe-sensei and sent her to Revonland to apparently brainwash Mariel into believing Allen was the guy she loved, not Sean. Why? Was it to cover up the possible rape and avoid a scandal?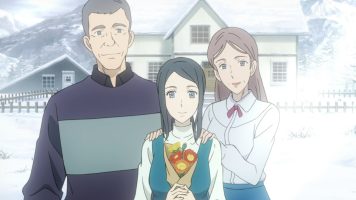 Nevertheless, Tomoe-sensei failed to brainwash Mariel. After all, she took the call from Sean. Tomoe-sensei appeared to hypnotize/brainwash a girl into killing both Allen and Sean before killing herself. I suppose if Tomoe-sensei had been successful brainwashing Mariel, Sean and Allen might trigger something that would undo it.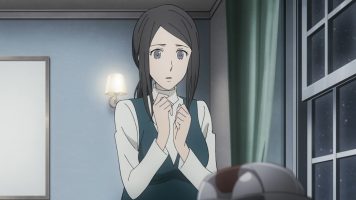 Final Thoughts and Conclusion
Let me wrap up my review of Lupin the Third Part 6 – 22 with some final thtoughts.
Was Anna hypnotized? Initially, her reliving the past could be dementia or the like. But then at the end of the episode, she regained cognitive abilities. So who got to her, assuming she was hypnotized?
It was convenient that Finn wanted to broadcast her journey to learn about her mother. Why did Lupin and Mattea know to listen to Finn's tiny podcast?
Why did both Lupin and Mattea head to Revonland? Lupin seemed to sense things would not go well when Finn reached the last tape. Mattea seemed to be waiting. As an assassin, her target can't be Lupin as she's had plenty of opportunities to kill him. I don't think it was Finn. To be honest, I think Mattea wants to kill Tomoe-sensei.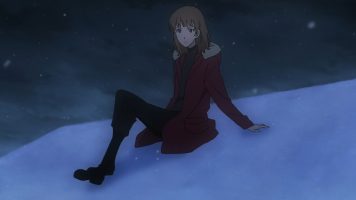 In the end, Lupin the Third Part 6 – 22 could be confusing at times. And yet at the same time, there were a lot of interesting things brought up in the episode.