Yashahime: Princess Half-Demon 46
半妖の夜叉姫 弐の章 22
Hanyou no Yashahime: Sengoku Otogizoushi episode 46
SPOILER Summary/Synopsis:
Rion takes control of the Grim Butterfly and begins purging the world of youkai. The Grim Butterfly travels to Mamiana Island. Inuyasha is about to attempt to obliterate the Grim Butterfly, but Moroha requests he allow the yashahime to save Rion. The Grim Butterfly is distracted enough to veer off course, allowing the island to be spared. Riku begs Rion to let them in. As such, the yashahime and Ruku are allowed into the Grim Butterfly, but Kagome and Inuyasha are denied.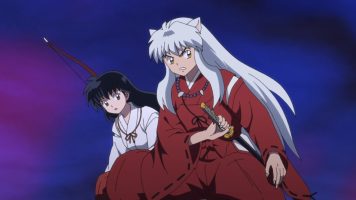 Within the butterfly, Kirin-sensei lays out his case for the actions they are taking. Towa and Riku engage him in combat, allowing Setsuna and Moroha to speak with Rion. Unfortunately, Rion's rage at her father causes her to send threads to trap Setsuna and Moroha. Setsuna discovers these are fate threads. She and Moroha cut them, revealing more of Rion's feelings.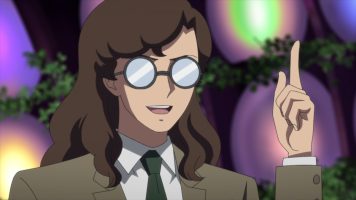 On the ground, Takechiyo and Hachiemon come to gather Miroku, Sango, their family, and the rest of the youkai slayers. Sango and Miroku are reunited with Inuyasha and Kagome. Miroku sets up a giant barrier on the ground as part of a spell to temporarily snare the Grim Butterfly. The old Inuyasha crew and Miroku's family do their part to allow Miroku's spell to work. Elsewhere, Sesshoumaru and Kirinmaru battle.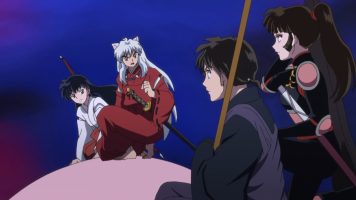 Within the Grim Butterfly, Rion captures Riku. Kirin-sensei decides to give Towa a history lesson and removes her youkai powers. He attempts to appeal to own negative experiences in modern Earth. That doesn't change her mind, so he moves to kill her.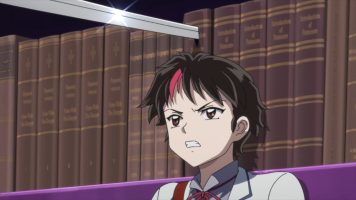 Thoughts/Review:
A lot went on in Yashahime: Princess Half-Demon 46, including the reunion of the original Inuyasha cast.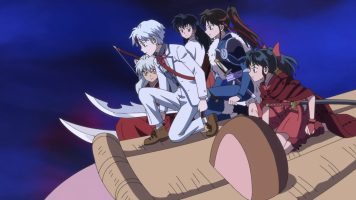 Kirin-sensei and Rion
The sense I got from Yashahime: Princess Half-Demon 46 is that neither Kirin-sensei nor Kirinmaru are listening to Rion. Kirin-sensei has his notions of what Rion wants. As such, he and Rion should rule the world. However, although he was dismayed at how youkai were purged from modern day history and literature, except as evil creatures in fairy tales, he's carrying out a youkai extermination mission. This seems weird to me.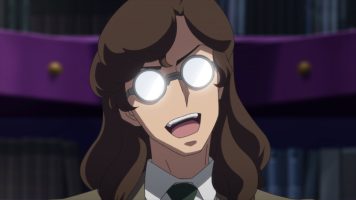 Kirinmaru had his own sense of what Rion wanted. However, I think that as Setsuna and Moroha cut fate threads within the Grim Butterfly, Rion is finally able to speak what's truly in her heart. However, she needs to say these things to Kirin-sensei and Kirinmaru. Until she does and makes them understand, it is all moot. And I suspect that will happen before all is said and done.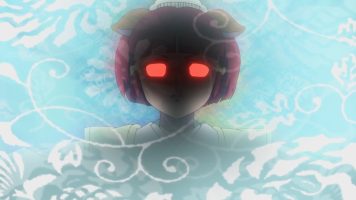 Battles Galore
There were plenty of battles in Yashahime: Princess Half-Demon 46. But outside of Sesshoumaru fighting Kirinmaru, there were none of the normal, flashy battles the franchise is known for. That surprised me.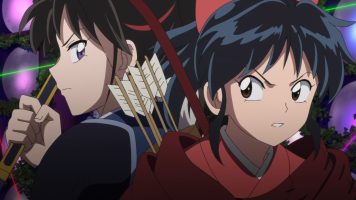 Another surprise came from the writers holding back on Towa's Mary Sue abilities. Her entire fight with Kirin-sensei was a standard sword fight. Not doubt, Towa will get to be Mary Sue again before the series finishes.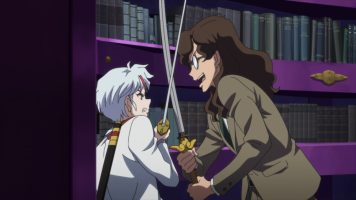 The massive snare spell that Miroku set up was pretty neat. While Miroku can hold his own against low-level youkai, his true strength only comes out in a group effort. Thus he needed his family, Inuyasha, Kagome, and the other youkai slayers to do their part to lure the Grim Butterfly into his trap. I think that's a pretty cool way to use Miroku since he's more of a "party support" character than a DPS one like Inuyasha (to use game terminology).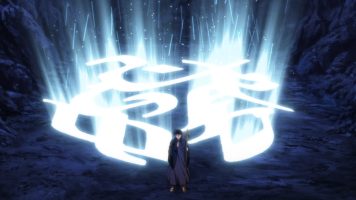 Sesshoumaru's fight with Kirinmaru was what it was. It wasn't boring, but it wasn't particularly interesting either. Kirinmaru did use his powerful, flash ability that Sesshoumaru had previously tanked. Here, we see Sesshoumaru easily deal with it rather than tank it. Further, Sesshoumaru's easily able to prevent Kirinmaru from going after Rin and Jaken. But then, Sesshoumaru's the best there is.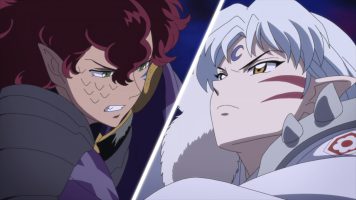 Final Thoughts and Conclusion
In the end, Yashahime: Princess Half-Demon 46 engages us in the final confrontations. Inuyasha and Kagome get reunited with Sango and Miroku. The yashahime do their thing within the Grim Butterfly. And Sesshoumaru battles Kirinmaru. It was all enjoyable for what it was, but nothing earth shattering.