Yashahime: Princess Half-Demon 48
半妖の夜叉姫 弐の章 24
Hanyou no Yashahime: Sengoku Otogizoushi episode 48

SPOILER Summary/Synopsis:
After the battle with Kiriunmaru and the Grim Butterfly, the youkai exterminators help rebuild Kaede's village. The Tree of Ages quietly thanks Sesshoumaru. The yashahime bury the horn that was the core of Riku. In the modern world, Kagome's family discuss the yashahime.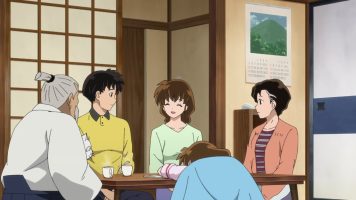 Meanwhile, Kagome insists that Moroha be debt free, so Inuyasha and Moroha go to battle an ice youkai named Unei and retrieve an ice sword from it. As such, Moroha turns it over to Jyubei and clears her debt. As she's in the shop, a customer arrives with a need for youkai hunters. At Mamiana Island, Shippo gives a class on transformation magic. Afterward, Miroku and Sango's daughters have fun with Shippo.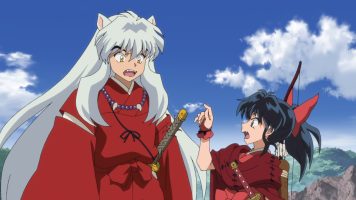 In a field, Rin presents her daughters with yukatas made from expensive fabric, obtained by Sesshoumaru. Rin gives some insight into their father and how proud he is of them. That night, Towa and Rin are by the sea and discuss Sesshoumaru with Moroha. The twins are unsure of his motives, but Moroha feels Sesshoumaru had supreme confidence in his daughters.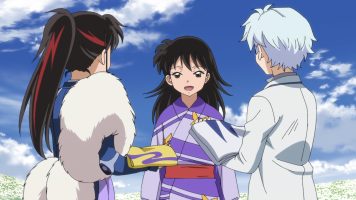 Moroha takes the two back to Jyubei's place to meet their new client. She has everyone leave but Towa. The client identifies himself as Kai, but Towa sees and smells through his disguise. He apologizes and drops the disguise, explaining how he was reborn. The yashahime accept his job ofer to head west to the Iyo Province. Moroha says farewell to Inuyasha and Kagome. Towa and Setsuna do the same for Sesshoumaru, Rin, and Jaken. The yashahime join Riku on a boat to begin their new mission.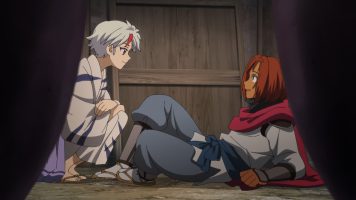 Thoughts/Review:
As wrap up episodes go, Yashahime: Princess Half-Demon 48 hit all of the marks it needed to. Plus, it opened the door for a third season in western Japan.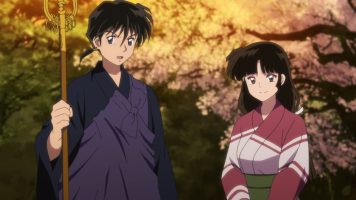 Epilogue: Moroha's Family
The question of Moroha's debt had pretty much been forgotten of late until Yashahime: Princess Half-Demon 48. We were given a flashback to where Kagome and Inuyasha learned of the debt. As such Kagome made sure Inuyasha was there to help Moroha pay it off. Thus, we get the father and daughter tag team fight that was quite lovely.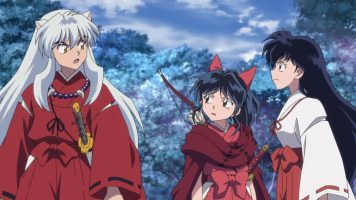 Although I think Kagome was serious about Moroha getting out of debt, I also think she had an ulterior motive. She was a spectator, watching Inuyasha and Moroha work in sync to take out the ice youkai. Plus, she sees that Moroha is a daddy's girl. Thus this fight is one where they can have some father-daughter time while dealing with a mid-level youkai. Good stuff.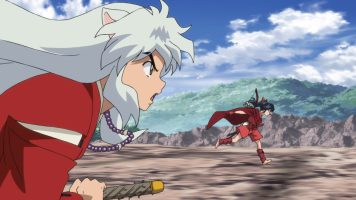 Of course the icing on the cake was when Moroha told her parents about heading to Western Japan. She needed one final hug, which was lovely to behold.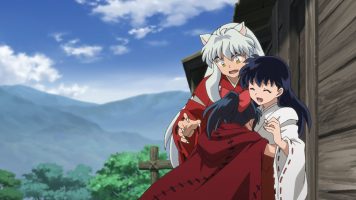 Epilogue: Towa and Setsuna's Family
While Moroha has a close relationship with her parents, Towa and Setsuna are kept at arm's length (and then some) by their father, Sesshoumaru. Only Rin gets close to them. So even though Sesshoumaru scored expensive (and I'm assuming silk) fabric for Rin to make yukatas for their daughters, Towa and Setsuna are understandably unsure about him.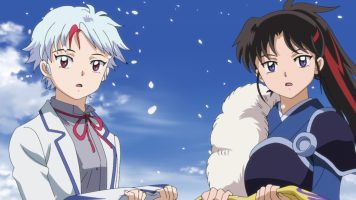 Yashahime: Princess Half-Demon 48 shows us how much Rin knows her husband. Normally, the notion that your daughters will be attacked just because of their father isn't something that you'd be cheerful about. And yet Rin is cheerful. Why? Because she knows her daughters passed the hard test that Sesshoumaru put them through. As such, she's not worried for their safety.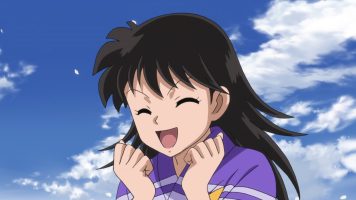 I did find it amusing that while Towa and Setsuna continued to question their father's motives, Moroha saw those motives clearly. Thus she was able to help them resolve the conflicts they had with Sesshoumaru. If Sunrise does a third season of Yashahime, I hope that when the girls return, they can have a proper chat with their father.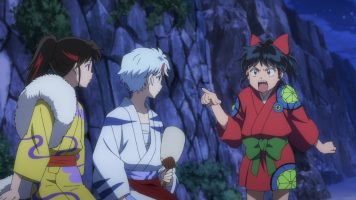 Epilogue: Yashahime
Considering how good the second season of Yashahime has been, it isn't a surprise that Sunrise used Yashahime: Princess Half-Demon 48 to leave the door open for a third season. I do hope Sunrise can formulate a good story (with more character work) for a season 3. However, it will be hard trumping season 2 as the theme of the second season was family.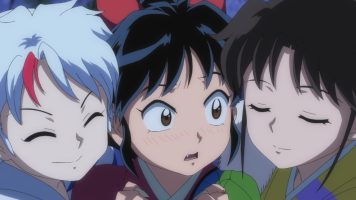 That aside, should there be a third season, I do hope Towa gets her wish to have that chat with their father. For that matter, I'd love to see the entire family meet with Sesshoumaru's mother.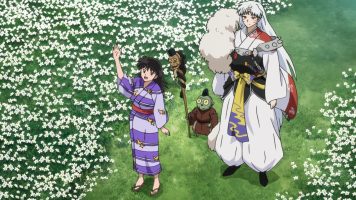 Anyway, some other items that could be touched on in a third season would be Hisui's love triangle with the princess and Setsuna. Riku has returned to life, so Towa has her boyfriend. An exploration of their relationship would be nice. That just leaves getting a guy for Moroha. 😉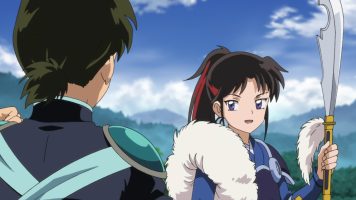 Final Thoughts and Conclusion
I'm even busier than before, hence why my review of Yashahime: Princess Half-Demon 48 was so delayed. That aside, I found this final episode to be a nice wrap up for the season and the series, should that be Sunrise's wish. I'll write a season review later.