Miss Shachiku and the Little Baby Ghost 01
社畜さんは幼女幽霊に癒されたい 01
Shachiku-san wa Yо̄jo Yuurei ni Iyasaretai Episode 01
Shachiku-san Wants to be Healed by a Little Girl Ghost
SPOILER Summary/Synopsis:
Fushihara-san is a typical, Japanese corporate slave (shachiku) working in an office. Her boss piles more work on her to be completed by the next day. After stepping away from her desk space for a moment, she returns to find her lunch onigiri missing. She and a fellow, female colleague talk about the thefts. The colleague suggests a ghost may have done it.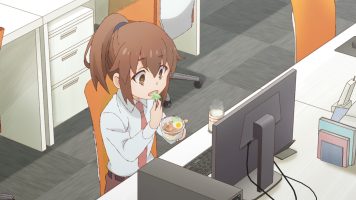 Meanwhile, a little ghost (yuurei) girl has taken onigiri as offerings to her residence in the office storage room. She's enjoying Fushihara's onigiri when she hears Fushihara has to work late. Yuurei-chan takes a futon and lays it out for "Shachiku-san", but ends up sleeping in it herself. When she awakes at 2am, she finds Fushihara still there. Yuurei-chan finds a bullhorn with a scary voice option. As such, she decides to use it to get Fushihara to leave.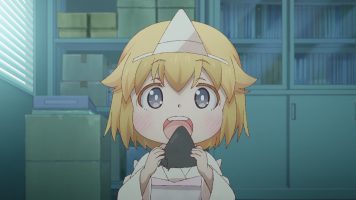 After 2am, a despairing Fushihara struggles with her work. She hears a deep voice telling her to leave. Finally, Fushihara goes to find the voice and discovers a tearful little girl with a megaphone. Seeing the hitaikakushi worn on the little girl's head, Fushihara realizes she's a ghost. Yuurei-chan doesn't want "Shachiku-san" to die from overwork, thus wants her to go home. However, the cuteness of "Yuurei-chan" inspires Fushihara to work harder.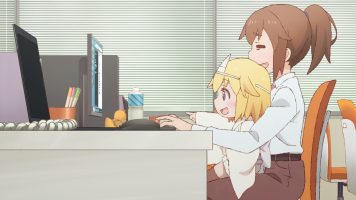 Sometime later, Fushihara talks to Yuurei-chan about the bullhorn. Fushihara shows Yuurei-chan the setting to "space aliens", which is a robotic voice sound. Yuurei-chan is impressed. Fushihara mentions it was done as a joke, and she even wore a suit. As a result, her stomach hurt. Yuurei-chan think's Fushihara's stomach hurts now. Thus, she performs a cute ritual to make the pain go away.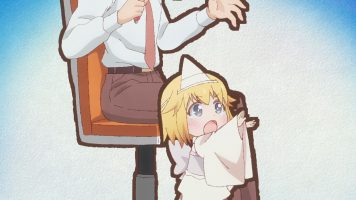 Thoughts/Review:
Thanks to following many a Japanese artist and manga-ka, I was introduced to the lovely manga Shachiku-san Wants to be Healed by a Little Girl Ghost. It is a CRIME that the manga has not been licensed ARITA Imari-sensei's posted chapters on Twitter were so adorable. Naturally, when I found out that this manga was getting an anime adaptation, I was all on board. Not thrilled about the official English title though.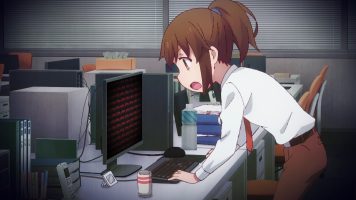 Manga Adaptation
More and more manga-ka are doing 2-4 page works that are published online, which later end up getting some kind of book deal or anime adaptation. Shachiku-san Wants to be Healed by a Little Girl Ghost is such a title. Thus Miss Shachiku and the Little Baby Ghost 01 covers chapters 1 to 3 of the source manga. However, this is only 12 pages of material. That means the anime adaptation had to provide a TON of filler.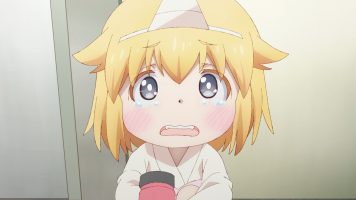 About 25% of the first half of the episode is from the actual manga. Chapter 1 starts at 2am and goes from there. Chapter 3 is where Fushihara finishes her work. So the whole sub-plot of the theft of food in the office isn't in the manga. And showing the evil boss piling work onto Fushihara isn't shown.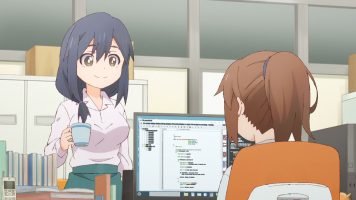 The entire second half of the anime is filler. There's nothing from Yuurei-chan's perspective in the manga. Nor is their chat about the bullhorn in the manga. HOWEVER, that doesn't mean this was a bad thing. Yuurei-chan is so freaking adorable, it makes one want to adopt her. And from what little I read of the manga (which has sadly been ignored by both the professional and scanlation communities), getting some Yuurei-chan perspective is a good thing. I want to know why a little girl ghost is "haunting" this office building, especially since she wears a kimono.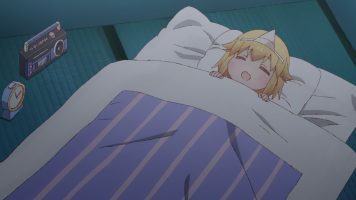 Crunchyroll
First, can we talk about the rubbish title that is Miss Shachiku and the Little Baby Ghost? The literal translation of the Japanese title is Shachiku-san [Corporate Slave-san] Wants to be Healed by a Little Girl Ghost. When I hear "little baby" in a non-sarcastic way, I think "newborn" or shortly thereafter. I don't think of some 4-5 year old kid. Thus for the life of me, I cannot figure out why it is "Little Baby Ghost" rather than "Little Girl Ghost".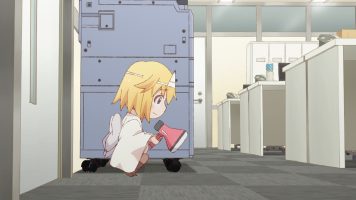 However, whenever "Yuurei-chan" was mention, CR felt this must be "little baby ghost" even though that's NOT right. It's just "Ghost-chan" (if translated). Baby doesn't come into it at all, but in the "LOCALIZATION RULES!" arena, rewriting stuff is the bestest evah! 🙄 Otherwise, the adaptation had a somewhat above average liberal take on what was said. I'm in the "accurate but readable" camp.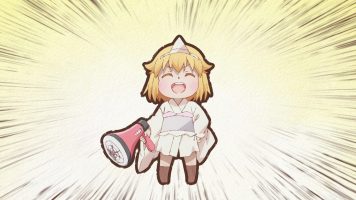 Since "Miss" was used in the title (and I could speak to that, considering the butch attire of Fushihara, but I'll refrain from that), I expect a rubbish abandonment of Japanese honorifics. But since Fushihara was addressed without honorific, and I already mentioned how Yuurei-chan was done, I can't say if honorifics will be kept or not. I suspect not, but we'll see when dialog actually has more names with honorifics mentioned.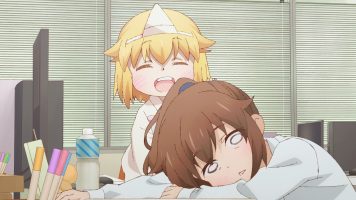 Final Thoughts and Conclusion
In the end, Miss Shachiku and the Little Baby Ghost 01 is an adorable episode of a corporate slave working herself to death and a little ghost girl in the office who doesn't want this corporate slave to die.