Miss Shachiku and the Little Baby Ghost 07
社畜さんは幼女幽霊に癒されたい 07
Shachiku-san wa Yо̄jo Yuurei ni Iyasaretai Episode 07
Shachiku-san Wants to be Healed by a Little Girl Ghost
SPOILER Summary/Synopsis:
Fushihara makes stuffed bell peppers for Yuurei-chan and Myaako. Yuurei-chan doesn't want to eat bitter things. However, Myaako and Fushihara changes her mind by telling her it will help her grow. Thus she imagines herself as an adult and scarfs the peppers. After Myaako and Yuurei-chan squabble about how they are growing, Fushihara realizes she doesn't know much about either spirit.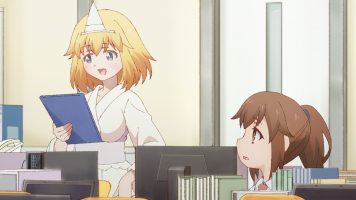 Fushihara checks the calendar and asks when the girl's birthdays are. Neither can remember specifically. However, Yuurei-chan remembers the summer being her birthday. As such, Fushihara gives her a card, granting Yuurei-chan one wish. Yuurei-chan is so happy by this, she cherishes the card. She's a little disappointed when sometime later, Fushihara asks her to make the wish so that they can celebrate together. Yuurei-chan asks for a big hug and Fushihara happily grants it.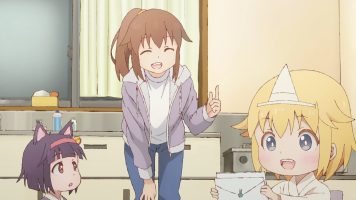 Now that it is summer, Fushihara takes the two spirits to a festival that will end with a firework display. Yuurei-chan and Myaako enjoy themselves a lot, except for the haunted house. That evening, rain comes in and the fireworks are canceled. Fushihara buys some simple fireworks from a store, allowing the two spirits to have fun.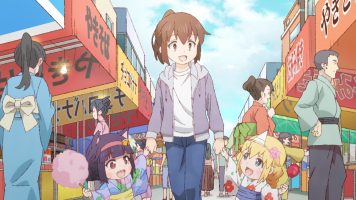 That night, Fushihara observes the girls sleeping. Loud banging next door causes Fushihara to pay her neighbor a visit. The neighbor, a woman named KURAHASHI Satsuki, apologizes, saying she lives alone. However, Fushihara sees a little girl in a maid costume next to her. Satsuki and the girl as surprised by this.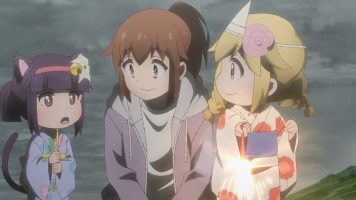 Thoughts/Review:
The adorable cuteness continues in Miss Shachiku and the Little Baby Ghost 07, but as always, it is tinged with sadness.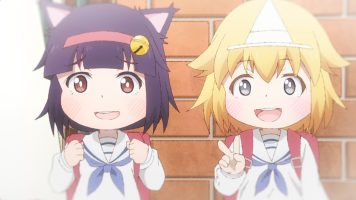 Spirit Girls
For a moment, I thought the writers of Miss Shachiku and the Little Baby Ghost 07 were going to give us some backstory about Myaako and Yuurei-chan. For the first time, Fushihara really started thinking about how her two, young charges are in fact both spirits — one cat, with a humanoid form, and one human. As such, do they really need to eat? That's a very valid question that Fushihara considers, but doesn't ask. Apparently, the girls can taste food, but what happens to it after they consume it?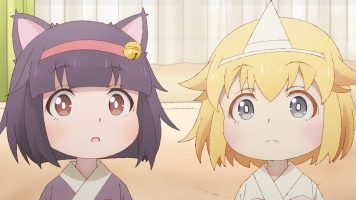 Nevertheless, I was disappointed that Fushihara didn't inquire more beyond asking the girls when their birthdays are. We learn that spirits don't have the same sense of time that the living do. I suppose that makes since, seeing how they become immortal beings, and in the case of Myaako and especially Yuurei-chan, lonely ones.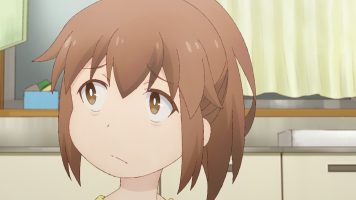 I'm going to guess that the mangaka hasn't addressed questions about the full backstory of both spirit girls. We have seen glimpses of Yuurei-chan's living life. It would be pretty sad to learn the circumstances of her death. Ditto Myaako. That aside, it wouldn't surprise me if Fushihara was Yuurei-chan's reincarnated mother and that Myaako was their cat.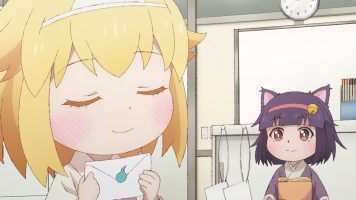 Summer Festival
Miss Shachiku and the Little Baby Ghost 07 gave us the fairly typical summer festival story. So we got to see the usual festival stuff. However, when the rain came, everything disappeared. That seemed odd to me. I guess Fushihara took the girls to where there was shelter rather than stay on the festival grounds.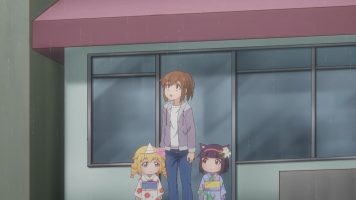 I expected the rain would end and the fireworks continue as planned. After all, that has happened in a number of other anime/manga titles. Hand Maid May springs to mind. But I liked what we got instead. And yet, as Yuurei-chan and Myaako were oh so happy with their small fireworks, that element of sadness was there. They two are ultra adorable and not sad, so why is that tragic feeling in the air?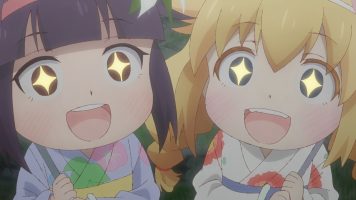 I do wish the series had more laughs. Maybe the Japanese are laughing more. My only laugh in the episode came from Myaako and Yuurei-chan worrying about ghosts in the haunted house. I mean, ghosts worrying about the existence of ghosts isn't anything new in manga and anime, but it was a welcome moment of levity. I just wish there was more of that and less of the cloud of doom.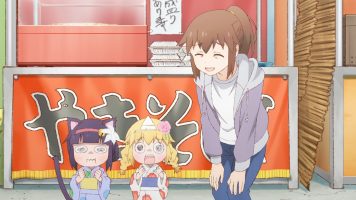 Final Thoughts and Conclusion
In the end, Miss Shachiku and the Little Baby Ghost 07 was an enjoyable, adorable episode. But as always, there's that sadness element that runs through everything, even though these two spirits are in the best place they've been at for years on end. We'll see what the new characters introduced at the end of the episode bring to the series.