Spy×Family 07
SPOILER Summary/Synopsis
At breakfast, Anya tearfully apologizes for getting into a fight at school, all but destroying Twilight's "Plan B". Anya boards the school bus and Twilight asks her to apologize to Damian. At school, Anya sees Becky get out of a limo. When the driver addresses Becky as "Becky-ojousama", Anya is impressed. Anya sees Damian with his clique. She tries to apologize, but Becky drags her away. Twilight observes this and is unhappy.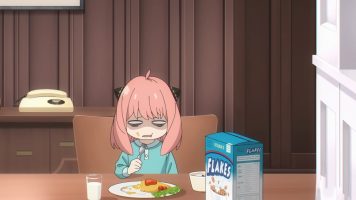 In class, no one wants to sit near Anya and Becky. Further, Anya scans the minds of her classmates and discovers the animosity toward her and Becky. Anya continues to attempt to apologize to Damian, but again is thwarted by Becky. Twilight, disguised as a janitor, is not happy. Anya detects his thoughts. Twilight continues to bombard Anya with covert messages to apologize, even managing to get Becky away from her.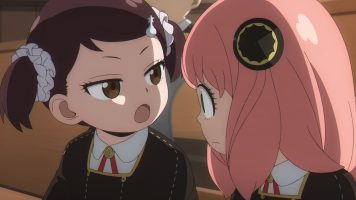 Anya finally gets to where she can apologize. Damian finds that Anya has him off balance. His clique members heavily insult Anya in their thoughts, bringing her to tears. She gets the apology out, but Damian flees, rejecting the apology. Horrified, Twilight decides that all he can do is force Anya to study. However, it is too much for her and she flees to her room that evening.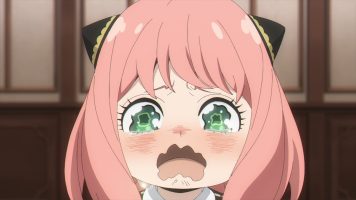 Twilight and Yor have a long discussion on the situation. She recounts her time with her younger brother. Further, Yor reminds Twilight that Anya considers him to be a perfect father. Twilight decides to be a better father and goes to talk to Anya in her room. He finds her asleep at her desk, but obviously she had been studying. Twilight puts her to bed and wonders what it would be like to have a real family.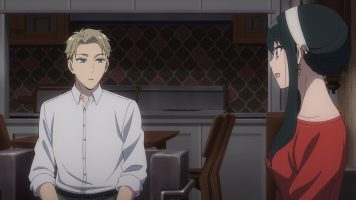 Thoughts/Review
The laughs and other awesomeness from the previous episode weren't in Spy×Family 07, but it was still an enjoyable episode.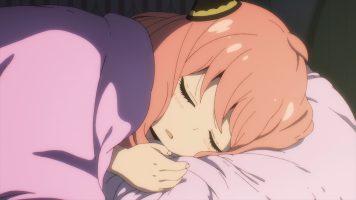 School Life
Anya gets her first day of school in Spy×Family 07. I really doubt Anya is actually six as she claimed in order for Twilight to adopt her. As such, she's already at a learning disadvantage compared to her classmates. Further, Eden College is teaching some pretty advanced stuff for kids in the first grade. Granted, this is supposed to be an elite school, but still, it seemed a bit much for kids so young.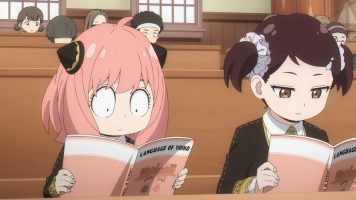 Then Anya has the further pressure of Twilight desperately wanting Anya to apologize to Damian so that Plan B can continue. Heck, Anya even senses him at school, which adds to that pressure. It was unfair to Anya, and thankfully, Yor caused Twilight to see the error of his ways.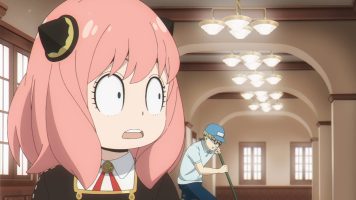 That aside, the biggest pressure came from Anya reading the minds of her classmates. The first day of school is scary enough without knowing the thoughts of others. But since Anya is a telepath, all of the fear and hatred the others had for her put more weight on her tiny shoulders. So when Damian's clique insulted her heavily in their minds, it is no wonder that she broke down.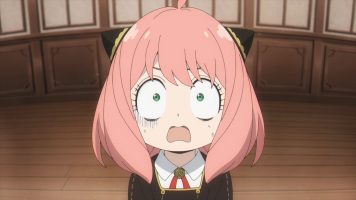 Still, Anya does have a friend in Becky. I got a kick out of Anya's excitement at meeting an ojousama. But despite their different social standings, I feel Becky genuinely wants to be friends with Anya. And for Anya, I'm guessing this is a unique experience, considering how in the orphanage, we see her segregated from the others.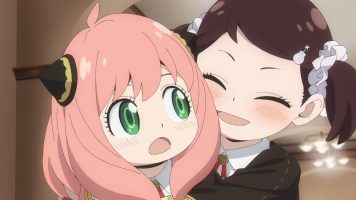 Pseudo-Europe is Japan!
I'm often amused at how the Japanese portray Western cultures. Sure, they get the architecture correct. But as Spy×Family 07 reminded me, they get a lot else wrong and just make things Japanese. That starts with Japanese honorifics, which automatically establish things in speech that aren't present in Western speech. And one such term is ojousama.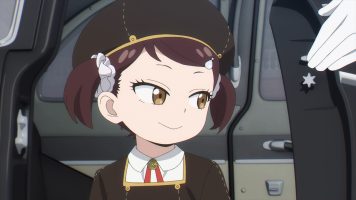 In the West, the daughter of a rich or important person doesn't get a special title. In Japan, one often sees anime/manga make a big deal over an ojousama character. But for this European-based setting, the Japanese decide that folks in Europe probably have a version of ojousama, thus Becky gets that title. Thus, Anya gets excited to learn Becky is an ojousama.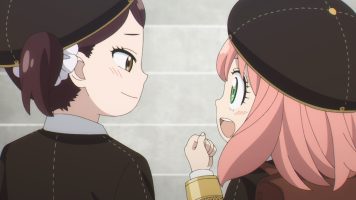 Food is another area where the Japanese often miss the mark. Apparently, the Japanese view omurice as a Western thing when in fact it is pure Japanese. As such, Twilight serving omurice for breakfast is a laugh to me. Not sure why there was a big box of cereal out, which is a Western breakfast item, if no one was eating it. 😅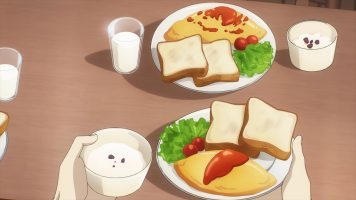 Then in the school cafeteria, I had to laugh at how some of the menu items did seem very European, and high class stuff at that. However, omurice and curry rice are Japanese things (though curry comes from India). I'm guessing the Japanese think muffins are like Egg McMuffins, based on the menu. I wasn't sure what roast beef is served as a mound in a bowl with sauce and a fried egg. Then I learned that this too is a Japanese thing. 😂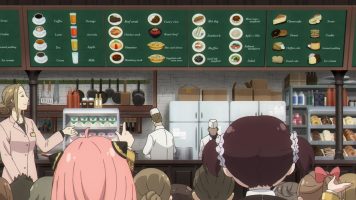 Final Thoughts and Conclusion
Let me wrap up my review of Spy×Family 07 with some final thoughts.
It is clear that Damian is developing some kind of crush on Anya. He's too young to understand it, of course.
I liked seeing Yor's little brother. We also get to see a glimpse into their life. I guess Yor raised Yuri, but it is hard to tell. Yuri is a sistercon, based on everything we've seen.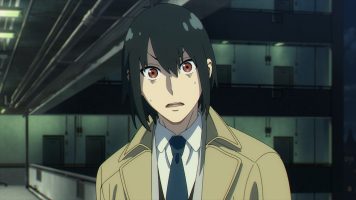 In the end, Spy×Family 07 was a good episode. However, it wasn't as fun or funny as the previous episode, thanks to Anya being bombarded with pressure from Twilight and the insults and negative thoughts of her classmates.