Miss Shachiku and the Little Baby Ghost 10
社畜さんは幼女幽霊に癒されたい 10
Shachiku-san wa Yо̄jo Yuurei ni Iyasaretai Episode 10
Shachiku-san Wants to be Healed by a Little Girl Ghost
SPOILER Summary/Synopsis:
Myaako and Yuurei-chan are at the office and observe Fushihara getting in trouble with her boss. That night at 2am, Yuurei-chan comes dressed as a man in a mustache, claiming to be the company president. She thanks Fushihara for her hard work. Myaako comes in as the kouhai to help Fushihara. While Fushihara appreciates it, she wonders what has caused the girls to behave this way. She then learns that they witnessed her scolding and helps explain things to them.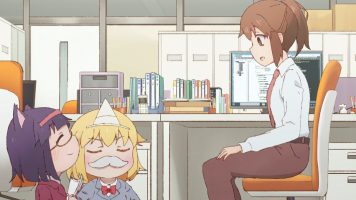 That night as they walk home, Yuurei-chan and Myaako are amazed by the Christmas lights that have gone up. Neither has heard of Christmas or Santa0-san. Further, they don't seem that interested when Fushihara explains things to them. However, when Fushihara says they'll get presents, the ghosts become very interested.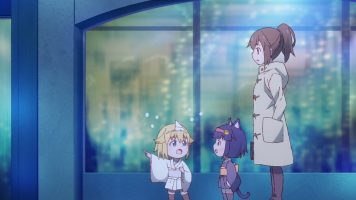 Fushihara gets a couple of Christmas stockings and hangs them up. She asks the girls to make a non-expensive present wish for Santa-san to grant. On Christmas Eve, Fushihara goes to work as normal. The girls wait into the night for Santa-san to come, but he doesn't. They worry that maybe he won't come, or that they've been bad. Fushihara comes home to find them asleep with a note on the white board thanking Santa-san.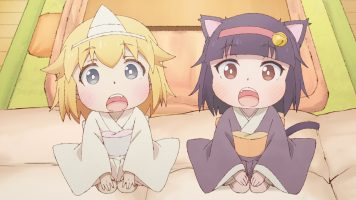 The next day, the girls are excited to see presents in their stockings. Fushihara had purchased matching scarfs and mittens for them. She attempts to take a group picture, but the girls don't show up in the photo. As such, she discusses this with Satsuki. As such, Satsuki paints a group portrait of the trio, causing Lily to praise Satsuki.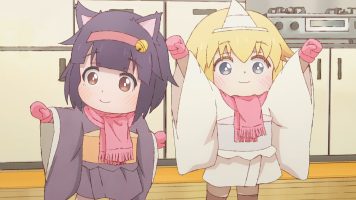 Thoughts/Review:
Time for a Christmas episode with Miss Shachiku and the Little Baby Ghost 10. As is typical for the series, there's that cloud of sadness overhead, but there was a bit of levity as well.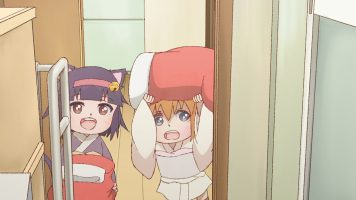 Christmas Anticipation
While it was cute seeing Yuurei-chan and Myaako's reaction to seeing Christmas lights for the first time in Miss Shachiku and the Little Baby Ghost 10, I had to ask, "Why is this the first time they've seen Christmas lights?" And neither knew what Christmas was (in a secular sense). Clearly, both ghosts have been around for many years. Yuurei-chan may have been around for a century or more.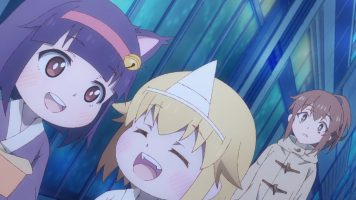 On the humorous side of things, Yuurei-chan and Myaako are all excited about getting a present from Santa-san. Their intense stares at their stockings on the day of Christmas Eve made me laugh. Then as Santa doesn't show up, they do things like unlock the door and open the window, I laughed again. It reminded me of my own childhood and Christmas, though my parents never taught us Santa Claus. I really enjoyed this aspect.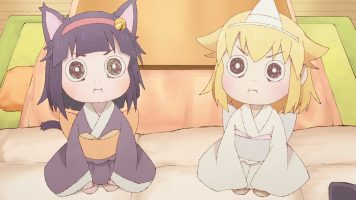 However, as time passed, the girls become depressed and the dark clouds roll in. Yuurei-chan suspects that maybe she's not a good girl. After all, Santa-san has never given them presents in the past. Then they try to comfort each other and even decorate a large whiteboard, thanking Santa-san for coming. Afterward, they tearfully fall asleep. I hate this constant depressive tugs the show performs. Yes, in the end, the girls get presents and such, and they are very happy. But I don't enjoy the roller coaster of emotions.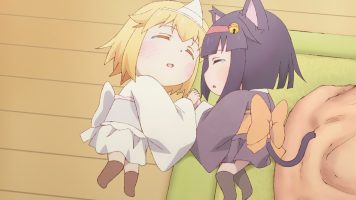 Final Thoughts and Conclusion
Let me wrap up my review of Miss Shachiku and the Little Baby Ghost 10 with some final thoughts.
Also on the depressive side of things, Fushihara could not take a picture of Yuurei-chan and Myaako as they are ghosts. That's a normal thing to happen in stories with friendly ghosts. However, at least the show acknowledges that the copy machine got the ghost's image. Conveniently, there's no answer as to why this was the case.
Still, it is cool that Satsuki was able to paint a portrait of Fushihara, Myaako, and Yuurei-chan. However, I can't help but feel that at the end of the series, Myaako and Yuurei-chan will have passed on, thanks to the love of Fushihara. Thus this painting (and the printed t-shirts) will be all she has left. We'll see.
Man, I wouldn't want to work at Fushihara's company. Yeah, I work until 2am a lot of times. However, I'm usually dealing with problems that need to be fixed, or working with offshore developers on some project.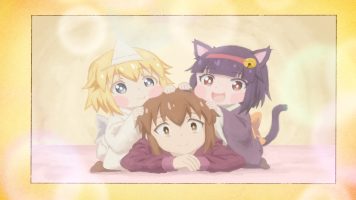 In the end, Miss Shachiku and the Little Baby Ghost 10 has the typical clouds of depression hanging over everything. But there were moments of levity and the normal adorable elements the series is known for.