Miss Shachiku and the Little Baby Ghost 12
社畜さんは幼女幽霊に癒されたい 12
Shachiku-san wa Yо̄jo Yuurei ni Iyasaretai Episode 12
Shachiku-san Wants to be Healed by a Little Girl Ghost
SPOILER Summary/Synopsis:
Fushihara receives a letter from two, kid, delivery service people. The letter is blunt and demands they move out. Fushihara ignores the letter, so the shrine deity, an oni mikogami, continues to send more ominous letters. Again, Fushihara ignores them, feeling this is a prank. As such, the oni mikogami heads with her two kitsune helpers and pays Fushihara a visit. Fushihara names her "Miko-chan", much to the oni mikogami's chagrin.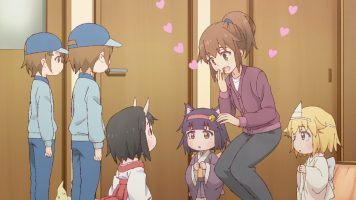 Yuurei-chan and Myaako play outside with Kon and Konta in their fox form. Meanwhile, Miko-chan tries to explain that doom is coming for Fushihara and Satsuki, evidenced by the fact that they can see the supernatural. Fushihara states that having Yuurei-chan and Myaako in her life has been the best thing ever. As such, even though she has a terrible job, said job allowed her to meet these spirit treasures.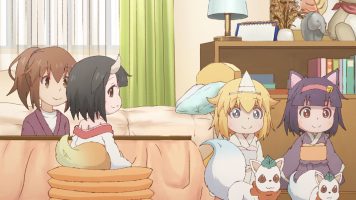 Their apartment building catches on fire, making Fushihara and Satsuki homeless. Yuurei-chan and Myaako worry about being separated from Fushihara. Miko-chan has a new apartment building. She arranges for the real estate agent to give them a tour. The agent turns out to be Kaori, Fushihara's old friend. After getting briefed on the situation, Kaori shows them the new, large apartment. Fushihara is worried about affordability, but as a "special case", the rent is easily manageable.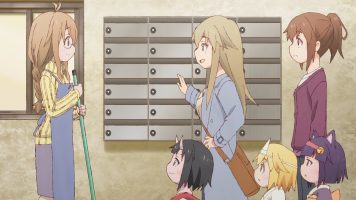 Kaori and Fushihara chat. Again, Fushihara expresses her gratitude for Yuurei-chan and Myaako. They've made her incredibly happy. The two spirits ask if they are going to live here. Fushihara confirms it and hugs them.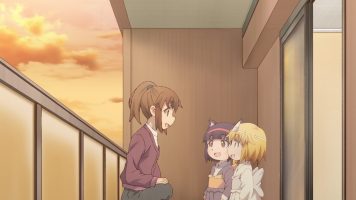 Thoughts/Review:
And so we come to Miss Shachiku and the Little Baby Ghost 12 and the end of the series. And thankfully, this episode was the least depressing of the lot, even if touching.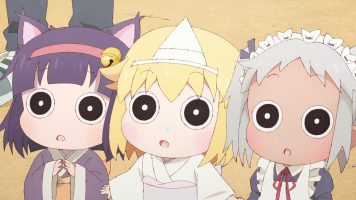 Oni Mikogami
We are properly introduced to a new, supernatural, loli character in Miss Shachiku and the Little Baby Ghost 12. While I am aware of shrine deities from all of my anime and manga exposure (as well as my time living in Japan), the term "oni mikogami" was new to me. Miko-chan seems to be an amalgamation of kitsune and oni. Oni do not have fox tails and I've never seen them employ other fox spirits to assist them.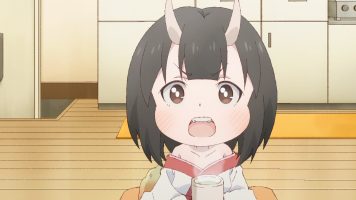 Unfortunately, I don't think I'll ever get an answer as this is the end of the anime. Further, the manga has been ignored by the official licensors and passed on by scanlators after the manga went from online to magazine. That's a shame as I like Miko-chan.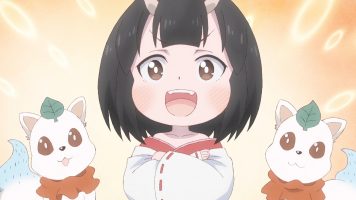 On a related topic, I was annoyed that the official subtitles felt the need to translate "oni" to "demon". If this series gets a second season, I think an actual demon loli shows up. Even if I'm wrong, oni are a unique species and I hate it when attempts are made to change them into something "localized".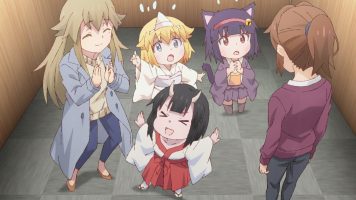 Are They Dead?
I saw some folks asking if Fushihara and Satsuki are dead due to the fire in Miss Shachiku and the Little Baby Ghost 12. For a start, the manager/caretaker (kanrinin) is a ghost. And a number of supernatural entities live in this high-end apartment tower. Further to that, Fushihara was missing from her job and folks there were stunned by this. However, I do not see this as indicating Fushihara or Satsuki are dead.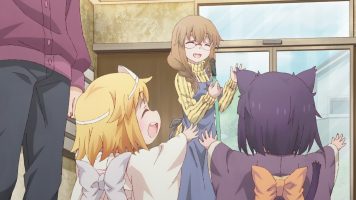 For a start, Miko-chan's purpose was to get Fushihara out of their current apartment due to the misfortune that was on the way. As such, I don't think she'd allow folks she's trying to save to just die. If anything, Miko-chan went about things in a way that others misunderstood. I think she was always trying to get Fushihara and Satsuki into the special apartment tower (as a reward for helping the loli spirits), but not communicating it well.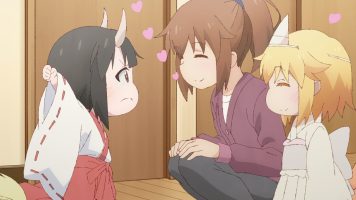 Next, Kaori specifically stated that there are living folks in the special apartment tower. If there weren't, she wouldn't have to bother with rental agreements. And she said she was going to do the paperwork for Fushihara. As such, both Fushihara and Satsuki (assuming Satsuki's in the same tower, which was not clear) will now have neighbors who can see the supernatural. Further, Yuurei-chan and Myaako have the possibility of more friends. (I know there are at least two more loli girls in the manga.)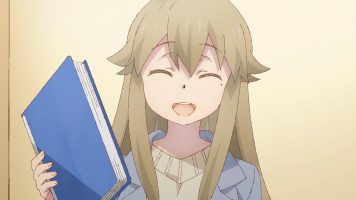 Finally, Fushihara took a day off from work. Normally, she allowed herself to be cudgeled into working. But not this time as she's finding a new apartment. Her coworkers are shocked she'd actually take a day off.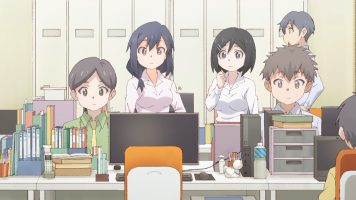 Final Thoughts and Conclusion
I'll write a full series review in the near future. In the meantime, Miss Shachiku and the Little Baby Ghost 12 contained the least amount of depressing elements, even though it was set up to contain more. Miko-chan is a cute, loli addition to the cast. And I enjoyed the episode quite a lot.