A Certain Scientific Railgun T 22
とある科学の超電磁砲T
SPOILER Summary/Synopsis
The members of Scavenger discover Doppelganger has fled the facility. Meanwhile, Mikoto and Misaki (possessing the apartment manager) continue to chat with Ryoko regarding Doppelganger and its abilities. Ryoko confesses to having created Indian Poker as a means of looking for a solution to the Doppelganger problem. After Ryoko leaves, Misaki fills in the bothered Mikoto with further details about Ryoko. It seems Ryoko's experiments were about trying to save her ailing mother.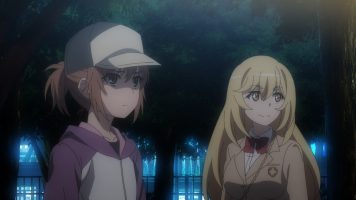 Meanwhile, Doppelganger finds Ryoko. She attempts to kill her creator, but Ryoko uses an electrical charge to escape. Before Doppelganger can resume the hunt, a truck nearly slams into her. The members of Scavenger perform a coordinated attack and appear to capture Doppelganger. Their leader, Rita, orders Seike to find Ryoko, just in case she's the android. After Seike leaves, Doppelganger easily frees herself. She breaks the Leader's arm and defeats the paper master, Naru.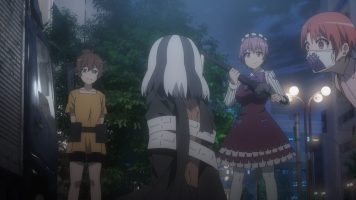 Meanwhile, Seike finds Ryoko and confirms she's human. However, Mikoto shows up, preventing Seike from killing Ryoko. Seike doesn't recognize Mikoto, thinking she's some esper boy. He attacks, thinking he has the advantage. However, he learns too late that he's up against the Railgun as Mikoto defeats him. Back with Doppelganger, she turns her attention to Itsuki. Naru manages to save her and the three flee. Much to their chagrin, they run into Mikoto.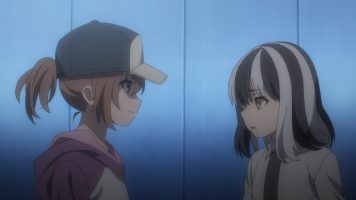 Thoughts/Review
You know, even though I don't like dark and depressing things these days, A Certain Scientific Railgun T 22 reminded me of why I enjoy this franchise despite its jacked up world.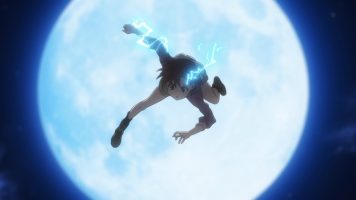 Changes to the Source Material
The source material for A Certain Scientific Railgun T 22 came from manga chapters 88 (volume 12), and most of chapter 89 (volume 13). For the most part, the anime is pretty accurate the the manga. There are a few, minor changes.
Mikoto does not call Kuroko in the manga. But the scene does fit in with the previous, episode, where the anime added a Kuroko scene.
When Mikoto knocks Seike out in the manga with an electrical attack, she makes a remark comparing it to what she often uses against Kuroko. That was removed from the anime.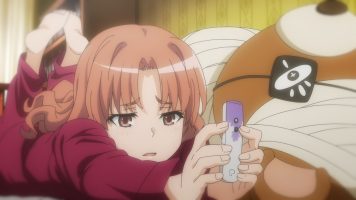 I really love it when an anime adaptation is faithful to the source material. To me, the purpose of the anime is to make the source material come "alive" with movement and sound.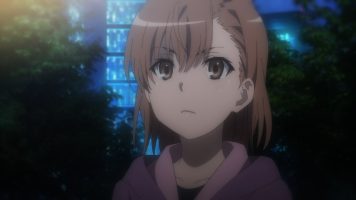 Motivation
Initially, Ryoko's experiments on herself just seemed insane. However, A Certain Scientific Railgun T 22 does give us an explanation. While Ryoko's attempts to save her mother are admirable, that doesn't lessen the insanity of the experiment, whereby she slices herself into chunks and attaches said chunks to cyborg parts. Then afterward, she combines herself again. Just whacked.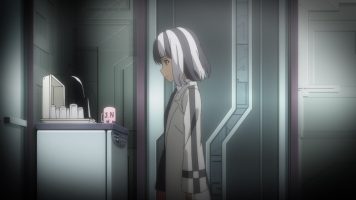 Still, Misaki made sure Mikoto learned this part of Ryoko's life. Misaki knows how to manipulate Mikoto and motivate her into doing things she might otherwise be reluctant to do.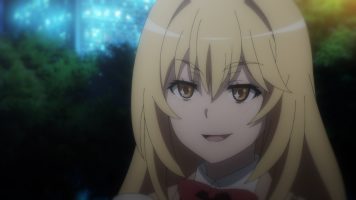 Scavenger
The members of Scavenger are another jacked up group, as seen in A Certain Scientific Railgun T 22. On one hand, this group of three girls and one cross-dressing boy have a certain sadistic side to them. That's especially true for the boy, Seike. He didn't have to bloody up Ryoko just to prove she were human. Still, he got his when he insisted on a fight with Mikoto.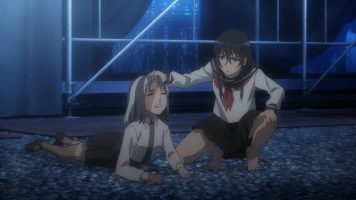 Funny thing is, Seike assumed Mikoto was a boy, due to her masculine attire. And because Seike wears a female, sailor seifuku, it is easy to assume he's a girl. I'm not sure if Mikoto knows Seike is a guy or not.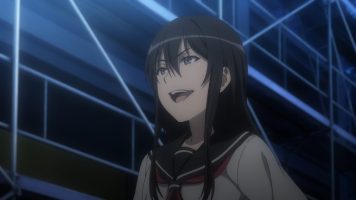 Nevertheless, when it came to the three Scavenger girls attempting to fight Doppelganger for round 2, I couldn't help but feel sorry for them. I didn't like how the story kinda brushes over Rita having her arm broken. It is there, but Rika doesn't seem to be in the kind of pain she should be for such an injury. (Well, I guess they did give her painkillers.)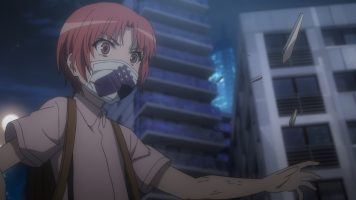 Still, the girls have some skill once they managed to escape from Doppelganger. I laughed when they ran into Mikoto. For a start, Mikoto addresses them while walking toward them, yet not looking at them. That's a subtle form of disrespect there. But Mikoto is awesome, so she's earned the right to have that kind of disrespect.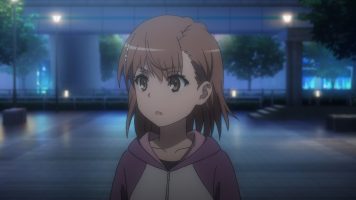 Final Thoughts and Conclusion
In the end, A Certain Scientific Railgun T 22 is a fast paced, highly enjoyable episode, even if it has some dark and somewhat gruesome elements to it.