A Certain Scientific Railgun T 24
とある科学の超電磁砲T
SPOILER Summary/Synopsis
Doppelganger, now encased in rubble and creating a Godzilla-like, kaiju form, attacks Mikoto. As such, Mikoto uses her electromagnet powers to create her own kaiju out of metallic dust and electricity. Doppelganger has superior melee combat abilities, but Mikoto can use her kaiju to fire massive Railgun attacks. Further, Mikoto's fine metallic particles infiltrate Doppelganger's kaiju, allowing Mikoto to massively damage it.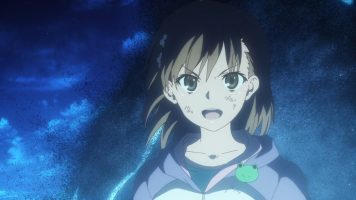 However, Doppelganger is unconcerned and uses this dust to unmask the cloaked airship. Doppelganger then creates an army Doppelgangers, who all send threads skyward. Ryoko arrives with a proposition for Doppelganger, so Doppelganger takes her to the top of the airship. Mikoto finds a way to follow. Doppelganger refuses Ryoko's proposition. As such, Ryoko purposefully falls off the ship. Mikoto is unable to snag her, but Scavenger arrives to rescue Ryoko.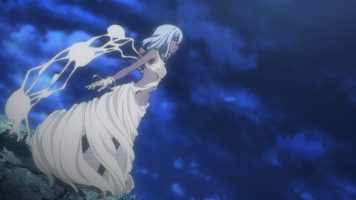 Misaki gives Mikoto a call to update her. Mikoto has a theory that this soul possession might be something else. Misaki confirms Ryoko was working on artificial muscles. Rita gets in on the call and reports that the artificial muscles Doppelganger uses act in a similar fashion to the zombie ant fungus.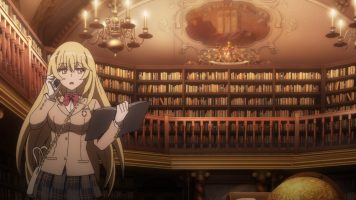 Armed with new information, Mikoto confronts Doppelganger on top of the airship. Mikoto feels Doppelganger is afraid she doesn't actually have a soul. Regardless, Doppelganger plans to destroy Academy City. Mikoto keeps getting thrown off the airship. Rita provides tactical information, allowing Mikoto to fire her Railgun. At the last second, Rita yells a warning.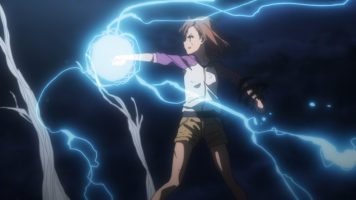 Thoughts/Review
Wow. A Certain Scientific Railgun T 24 just smoked by so fast, I couldn't believe the episode was actually over. But I suppose a well-written story with good characters will do that.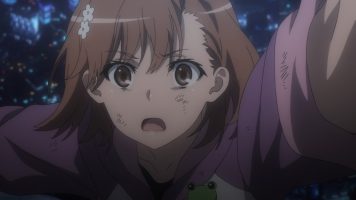 Changes to the Source Material
The source manga chapters that went into the creation of A Certain Scientific Railgun T 24 were the remainder of chapter 92, all of chapters 93 and 94, and roughly the first half of chapter 95.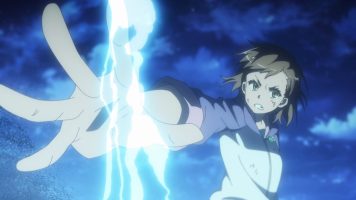 The blatantly obvious insertions into the anime adaptation were the cameo appearances of Saten and Uiharu, then the cameo from Kuroko. I think even folks who have no clue about the manga would find these cameos jarring. The anime writers attempt to work them in, but they are a meaningless distraction. No doubt, there were contractual obligations to give the seiyuu something to say.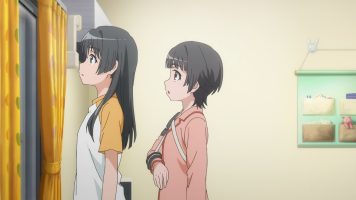 The only other change of significance was that in the manga, Doppelganger was nude for a significant part of it. (Couldn't "see" anything.) The anime had her in "clothing" throughout.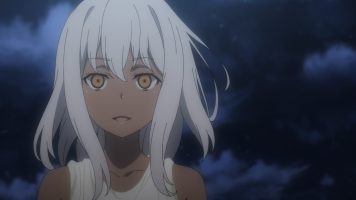 Kaiju vs. Kaiju
I mentioned in my review of the previous episode that I really liked Mikoto's growing maturity when it came to battle. We get to see more of that in A Certain Scientific Railgun T 24. So when Doppelganger creates a kaiju made of rubble, Mikoto builds her own of metallic dust and such. She knew her kaiju wouldn't win in a physical battle with Doppelganger's kaiju. So instead, Mikoto made her kaiju in a way to perform massive, ranged, railgun attacks.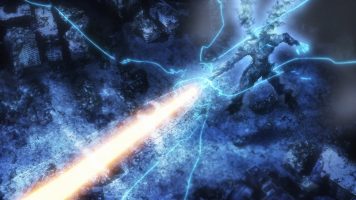 Further, Mikoto used the metallic dust to infiltrate Doppelganger's kaiju and destroy it from within. Brilliant! I know I sound like a gushing goober, but this story arc is Mikoto at her finest. She never comes off as a Mary Sue. I love how Mikoto's growing confidence in her powers as well as her previous battle experience allowed her to have a bigger plan.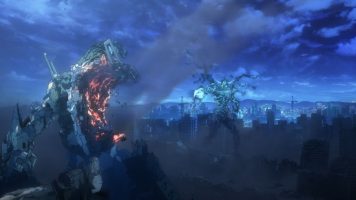 Of course, once the kaiju battle was fought and won, Mikoto had a more difficult battle, just trying to stay attached to the airship. But here too, she managed to keep her cool, didn't panic, and managed to not get knocked to the ground.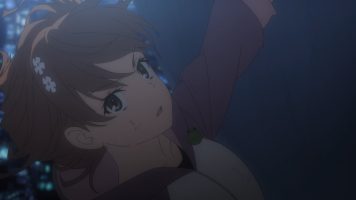 A Little Help From Her Friends
Another nice touch in A Certain Scientific Railgun T 24 is the assistance Mikoto got from outside quarters. Misaki has Uiharu's role of information retrieval for this series. Despite Mikoto's disdain for Misaki, the two have always worked well together. I've often wondered what Mikoto would think about Misaki's relationship with Dolly.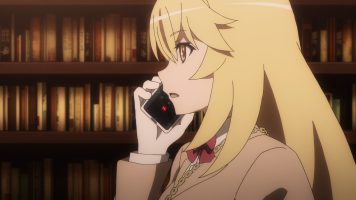 That aside, Mikoto also gets help from Scavenger. Despite being a dark organization, they help Mikoto by first saving Ryoko. And then they provide additional intel that helps Mikoto as she's on the airship. I don't think that Scavenger is going to turn good. However, I like that Rita has a sense of honor, and that the group has no problems repaying their debts.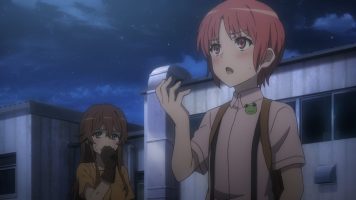 Final Thoughts and Conclusion
In the end, A Certain Scientific Railgun T 24 sucked me in from the start and never let me go. As such, the ending of the episode came as a surprise to me as it didn't feel like enough time had passed. That's always the mark of a well written, highly enjoyable episode.