Lupin the 3rd: Part 1 05
ルパン三世
Lupin III Episode 05
SPOILER Summary/Synopsis
Jigen and Lupin don glasses and watch Goemon XIII engage in impressive sword training. Goemon is not pleased to have them, but invites them into his abode to hear Lupin's pitch. Goemon reveals his mission is to kill Lupin III. Fujiko is there as Goemon's girlfriend, acting and dressing as a traditional Japanese girl. Lupin distracts Goemon to tell Fujiko not to give him up to Goemon. However, Goemon already knew who Lupin was. He gives Lupin and Jigen three seconds to flee.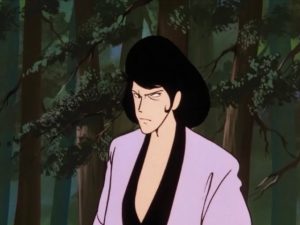 In the pursuit, Lupin manages to set Goemon on fire. But as a result, Lupin catches fire as well. Lupin and Jigen manage to escape to Lupin's mansion for Lupin to recover. Jigen reveals that Goemon's master is Momochi, a killer. That night, Momochi tries to get the drop on Goemon. He's angry that Goemon hasn't killed Lupin.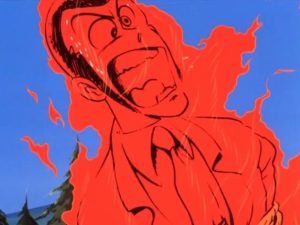 Fujiko returns to Lupin with a story of abuse by Goemon. She seduces him into going after the samurai. However, it is a trap so that Momochi can kill both Goemon and Lupin to regain his status. He paid Fujiko with a large gemstone to seduce both men into attempting to kill each other. Goemon manages to get to Momochi's place, but Momochi escapes in a hot air balloon. He tells Goemon that Goemon lacks the commitment to kill. Momochi states that Lupin would have already killed him.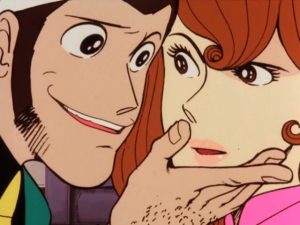 A nearby Lupin concurs and shoots Momochi's hot air balloon, destroying it. Lupin attempts to leave, but Goemon hitches a ride on the back of his Mercedes-Benz SSK. The resulting fight causes a massive accident on the freeway, though no one was killed. Fujiko filmed the accident and gets on the news as a result. Meanwhile, Goemon vows to kill Lupin.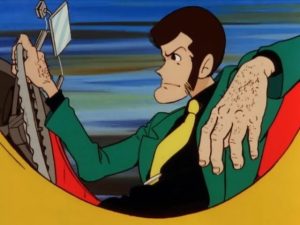 Thoughts/Review
It is hard to believe that it took until Lupin the 3rd: Part 1 05 for Goemon to show up. And he's not even a friend of Lupin yet.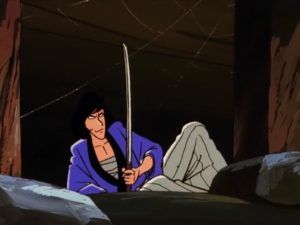 Goemon Arrives
Returning to the first anime adaptation of Lupin III, it is easy to see that later installments would repeat certain things. One such element brought up in Lupin the 3rd: Part 1 05 is Goemon believing Fujiko is his girlfriend. I could be wrong here, but it felt very familiar. It may have been in Fujiko's TV series, but I digress.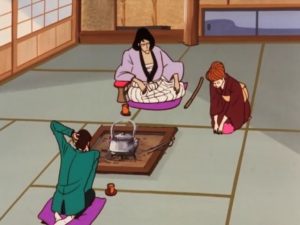 Nevertheless, I found myself creeped out by Fujiko's traditional Japanese woman routine. That's mainly because I know she's faking it. And based on my long history with the franchise, Goemon is more of a pure character. So Fujiko attempting to take him to the cleaners is annoying, whereas with Lupin, Fujiko can do whatever and it won't bother me.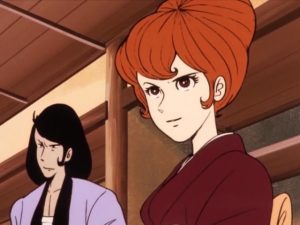 That aside, one would think that upon learning of his master's treachery, Goemon would forgo attempting to kill Lupin. But alas, I suppose his pride got in the way there. For a start, Goemon battles Lupin on a freeway, causing massive traffic accidents. And as the episode ends, Goemon still regards Lupin as an enemy to be killed. I presume he'll avoid Fujiko from here on.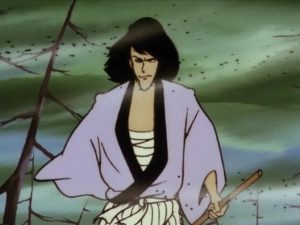 Final Thoughts and Conclusion
Let me wrap up my review of Lupin the 3rd: Part 1 05 with some final thoughts.
Speaking of going to the well again, this episode was the first time we see Lupin totally bandaged up to recover after a fight.
While Goemon's infamous sword Zantetsuken is not named, we do learn that it was forged from the famous swords Kotetsu, Yoshikane, and Masamune. I found that bit of lore to be interesting.
One has to laugh at how lame Jigen's and Lupin's disguises were when they visited Goemon.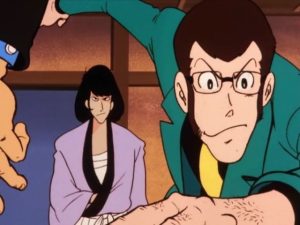 In the end, Lupin the 3rd: Part 1 05 brings us Goemon, but not yet the ally and friend of Lupin.