SPY×FAMILY Volume 02 Manga Review
スパイファミリー
–> Buy SPY×FAMILY Volume 02 from Amazon.com!
The SPY×FAMILY anime may be over, but at least there's the source manga to read. And since SPY×FAMILY Volume 02 was covered by the anime, I'm curious to see what changes the anime may have made.
* * * S P O I L E R S ! * * *
The Story, in Brief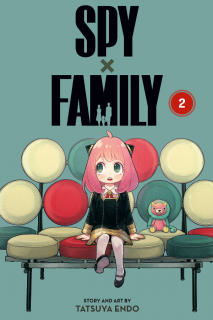 Any fails to get into Eden Academy (College) initially, but is accepted as a 1st alternative when another, accepted kid's family declines the invitation. Franky comes over and suggests a party. Anya wants a spy-themed party at a castle, so Twilight has his agency oblige. Anya is fitted for her school uniform and is very proud of it. While at the grocery store with Yor, Anya is nearly kidnapped until Yor stops it. Anya wants combat training from her cool mama.
At school, Anya tries to carry out Twilight's wish to get close to Damian, the son of Twilight's mark. She fails, and when he insults her, she clocks him. She gets a demerit as a result. Twilight wants her to apologize, but keeps finding himself blocked. When she does apologize, Damian rejects it. As such, Twilight decides to tutor Anya hard to improve at school. However, the pressure is too much for her and she flees. Twilight and Yor discuss the situation.
Meanwhile, Yor's brother Yuri, who works in the State Security Service, discovers Yor is married. He arranges to pay them a visit. Yor panics, having forgotten to tell Yuri. However, Twilight is ready for the emergency.
Some Anime Padding
When I reviewed the first volume of SPY×FAMILY, I noticed that things were pretty faithfully adapted. But then there were longer chapters there. For SPY×FAMILY Volume 02, it is clear that the anime writers had to expand on things in some spots. For example, Anya's castle party is just a few pages in the manga, not an entire episode.
However, what the anime writers did was pretty good. They took the core of what was written, but then expanded on it in a logical way that fit. Probably, the only thing out of place is Twilight flying a plane in the anime. But that's okay.
That aside, the anime appears to mostly be faithful to the source manga, going so far as to incorporate multiple chapters to anime episodes, which is cool. I like faithful adaptations!
Omake
The biggest surprise for me in SPY×FAMILY Volume 02 is the huge amount of omake material. We get a page for early character designs. There's a manga page about Anya wanting to ride those animal, kiddy ride things that you see outside of stores. Next is a page where Anya wants to go to the pool, but then through telepathy, she learns that the other kids are peeing in the water. 😅
However, the Extra Mission is a huge chapter, adapted by the 12th episode of the anime. That's the story where Twilight decides to take his "family" to the aquarium. As it happens, his spy agency has a mission for him at the same aquarium. And there's an explanation page as to why this chapter was originally done, which was cool.
There are a few more pages of fun, omake material, including a final note from Endo-sensei.
Viz
I really despise Viz for a whole number of things, including them issuing a copyright take-down on me for materials they sent me to promote one of their movies. And then there's the whole fiasco of how they handled Hayate the Combat Butler. And then they've trashed the adaptation of Tonikaku Kawaii: Fly Me to the Moon. So yeah, I really don't want to support Viz.
That said, I did take a risk with the first volume. Since it seemed okay, I did the same with SPY×FAMILY Volume 02. Since the series is set in a fictional representation of East Berlin and West Berlin, Japanese honorifics are removed. Still, this does pose a bit of an issue when Anya is all excited because Becky is an ojousama, which is changed to "milady" and used in a weird way. But otherwise, I didn't get a feel that the adaptation was being hideously changed by someone to smart by half.
Final Thoughts and Conclusion
In the end, SPY×FAMILY Volume 02 allows me to get back into the wonderful world of Anya, Twilight, and Yor, only in black and white, and via reading. And I've no problem with that. It will be fun moving into new story territory.