TONIKAWA: Over The Moon For You OVA
Tonikaku Cawaii: Fly Me to the Moon OVA
Tonikaku Kawaii/トニカクカワイイ
SPOILER Summary/Synopsis:
Nasa gives an elated Tsukasa a smart phone. After exchanging contact info with her husband, Tsukasa does the same with Chitose and Aya in the bathhouse. Nasa gets a contract call to do some IT work, so he's off, possibly for the night. Tsukasa starts feeling lonely without Nasa as she attempts to do her shift in the bathhouse. After work, Tsukasa worries so much, she briefly makes herself sad.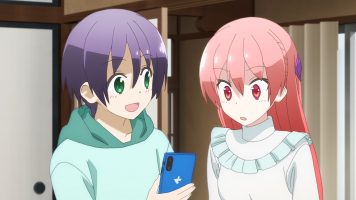 Nasa sends her a text, cheering Tsukasa. However, she still has to deal with a night alone. She ends up getting both futons out by habit, but then justifies the action to herself. After going to bed, Tsukasa finds she cannot sleep. Meanwhile, an exhausted Nasa shows up at 4am. Tsukasa is waiting for him and they end up making out in Nasa's futon.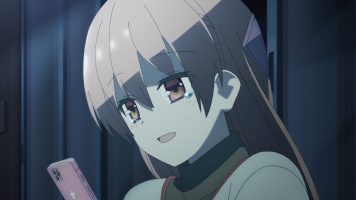 The next day, Chitose trolls Tsukasa about having fun during the night. At Chitose's mansion, Charlotte has an unusual method of waking Chitose. During breakfast, she mentions that while she was at the bathhouse, she overheard that Nasa and Tsukasa had a night of fun. Chitose is shaken, but doesn't go off. That night, Charlotte teases Aurora in their room. Meanwhile, as Tsukasa and Nasa prepare for bed, Chitose sends a text, wondering if they are about to have fun.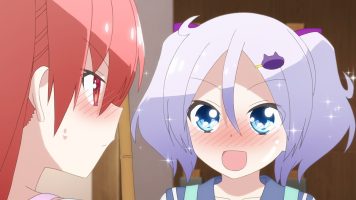 Thoughts/Review:
And so we come to TONIKAWA: Over The Moon For You OVA, the last episode until the new season/series drops.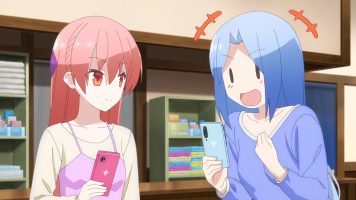 Modifications to the Source Material
As one might expect, there are changes made in the adaptation of TONIKAWA: Over The Moon For You OVA from the source material in manga chapters 45, part of 46, then all of chapters 59 to 62.
In the manga, Tsukasa talks about the urban legends she's heard of regarding setting up a smart phone, including one about Zoltaxians.
Likewise in the manga, Nasa and Tsukasa exchange contact info in the park. she wants Siri to give her info on Zoltaxians.
All of the stuff about Aya's massive online presence is cut, as is the discussions on personalities.
Tsukasa attempting to take a picture of Toast is cut from the anime.
In the manga, Kaname talks about Toast watching Tsukasa and Nasa be passionate rather than Aya overhearing them.
The manga version of the story with Aurora, Chitose, and Charlotte is told from Aurora's perspective, complete with her narration. The narration and perspective is changed in the anime.
The final bed scene with Nasa and Tsukasa is heavily padded.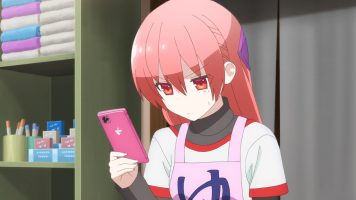 Kinda bummed all the stuff with Aya was cut. Also, changing the stuff with the maids so that it wasn't Aurora observing how much of a bimbo devil Charlotte is bummed me out as well.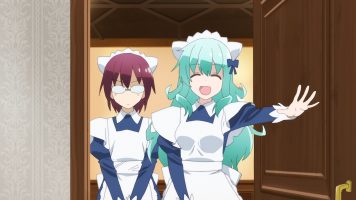 More Slice of Life Newlywed Stuff
As has been the case for this series, TONIKAWA: Over The Moon For You OVA is basically more newlywed, slice of life fluff. As such, it is fun seeing Tsukasa get her first smart phone. It is understandable how lonely it must feel when you are used to sharing a bed (futon) with someone and they are off working. And then there's the teasing from Chitose to deal with after the fact.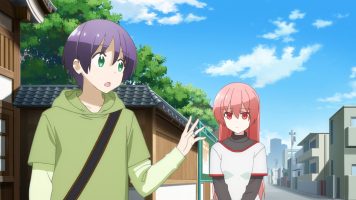 The only element not directly dealing with Nasa and Tsukasa's marriage was the stuff with Chitose and her maids. Of course that part of the episode was done to tweak the highly excitable Chitose and cause her to go off. So humorous stuff, but nothing for me to go on about.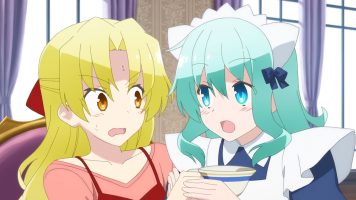 I will say that the anime showed a view of Nasa's and Tsukasa's guest house that really helped give it some scale. It is amazing how little space they have. Yeah, it is typical for Japan, but in this case, I like the visualization.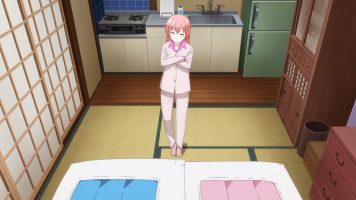 Final Thoughts and Conclusion
In the end, TONIKAWA: Over The Moon For You OVA continues doing newlywed, slice of life stuff, with a side story about Chitose and her maids. It was fun and enjoyable.