SPY×FAMILY Volume 06 Manga Review
スパイファミリー
–> Buy SPY×FAMILY Volume 06 from Amazon.com!
Since I have some time off, it is time to dive into SPY×FAMILY Volume 06 and continue to enjoy this excellent series.
* * * S P O I L E R S ! * * *
The Story, in Brief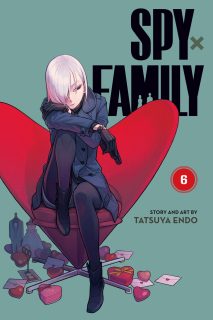 Fiona goes on a mission with Twilight to obtain a painting that has some clue to an intel cache that could lead to war. To do the mission, Fiona and Twilight have to pretend to be tennis players in a competition held by the painting's owner, Cavi Campbell. Meanwhile, Yor senses Fiona moving in on her and works on her tennis game. After the mission, Fiona challenges Yor to a game of tennis and loses due to Yor's sheer strength.
Yor is depressed because of Fiona. Twilight takes Yor out, where after some adult beverages, she confronts him about Fiona. Twilight turns on the charm, but gets kicked when he gets too close to Yor. However, he eventually calms Yor's fears.
Becky mistakes Anya's interest in Damian as love. As such, she takes Anya out on a massive, shopping spree. After an exhausting day, Becky and Anya take a break for tea. Becky is worried that Anya might not have enjoyed herself. However, Anya assures her she had a blast with a friend. To that end, Anya buys matching key-chains for them to commemorate the trip.
Twilight spies on Anya and Damian at school. After Anya gets Damian to meet his father at school, Twilight arranges to be there to apologize to Damian for Anya's punch. As such, he's there when Damian's father Donovan arrives.
Tennis Antics
I think the main purpose of the tennis mission in SPY×FAMILY Volume 06 is to establish Fiona as a rival to Yor. Obviously, this is done for comedy purposes. Fiona is so serious on the outside, but head over heels for Twilight inside. So for her, she wants to seriously impress Twilight. Further, Endo-sensei is showing us how skilled Fiona is, setting up the eventual tennis match between Fiona and Yor.
As to Yor, she doesn't recognize her growing feelings for Twilight. That aside, her worries about returning to her life before meeting Twilight are understandable. And she sees Fiona as possibly facilitating this. As such, it is natural that Yor would accept Fiona's tennis match challenge. Humor aspects of the match aside (and it was funny), Yor's victory may have sent Fiona off, but didn't do much for Yor's confidence.
As an aside, in addition to the comedy of Fiona's match with Yor, I got a laugh out of Anya's response to the match.
Date Night
Another thing I liked about SPY×FAMILY Volume 06 is that Twilight isn't dense about what's going on with Fiona and Yor. He understands Yor is depressed and uncertain about where she stands, thanks to Fiona. As such, he has a date with Yor to try to clear the air. And when he comes to believe she's jealous of Fiona, he pours on the charm. But this is Yor we are talking about, and well, Twilight meets his match when she kicks him in the chin, forcing him to eventually pass out.
Again, Endo-sensei manages to create incredibly funny stuff, yet expertly merge them with some poignant character work. Twilight opens up a bit to Yor about his past. Further, he's able to show Yor why she's perfect for the job of (fake) wife and mother to Anya. The whole date story was really lovely, and sandwiched by two incredibly funny moments.
Omake
The omake part of SPY×FAMILY Volume 06 consisted of a small chapter, dedicated to a peek into a routine day for Housemaster Henderson. This omake chapter was adapted into the first season of the anime.
Other omake material consisted of a single page manga, depicting Franky playing Frisbee with Anya and Bond while Yor and Twilight were on their date. There's a page dedicated to Fiona. Also, there's the usual note from Endo-sensei.
Finally, there's an alternate cover illustration, depicting Fiona in a wedding dress and holding a marriage license rather than a gun.
Final Thoughts and Conclusion
Let me wrap up my review with some final thoughts.
I loved Becky and Anya's shopping trip story. Despite being an ojousama, Becky has been alone. Thus her friendship with Anya has caused Becky to become less disdainful than she was. It was a lovely story.
The end of the manga setting up Twilight meeting his target, Donovan was pretty cool. After six volumes, it was certainly time to move that part of the plot forward. It will be interesting to see how that goes in the next volume.
Although this series is supposed to be set in the 1960s, I did get a chuckle out of Yor apparently having a smart phone. Endo-sensei does mention this, but then says that since this is a fictional world, its okay.
In the end, SPY×FAMILY Volume 06 had some really funny moments and some poignant moments as well. The tennis mission of Twilight and Fiona was fine, mostly because it set up the rivalry between Yor and Fiona. And it set the table for Twilight's date with Yor to clear the air. But the mission story does feel like a bit of an intrusion. But that's not enough to bring down my very positive feelings about the volume.