TONIKAWA: Over The Moon For You Season 2 03
Tonikaku Cawaii: Fly Me to the Moon Season 2 03
Tonikaku Kawaii S2/トニカクカワイイ
SPOILER Summary/Synopsis:
Ginga gives Nasa two tickets to a local, large theme park. Tsukasa is excited to go. When the day arrives, the rain causes Nasa to worry about disappointing Tsukasa. However, Tsukasa is very excited. Nasa gets their passes and buys some rain coats. Meanwhile, Chitose also shows up at the part with her maids, Aurora and Charlotte. Chitose is not pleased, but Charlotte's passes for a water ride distract her.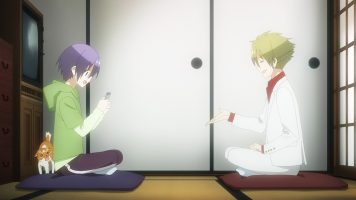 Meanwhile, Nasa and Tsukasa go to a haunted house attraction, then a sci-fi one. Nasa worries Tsukasa might be disappointed. Instead, she wants to do the rides again. The pair find Yanagi-sensei, who tells them she's there with Taniguchi-sensei. However, Tsukasa realizes that Taniguchi-sensei's claim to have one the tickets is a lie. To that end, she drags Nasa away and informs him of what's really going on.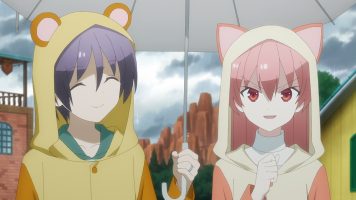 The two follow the teachers into another attraction. There, the young couple watch Taniguchi-sensei fail to express his feelings for Yanagi-sensei. As such, Nasa and Tsukasa head to a buffet. They are spotted by an annoyed Chitose, who tails them with Charlotte and Aurora. Tsukasa decides she'll make a plate for Nasa and vice versa. After lunch, Tsukasa gets to hug the park's mascot. So naturally, Chitose wants to do the same.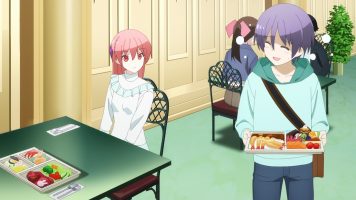 That night, Yanagi-sensei ends up proposing to Taniguchi-sensei at the fireworks show. Tsukasa and Nasa hold hands while watching the fireworks. Chitose observes this, decides she's seen enough, and goes home.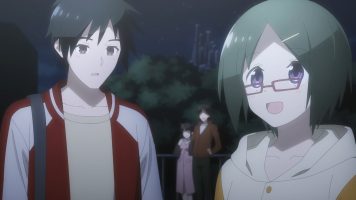 Thoughts/Review:
Time for a trip to the amusement park in TONIKAWA: Over The Moon For You Season 2 03.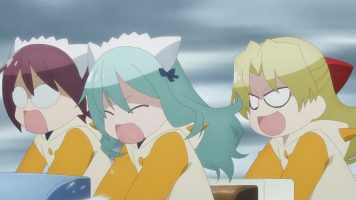 Modifications to the Source Material
The story for TONIKAWA: Over The Moon For You Season 2 03 was taken in part from the two pages of chapter 54, then chapters 55, 56, 57, with chapter 58 interspersed throughout. As such, most of the modifications are from working chapter 58 throughout the story. I won't mention those below, and I didn't have an issue with that. But there are some odd choices made.
For keen Hayate the Combat Butler readers (or watchers of the anime), they will recognize Kerenagure Mansion. The manga has a narrator provide more linkage there.
In the mansion attraction, we see the small Tama, but we don't get to see the ghostly images of Klaus, Hayate, or Nagi from Hayate the Combat Butler.
The sci-fi attraction doesn't have Princess Leah or George Lucas (cosplayers) from Star Wars. There's something that could weakly represent R2D2 and C3PO. Ditto a battle droid.
Hajime and Himeka from These Two Will Be Married in 100 Days have a cameo not in the original manga.
Charlotte and Aurora are shown as pleasantly surprised by Chitose's maturity in this episode. In the manga, they are portrayed as quietly proud of Chitose's maturity.
The Star Wars references could be more tricky, so I can kinda excuse their removal. I didn't object to Hajime and Himeka's appearance. But I don't understand why you'd keep some Hayate the Combat Butler references, but remove others.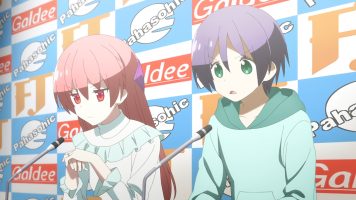 Theme Park Date Adventure
There are three different stories going on in TONIKAWA: Over The Moon For You Season 2 03. The first story is obviously Nasa and Tsukasa's date to the amusement part. Next is Taniguchi-sensei and Yanagi-sensei's date to the same theme park. And finally, there's Chitose's trip to the theme park. That storyline seems to have been prompted by Charlotte, who along with Aurora, want to troll Chitose by making her see Nasa and Tsukasa together.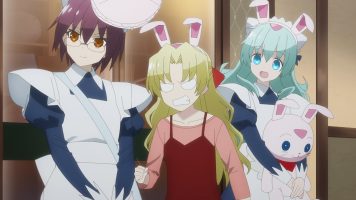 As to the teacher storyline, we get the cliched, "I can't get the words out" stuff from Taniguchi-sensei. Thankfully, Yanagi-sensei made it so that we didn't get the tiresome "will they or won't they?" trope.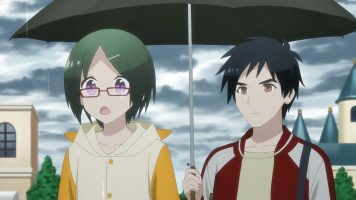 Finally, there's Nasa and Tsukasa. I like how Tsukasa picked up on the situation between Taniguchi-sensei and Yanagi-sensei. Nasa's claims to the contrary, he's pretty dumb on social elements. That aside, Nasa and Tsukasa's time at the theme park was pretty fun to watch.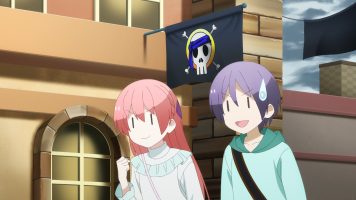 Final Thoughts and Conclusion
Sorry this is so late, but work is busy. That aside, I enjoyed this episode and had no issue working Chitose's afterthought, manga story into the amusement park story as a whole.