Tenchi Muyo! GXP Paradise Starting Episode 1
Tenchi Muyo! GXP Paradise Shidō-hen Ep. 1
天地無用!GXP パラダイス始動編
I had promised I would do a video review for Tenchi Muyo! GXP Paradise Starting Episode 1. As such, I don't have my normal text review. I do have my script for the summary, but I freelanced the review part in the video. If there's a demand for it, I can drum up a text review. Maybe next time, I'll just write the normal review, then do a video. But man, videos take a lot longer to make. And this one was plagued by a few problems as my editing software had some issues at the 60% mark for some reason.
Anyway, without further ado, here's the video. (DMM Games/EXNOA decided to be petty and issue me a copyright strike. I'm appealing, so if you see the video, it was successful. However, I have it up on Rumble now as well. Do give me a follow there.)
Rumble video (in case the YouTube one is still copyright struck).
I don't know why Crunchyroll decided to call this "Paradise Starting". To me, that's awkward. I think "Paradise Begins" would flow better. But what do I know. Otherwise, the adaptation is fine.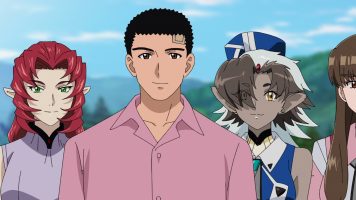 Anyway, what where your thoughts on Tenchi Muyo! GXP Paradise Starting Episode 1? And let me know if you want a regular text review, or if the video is fine on its own.