TONIKAWA: Over The Moon For You Season 2 06
Tonikaku Cawaii: Fly Me to the Moon Season 2 06
Tonikaku Kawaii S2/トニカクカワイイ
SPOILER Summary/Synopsis:
Nasa reads a manga chapter, featuring a cliched, romcom, onsen encounter between a teen male and female. Tsukasa shows up in her yukata, so the two take off for a tour around the town. They sample an onsen egg as well as a Wagyu steak skewer, which they split. As they walk down the warm, rocky shore of the river, Nasa ponders how to take an onsen dip with his wife.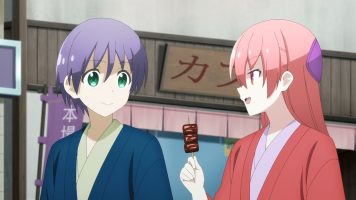 That evening, they return to the ryokan, where Nasa reads another cliched, onsen manga story. In their room, Tsukasa and Nasa are served a luxurious, dinner feast. After dinner, the two sit in the chairs in front of the large window that looks out to their private onsen bath and yard. Nasa decides to be a man and boldly asks to take a bath with Tsukasa. She agrees, providing her husband goes in first.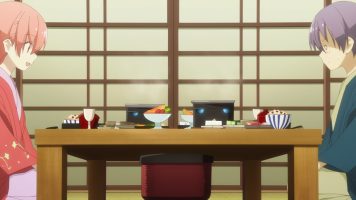 Tsukasa joins Nasa in the bath. After an attempt at small talk, Tsukasa prompts him to tell her he loves her. When Nasa does the same, Tsukasa gets embarrassed, but does it. The two then relax and enjoy their time in the bath. The next morning after a quick dip, the married couple are served a luxurious, breakfast feast. Upon leaving the ryokan, Tokiko intercepts them. Nasa uses the moment to grab a photo of the three.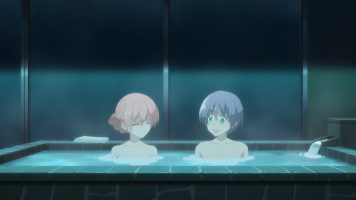 Nasa and Tsukasa then get the obligatory souvenirs before boarding the train for home. Tsukasa cuddles up to Nasa as they chat. He gets her to agree to take a bath together at home, providing the lights are out.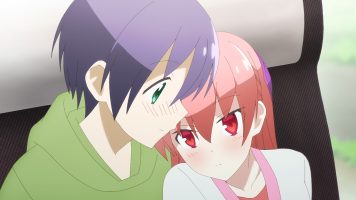 Thoughts/Review:
Hearing about Viz's trash, weekly manga adaptation for Tonikaku Kawaii have seriously soured me on this series, even if the anime English adaptation isn't bad. Still, now that I have a window in my work schedule, I should just go ahead and review TONIKAWA: Over The Moon For You Season 2 06.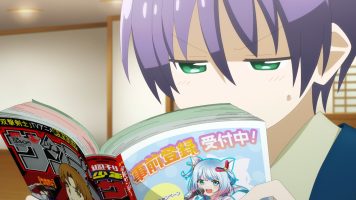 Modifications to the Source Material
The source manga chapters are taken from chapters 72 through 75. For the most part, TONIKAWA: Over The Moon For You Season 2 06 was mostly faithful to the source material. However, there was one major change. In the manga, Tsukasa and Nasa do not see Tokiko again. After Tsukasa remarks that they can see her in Tokyo at any point, they get souvenirs in the manga. I don't object to another scene with Tokiko, especially since many references to her in the first season were cut.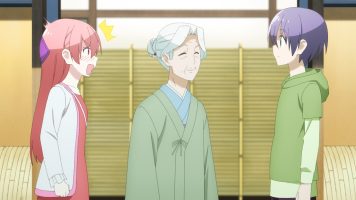 The Honeymoon of Sorts
As I've stated in my manga chapter reviews, I don't need to see Tsukasa and Nasa getting their freak on in the story. However, it would have been nice for the implication to have been there that this husband and wife had been intimate without doing much. As such, when I watched TONIKAWA: Over The Moon For You Season 2 06, I realized how it is kinda awkward that on one hand, they get naked in a private onsen. On the other, they don't do anything else. 🤷‍♂️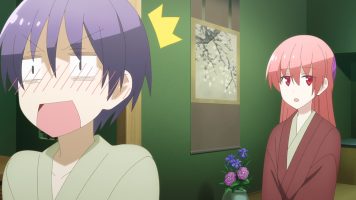 Beyond that, the story is what it is–a married couple enjoying a mini-vacation and calling it a honeymoon.
One thing I am reminded of is how far back this is from the present day story. As such, Tsukasa's remarks about Tokiko made me go, "What?!" But then I remembered, "Oh! The main plot hasn't revealed 'X' and 'Y', which explains why she said what she said. And if you haven't read the manga, I won't spoil it for you. (And yeah, Viz's adaptations are like going to a franchise of a burger joint that has great burgers, only said franchise makes the burgers like burnt, hockey pucks. You're not supposed to care about that 'cause it is the OFFICIAL franchise! Rubbish!)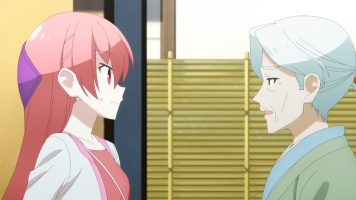 Final Thoughts and Conclusion
In the end, TONIKAWA: Over The Moon For You Season 2 06 was a fun episode for what it was.