TONIKAWA: Over The Moon For You Season 2 07
Tonikaku Cawaii: Fly Me to the Moon Season 2 07
Tonikaku Kawaii S2/トニカクカワイイ
SPOILER Summary/Synopsis:
Tsukasa and Nasa discuss the heat of summer. The A/C in their guest house is broken, so Nasa gets permission to buy a new one. He says he'll do the installation, so they won't have to wait weeks to use it. At the store, Nasa stuns Tsukasa in how quickly he picks a unit and scheduled delivery. Afterward, the two head to a hardware store run by Nasa's former, female classmate, Nakiri. She's shocked at Nasa's marriage and lets him rent the A/C installation tools for free.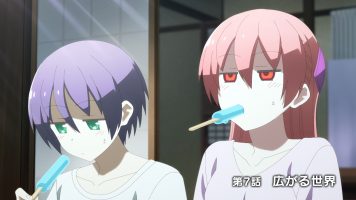 Nasa installs the A/C with no problems. Tsukasa enjoys the cooler air. As they go to bed, Nasa turns off the A/C. Tsukasa feels going to sleep with the A/C on is best, so Nasa turns it back on with a 1-hour timer. However, he finds that 78ºF is "too cold", as does Tsukasa. He makes it warmer, but then Tsukasa is too hot. Eventually, they settle on ~80ºF as the perfect temperature.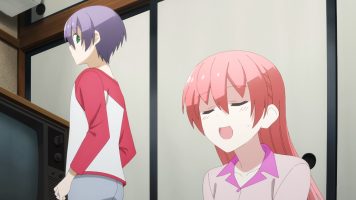 The next day at the bathhouse, a young, tanned girl comes in and starts talking to Tsukasa as if she were Kaname. Eventually, the girl realizes her mistake. She wants Tsukasa to pretend to be Kaname and give her advice on her problem. Tsukasa gets very irritated by this girl who won't even give her name. Eventually Kaname shows up and introduces her as Kyuuma, a classmate and friend of Kaname's.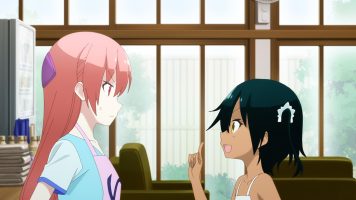 Nasa enters and Kyuuma is astonished to learn he's married. Nasa leaves to return the tools to Nakiri. Meanwhile, Kyuuma decides she needs expensive ice cream to discuss the problem. She takes off to get it. Elsewhere, Nasa returns the tools and reveals what he has learned about women to Nakiri.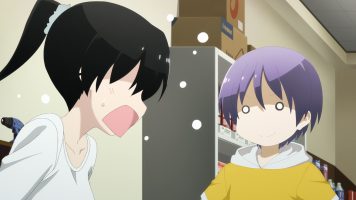 Thoughts/Review:
Sadly, we get two characters introduced here in TONIKAWA: Over The Moon For You Season 2 07 who've been all but forgotten in the current manga.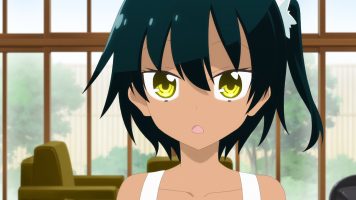 Modifications to the Source Material
Well, as is typical for this anime, little side stuff about character gets cut 'cause "reasons". That aside, TONIKAWA: Over The Moon For You Season 2 07 was adapted from manga chapters 77, 78, 79, and 81.
Tsukasa checking out the Spider-verse Blu-ray is cut from the episode.
The stuff with Nasa returning the tools to Nakiri was moved to the end of the episode. In the manga, this happened before Kyuuma showed up.
Nakiri never mentioned getting a wife in the manga.
Tsukasa checking out the flyer for the summer festival (and subsequent fantasy) is cut.
The scene with Tsukasa taking a bath is an anime addition.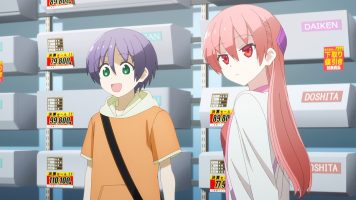 When it comes to adaptations, I want them to be faithful to the manga. That's why I get frustrated when Kyuuma is talking about a summer festival that is forthcoming, yet that story was already hijacked for season 1. To be fair, the summer festival chapter in the manga does break the flow of the Kyuuma story. So it needed to be put somewhere.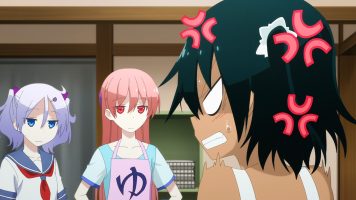 New Characters 'Caused "Reasons"
Hata-sensei loves introducing new characters into his stories. Thus out of the blue, we are introduces to Kyuuma and Nakiri in TONIKAWA: Over The Moon For You Season 2 07. Kyuuma is an annoying character right out of the gate. I don't hate her, but she's just hyper and when she's around, a lot of wheel spinning goes on in the name of comedy. She's pretty forgettable as a character, which is probably why Hata-sensei shelved her long ago. (She has no bearing on the plot of the series.)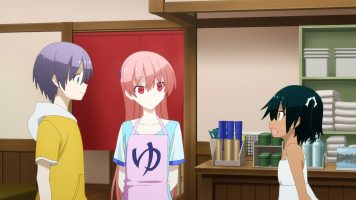 As to Nakiri, I did like her as a character. For a start, she owns a hardware shop and she's only Nasa's age, which is 18. That's impressive. Her friendship with Nasa makes sense, seeing as how they were very much alike in the past. However, her ignorance on what women like seems far fetched, seeing as she is a woman. Yes, women can have different tastes, but surely, Nakiri observed this on her own while growing up.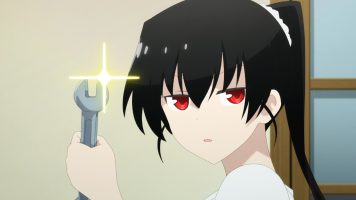 Heck, in my mind, I can see Nakiri's hardware store doing good business as men are the ones usually going to such places. A lot of guys would totally dig a cute, young woman who's into stuff like cars, home repair, electronics, etc. That would have been an interesting avenue to explore.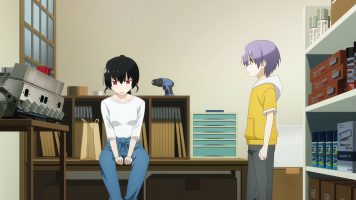 Final Thoughts and Conclusion
Before wrapping things up, I will say that when I wrote my chapter 78 review, I already called out the utter BS that 78ºF is cold. I grew up poor, so to save money, my parent's kept the A/C at 78º. That was hot, and sleeping was not fun. As such, there's ZERO chance of my believing that Nasa, wearing long sleeve shirt and sweat pants, in a futon with a comforter-like top, was cold at that hot of a temperature.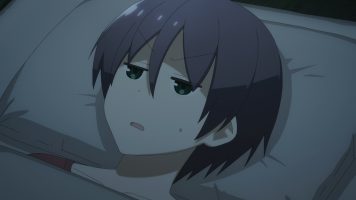 That aside, TONIKAWA: Over The Moon For You Season 2 07 was an otherwise fun episode for what it was.