TONIKAWA: Over The Moon For You Season 2 08
Tonikaku Cawaii: Fly Me to the Moon Season 2 08
Tonikaku Kawaii S2/トニカクカワイイ
SPOILER Summary/Synopsis:
After Tsukasa randomly asks Nasa if he loves her, Nasa seeks advice from Kaname. After hearing her out, Nasa ponders when to say something romantic. He decides to wake up early and give Tsukasa a complement morning greeting. However, it seems to fall flat. As such, Nasa decides to read shoujo manga for tips on romance. Tsukasa decides to take advantage of Nasa's serious attitude and tease him some by tickling him instead of giving him a promised massage. Eventually, she gets him to confess why he's reading shoujo manga, and she's touched and happy.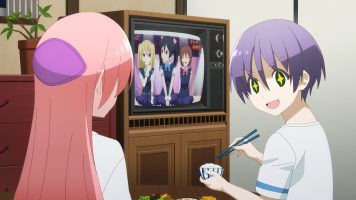 Sometime later, Nasa is in the men's bath when Kaname suggests he go to the women's side to spend time with his wife. Tsukasa initially objects, but then concedes, providing the lights are out. After a bit of time in the bath together, Tsukasa invites Nasa to the sauna. She describes to him how to do the sauna properly. However, he doesn't think he can. Nevertheless, he decides to take advantage of the opportunity to be alone with his wife.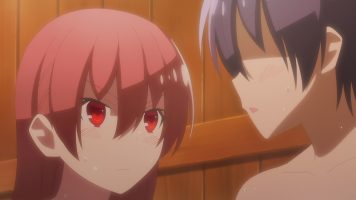 Meanwhile, Aya comes in for a bath. Kaname sends her to the men's side, forgetting that Ginga was there. As such, Aya finds him and screams, interrupting Nasa and Tsukasa's quality time.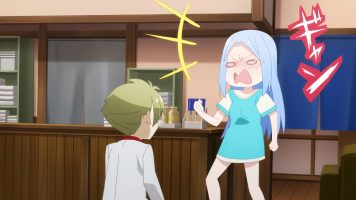 Thoughts/Review:
After a long absence, I finally found time to review TONIKAWA: Over The Moon For You Season 2 08.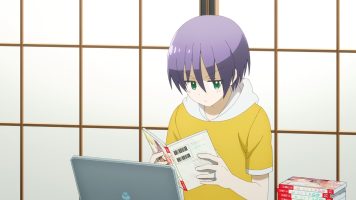 Modifications to the Source Material
Source manga chapters 82 to 86 made up the events in TONIKAWA: Over The Moon For You Season 2 08. Here are the changes I noticed.
In the manga, after Nasa has his chat with Kaname, he comes home and sweet talks Tsukasa quite a bit. This is shifted to MUCH later in the anime, and the setting for it is changed. Ditto Tsukasa's happy reaction.
Likewise, Tsukasa's teasing was moved to earlier in the anime vs. the manga.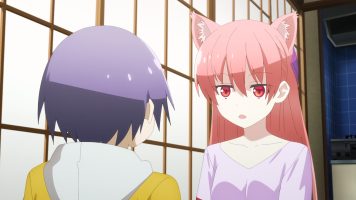 There were some other, minor shifts in the story and some minor padding as well. I think one thing the anime missed out on is the splash page where Aya walks into the sauna and finds Ginga there. That would have made for a good, if cliched, comedy moment.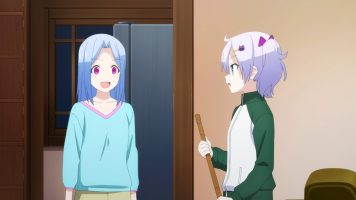 For Newlywed Fun
Basically, TONIKAWA: Over The Moon For You Season 2 08 is an advertisement on why getting married is cool. Technically, the entire anime is an ongoing advertisement as the plot elements from the manga have always been played down for the most part.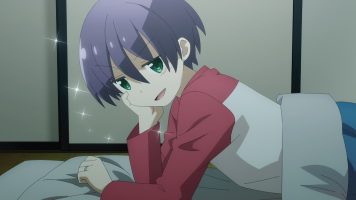 In that light, the episode is fine. If you've never read the manga, it is cute and such. But I often wonder if a series like this is very rewatchable (or on the manga front, re-readable)? For this episode, everything is about Nasa romancing Tsukasa, and the marital benefits bestowed on a husband and wife. Add to that a mildly ecchi factor since half the story is our married couple in the bath or sauna.  For me, the manga chapters that made this episode were lovely. Alas, as I watch the anime adaptation, I don't feel the same loveliness, and I don't know why. But that doesn't mean the episode was bad.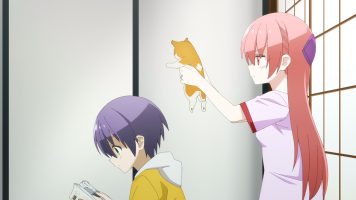 Final Thoughts and Conclusion
In the end, TONIKAWA: Over The Moon For You Season 2 08 is lovely fluff, especially if you haven't read the manga. But for me, even though I'd mostly forgotten the original manga stories, I just didn't feel the loveliness as I did when I initially read the manga. You're mileage may vary. 🤷‍♂️