My Monster Secret Volume 22 Manga Review
Jitsu wa Watashi wa/実は私は 22
My Monster Secret: "Actually, I am…" 22
–> Buy My Monster Secret Volume 22 from Amazon.com
SPOILERS
As with the previous volume, I read this volume a long time ago. And as I take a break from my nerve-wracking move work, I thought I'd write a quick review.
NOTICE!!! In the interest of full disclosure, I should mention that I am the adapter for the official English translation of the True Tenchi Muyo! novels, which are also published by Seven Seas.
* * * SPOILERS * * *
The Story, in Brief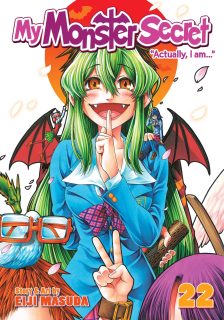 Things kick off with Youko saving Shirayuki at the cost of revealing her secret. Youko's father transforms to take his daughter home. Asahi stops him by asking for permission to marry Youko. He rejects this for logical reasons. However, when the other non-humans at the school reveal their secret in support of Youko, Genjirou gives up and gives Asahi permission.
Shirayuki's wish is finally granted and she fades away. Youko's class throws a Christmas party. Rin and Yuka return to their future as they created this new timeline in the past. In the future, they win their war against the pervert-nymphos, where it is revealed that Youko was their leader, since her charm power went askew. Future Akane then sends Rin and Yuka back to the past.
After celebrating New Years, Genjirou donates the apartment he used while teaching to Youko and Asahi. In the spring, everyone graduates. Akane appears unusually caring, but she's still a devil. The group of friends head off. Later, Youko and Asahi go to university, where they discover a female vampire in an empty class.
Interesting Surprising

With My Monster Secret Volume 22, there were a couple of interesting surprises. First, Shirayuki was the ghost in the cooking club room. That does make much more sense than Nagisa's brother in a fake ghost exo-unit. However, I thought Shirayuki was a youkai and not a ghost. But it works, and it provided humorous moment when Akane realizes this. Still, I was right when I called that Akane was doing everything based on Shirayuki's wish hundreds of years earlier.
The second surprise was the "Nympho Icon II", whom Rin and company fought in the future. I never thought it would be Youko, and yet when I think back to the future nymphos vs. Shisho's mom, I can see the hints of Youko's involvement. And I even am okay with the reason Youko was able to accomplish this. But what I don't like is why she never made an attempt to return to Asahi and her daughter until he was an old man. I guess you can't have everything.
Final Thoughts and Conclusion
I wish I had more time, then I could have discussed more. As it is, My Monster Secret Volume 22 wraps up all of the story threads pretty nicely. This really is a fun, funny, and highly enjoyable manga series!