Being so busy at the moment with an intensive Japanese class, work (with changing schedules), and some other stuff, I'm going to just do a cheap blog entry here (because this blog is also about stuff Japanese too) about another "nihongo rappu" tune I happen to like. This time it is Rhymester and the song is "Gennama Ni Karada Wo Hare" (現金に体を張れ). Enjoy (I know I do).
Update (7-Aug-2015): YouTube blocked my original video ages ago, yet strangely enough, left the instrumental version up. *_* Well, here it is anyway as an MP3 instead of the original video I made for YouTube way back in the day.  The video only had an image of Lupin, Jigen, and Goemon from Lupin III: Angel Tactics.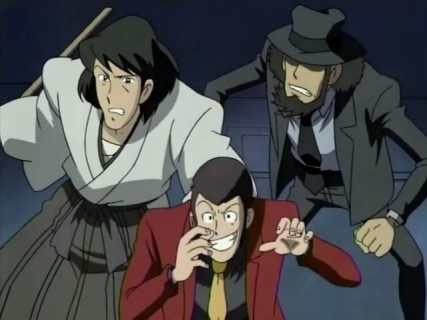 Update (26 June 2007): I ordered the CD this song is on from CDJapan. Even though I can swear that I'd updated my address to my current one (they still had my address from 2-years ago for some reason), the CD was shipped to my old address. Needless to say, I'm not a happy camper. I can swear that when I ordered it, it displayed my correct address, but apparently I only imagined that. So now I've got to try to intercept the CD either at my old complex or with the Postal Service. I hope that if it has already been delivered, the person(s) at my old residence don't decide to steal it from me by keeping it.