"Futari Ecchi" Coming to America?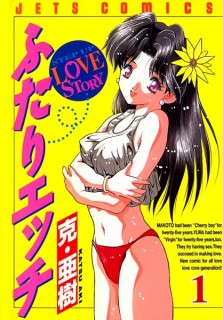 It what I find to be a truly shocking event, TokyoPop has licensed Futari Ecchi, calling it Manga Sutra – Futari H. So why is this so shocking? Well, officially, Futari Ecchi is a manga published in the seinen (young adult) magazine Young Animal. It is the story of Makoto and Yuura, who are still virgins when they are arranged to be married. The manga then covers their journey of learning about sex and also explores the sexual lives of people around them, thus the mangaka can cover all sorts of sexual topics. While each chapter has some amount of sexual congress, the title avoids the "hentai" label by keeping the amount of hentai material below a certain percentage of the chapter. The mangaka also adds sex-ed charts, drawings, and information, though it is all very dated today (the manga started in 1997).
I became aware of the title when a fansub group did the OVA's. Later I read a thread on a message board where folks argued over whether the manga was a hentai title or not. So, I borrowed the first few volumes and read them. My conclusion? It's a hentai title.
In Japan, it is illegal to show reproductive organs, whether in drawings or in actuality. To comply with this law, Katsu-sensei uses a less obstructive form of censorship. He either has the genitals strategically blocked or makes them invisible. But the reader still gets a very clear picture of what's going on — major sexual activities. Katsu-sensei also uses sex-ed diagrams at times to show a penis entering a vagina legally. Ha!ha! Isn't he ever so clever?
In addition to Yuura and Makoto's sex life being looked at, we see Yuura's sister younger sister Rika (early 20's). She has not one boyfriend, but four. She has her main squeeze, who's her age. She has the rich guy (I think in his early 30's) whom she bangs in exchange for a taste of the rich life (gifts, fancy places, etc.). She has her sex-friend, whom she hooks up with from time-to-time when she needs a no strings attached shagging. Her forth boyfriend is her pity-sex friend. He's younger than her (he calls her "senpai"), he is not much around girls, and so comes to Rika for advice. Rika feels sorry for him and allows him to bang her.
But no, this isn't a hentai title at all.
I could keep going on, but why bother. You get the point.
Well, lets hear what the man has to say.
"This is not a hentai manga, rather an erotic manga for the thinking mind. It is a compass of love and sex, a reference dedicated to all readers who seeks the ultimate pleasure in life. This is for real. I am not lying…" –KATSU Aki, introduction to volume 1 of Futari Ecchi.
Oh, that is such a laugh. While hiding behind the educational, comedy, and even story elements, Katsu-sensei knows full well that his goal is to produce a manga that just barely fits into the seinen label, but provides "meditation" materials for those horny guys dreaming of marrying a girl like Yuura-san (or banging one of the other girls in the series).
I did end up reading five volumes (I think) before I was totally sick of it. I don't care for hentai. I don't care that TokyoPop has licensed the title. So why the rant? I sense that TP will also try to deny this is a hentai title, and that started with the title change ("Manga Sutra" — please.). Plus, I suspect that TP will want to modernize and domesticate the title a fair amount to attempt to grow sales beyond horny American otaku who wish to scream out, "Yuuna-san! IKU!" while meditating. Even if this isn't a title I'd buy, those are things I strongly object to. I also object to attempts to label this as non-hentai. It is a hentai title, so if you are going to license it, admit it and go on about it.
Gah! I'll admit that this may be one of the stupidest rants I've done since the title's not out officially in English yet. I already hear some people wondering if America can handle this non-hentai hentai title and ranting about the evil religious right (or some other such nonsense). I guess that's what really annoys me when it comes down to it, with the possible TP domestication coming in 2nd.