げんしけん 2 Episode 01
Genshiken 2 01
SPOILER Summary: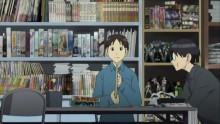 Sasahara checks his mail and finds that Genshiken has been accepted to ComiFes. Heading over to the Genshiken club room, he and Madarame discuss the doujinshi the club now has to produce. Naturally, it will be a hentai doujinshi for their favorite manga and anime series. They go over where they will be at ComiFes as well as what materials they'll use for the title. Naturally, Kugayama will play a major role in the doujinshi's creation since he's an artist.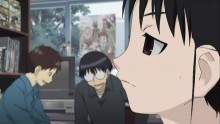 Ogiue-san arrives which brings the conversation to a halt. Sasahara tells her that they've been accepted and she actually agrees to do some pages for their doujinshi. Even after they remind her that it will be a hentai (ero) one, she states she has no problem with this, which kinda shocks the two guys. She starts working on some drawings and is secretly excited that they've been accepted into ComiFes though she doesn't show it outwardly. Kuchiki, Ohno-san, and Tanaka arrive and are happy about the news. Kuchiki is excited to see the special tickets the club got for ComiFes and Ohno plans to cosplay as the Vice Chairman of Kujian to help with sales since they are doing a doujinshi on that title. Sasahara is a bit concerned since it is a doujinshi for guys, but Ohno is not worried about this.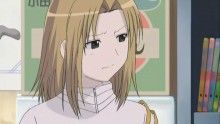 After Ohno and Ogiue have their normal spat, Saki and Kohsaka arrive. Ohno again tries to get Saki to cosplay, which is rebuffed, but Saki suggests that "Ogi-pe" should do this. Ogiue is not amused, especially at the nickname. The group then further discusses the work that will need to be done in order for them to get the doujinshi completed on time and sent to the publishers. To that end, Sasahara consults with Manga Research Club member Takayanagi about various printers. He takes the time to inquire about Ogiue and is pleased to hear she's fitting in. He also asks if they've told anyone else and gives a hint that hard times are ahead.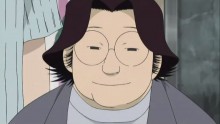 Back at the club room, the annoying Haraguchi appears having just learned that Genshiken got into ComiFes. Though he has already graduated and Sasahara is president of Genshiken, Haraguchi starts pressing forward his suggestions on how things should be done, including bringing on several well known doujinshi manga-ka so that they could make a doujinshi that would sell for ¥1000 a copy and they'd make a bunch of money. Suddenly, Sasahara understood Takayanagi's warning and tells Haraguchi they want to do this on their own and that they aren't concerned with making profit. Haraguchi belittles him, stating that his plan is like masturbating and that his way is the right way. Saki looks to see if Sasahara needs help, but he stands firm. Haraguchi looks to Madarame but Madarame states that Sasahara is in charge. That's when Haraguchi reveals that he'd already talked these doujinshi artists into doing some pages for their doujinshi. Sasahara requests their contact information so he can personally tell them not to bother and apologize for wasting their time.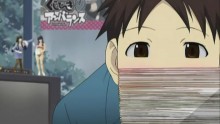 Bowing to the group's wishes, Haraguchi retreats to the relief of everyone. Ogiue comments on how she hates Haraguchi's type of otaku, which catches Saki's ear. Saki gives her a hard time, leading Ogiue to states she hates all otaku no matter what type. Sasahara meets up with Haraguchi afterward and gets the phone numbers. Haraguchi still thinks they are making a mistake but decides to not make more of it. Sasahara then calls all of the doujinshi artists and is somewhat surprised when he finds that all of them hate Haraguchi, and that Haraguchi was likely trying to use Genshiken to score a huge payday. With that out of the way, Genshiken can now proceed with planning the doujinshi.
Thoughts/Review:
The busy anime fall continues. Its going to be tough keeping up with everything, but I'm glad the Genshiken gang are all back. The adaptation is from the manga story with ComiFes and its nice to have an adaptation where there are changes (some fleshing out of scenes, such as Sasahara calling the doujinshi manga-ka) but they aren't offensive. It was a fun episode and I even got a few chuckles even though I know the story well (having re-read the manga way too many times I suppose).
My only complaint is sometimes, the characters were made weird looking, almost as if done by someone else. Any shots of the characters from a bit of a distance reflected that, as did certain scenes when characters just looked odd, especially Sasahara. For me to notice that means that it was jarring since I don't normally see small flaws. However, it isn't anything worth stopping the presses for.
I liked how in the preview, Sasahara and Madarame discussed how there are so many sequels and how taking long breaks between short series (the first series of Genshiken was 12 episodes, followed by the 3-episode OVA series) helps the staff, but also how sequels to popular anime titles are much lower in risk for the sponsors. *lol*