School Rumble Manga Volume 8
SPOILER Summary/Synopsis: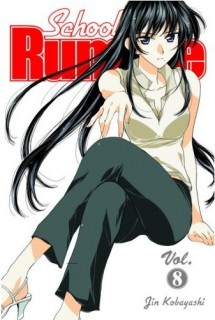 Harima and Yakumo are having to deal with the consequences of them coming to school together and Tenma learning that Yakumo stayed with Harima. While Tenma is OK with it in the end, for Harima, it is the worst thing that can happen as she believes even more that Harima and Yakuma are dating and she's OK with it.
Tenma gets Harima to go to Tokyo with him to shop for a present. He's very happy until he learns the gift is for Karasuma. He initially steers her to a bad gift, but when Tenma buys him a gift, he changes his mind and tells her to get Karasuma something from the heart, even if its hand made.
Its school festival time and the class is divided between a maid cafe and a play. With Hanai out of it because of the rumors that Yakumo and Harima are dating, Akira decides to get things going. She gets Harima on the side of the play by telling him he would be the male lead and Tenma the female lead. She gets Hanai fired up by suggesting that should the class do a maid cafe, the Tea Club would assist, including Yakumo. However, her suggestion is for a battle, were the class divides into two armies and have a paintball war within the school. With a band that Karasuma and Karen both belong to being denied entry into the festival, they too enter the fray to take the final slot from Karasuma's class.
The extra chapters have an additional story of Yakumo's and Harima's work on the manga, where when Harima briefly imagines Yakumo as Tenma, Yakumo can read his thoughts for the moment. The second story is of band member Yuuki having her glasses broken and being given a life by Hanai. The final extra story features the characters from the manga set in prehistoric times.
Thoughts/Review:
This was a lot of fun. Those who've watched the anime will note that this volume is where School Rumble Ni Gakki started. The thing that stood out to me was how the manga continues to have a stronger emphasis on the potential romance between Harima and Yakumo, aided by the extra story that I don't recall being in the anime (though I admit, it has been a while since I've watched it). The volume doesn't resolve the class battle parody story of such titles like Real Bout High School or Ikki Tousen as that will be continued next volume.
The volume felt thinner to me than before and indeed it is several pages shorter. That appears to be mainly due to the fact that there's only one ad at the end of the manga (verses several pages in volume 7) and no preview as there was before. I can do without the ads and the previews (when in Japanese) are nice but not required. Still, I wonder why Del Rey decided to ax them unless there is a financial concern. I hope the manga is doing well because I really like it and I think others would too.