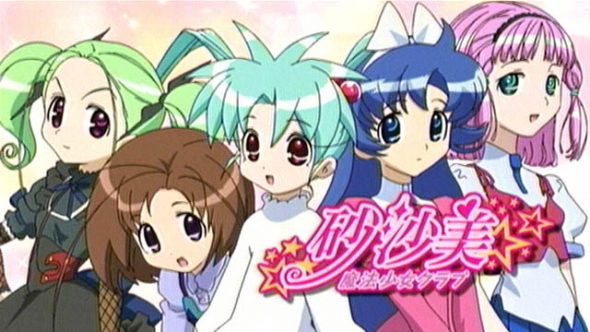 As many of you know, I'm a big fan of the canon Tenchi Muyo! franchise but I've also enjoyed the various non-canon spinoffs for what they are worth. The latest spinoff is Sasami: Magic Girl Club (as the official English naming goes). While it does take the characters of Sasami, Mihoshi, Washu, and Ryo-ohki from the TM!R series, it also pulls Misao from Magical Girl Pretty Sammy as well. I've yet to see the series (save for a brief look at the first couple of episodes in Japanese and the first four episodes in English) or its sequel, but I am keen to do so.
Despite not being one to watch English dubs, when the Tenchi Brand Manager contacted me about interviewing English dub director Leah Clark, there was no way I was saying no. So, I did a brief interview with her (which will also be published on the Tenchi Muyo! FAQ site and I believe FUNimation's MySpace page as well). I'd like to thank Leah & Amber for setting this up. I'd also like to apologize for this being a weaker interview on my part (I've done several interviews with comic strip artists) but my lack of knowledge of the dub side of anime fandom was a real limiting factor. ?
That said, here's the interview.
---
AstroNerdBoy: As you know, the Japanese decided to choose inexperienced young girls to provide the voices of Sasami and friends. Did you ever consider using child voice actors?
Leah Clark: Not at all.
ANB: What ultimately lead to the decision not to use children?
LC: Flap-matching mostly. It's very difficult for an adult who is already a professional actor in other areas to get accustomed to matching mouth flaps. It would be absolute hell on a child. They'd hate me and never voice act ever again. Now, during the second season, I did try to cast younger actors for the members of the Shining Team since the roles weren't as demanding. I auditioned several younger girls (young teens mostly) and ended up with one new-comer, Gina Circelli-who plays Chinako (it's her first role at Funimation) and Jad Saxton who plays Eimi. Not that the other girls weren't talented, but voice-dubbing is very much a skill-based job. I also wrote the English script and I wanted to capture the humor that was intended for the show (judging by the animation) and I needed strong actors in the five main roles who could match flaps with brilliant comedic timing and emotional range. Hard for actual fifth grade actors to do that.
ANB: When directing the voice actors who were playing Sasami and friends, did the fact that the Japanese used actual children influence how you directed those voice actors?
LC: Well, it was more the fact that the characters were children. There were times when Cherami Leigh (who plays Makoto) would accidently stumble over her words and as long as we could still understand what she was saying, I would leave it in since children of 9 and 10 years of age don't typically have the best diction. Same went for Gina Circelli, Monica Rial (Misao), Majken Bullard (Kozue), and Alison Viktorin (Sasami). I felt that Anri and Tsukasa should be a little more mature sounding in their diction since Tsukasa is sophisticated and Anri is in 6th grade and constantly trying to impress Tsukasa. So Brittney and Brina are consistently clear. Writing it was where I made most of the child-like choices, though. They use words like "bestest" and "yes-huh," and their grammar is immature. If their lines sound more mature, I made sure the line delivery was like that of a child who heard an adult use that phrase once. I taught an after-school theater class to children of Sasami n' friends' ages, so I made sure all the lines could've easily been said by one of my students. Kids can have some pretty impressive and mature thoughts so nothing is completely dumbed down… but it's the way that they say it that distinguishes them from adults. I also wanted the opening and closing theme songs for the first season to be very young sounding like in the Japanese. Lauren Claire Poitevant and Laura Wetsel are two talented young girls from Casa Manana, a professional children's theater here in town. Lauren Claire is 16 and Laura is 18. The music was all directed by Brina Palencia with the exception of the opening theme song which was directed by Mike McFarland. Brina wrote all of the English lyrics. She rocks socks, like whoa.
ANB: One thing I noticed in the first four episodes was some name mispronunciations. Two immediately off the top of my head were Sasami, which was pronouncing "Sa-su-mi" and Ryo-ohki, who was addressed as "Roy-ohki." Was this a deliberate decision to use these new pronunciations? If so, what was the reason for it?
LC: I think the original dub pronounced Sasami's name Su-sah-mi, which is wrong. Japanese emphasize the first syllable always. So Sa-suh-mi is correct. Ryo-ohki we pronounced "Roy-oh-kee" because that's how it sounded in Japanese.
ANB: How much were you aware of the "Tenchi" franchise before coming into this latest spinoff series?
LC: I actually wasn't aware of it when I first became acquainted with the show. I was first assigned to write the show and after writing the first two episodes and falling in love with the characters, I asked to direct it. It wasn't until then that I did extensive research on the show and learned that it was a spin-off. I then watched some old episodes of Tenchi to see where it fit in. It doesn't really seem to… except that some characters are the same and there are some minor parallels.
ANB: For those "Tenchi" fans who may be suspicious of this latest spinoff, feeling it is the least Tenchi-like (since Tenchi doesn't even get a cameo from what I understand), what would you say to encourage them to take a chance on "Sasami?"
LC: I would strongly encourage them to watch it as a separate treasure. Spinoff doesn't mean "sequel." Melrose Place was considered a "spinoff" of 90210 only because Jenny Garth's character was in it for the first few episodes. Other than that, they don't have much to do with each other. And come on, Melrose was so much better—hello. Just think of it as a new awesome show that some of your favorite "actors" (Washu, Sasami, Ryo-oki, Mihoshi etc) are in. Sasami is a teenager in Tenchi. In Magical Girls Club, she's 10 years old. So she's not going to be exactly the same. She is just as lovable though—maybe more so. She's what I thought she might be like as a child. In that same respect, Washu is a little younger and a little more feisty and fabulous. Mihoshi is a school teacher. I think it's exactly what you would picture her to be like in that situation… though she never would be in Tenchi.
ANB: What was the one thing about "Sasami" that appealed to you as a director?
LC: The characters—OMG! I LOOOVE these characters. They're each so endearing and distinctive and tangible. You can't watch it and not find your absolute favorite—at least, that was one of my goals. The actors did such a good job at interpreting them. As a writer, I really wanted to do them justice. I wanted to make them as believable as possible. I wanted people to truly care about them. I feel so maternal towards these characters. They're my "girls." Character development is very important to me as a director (and as a writer). The Japanese have already done the rest for me. I couldn't have asked for better characters or more perfect actors to help bring them to life… like, EVER!