Macross Frontier 13
マクロスF Episode 13
Macross F Ep. 13
Macross Frontier Anime
SPOILER Summary/Synopsis:
As Ranka and Alto observe the Macross-class vessel, Ranka has a flashback and screams. A little later, both are back on the Valkyrie in Gerwalk mode where Ranka states that while she doesn't remember back to the time when she was a child, she sometimes has flashbacks. Their conversation comes to an end when another D-pulse shuts down the fighter as well as the 33rd Marine Corps base. Alto determines the source to be the Macross-class ship. Back on the base, Micheal is with Sheryl when he finds the pill that Grace had given Sheryl on the ground. Giving it a closer look, he sees the pill is marked "639 Witch Craft."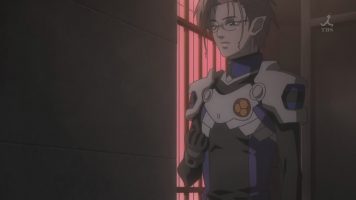 Also takes the opportunity to get cleaned up a bit at a waterfall while they wait for the fighter to recover from the D-pulse. Afterwards, he and Ranka talk as she puts his hair back into its traditional ponytail. Upon returning to the fighter, Ranka suddenly realizes she has to go to the bathroom and after a little embarrassment at how to inform the clueless Alto of this, she calls him an idiot and races off to take care of business. However, she isn't gone long before she screams. Alto goes to find her and sees a tunnel-path has been cut through the trees on a direct line to the Macross-class ship.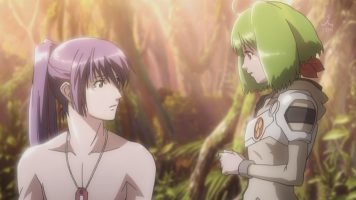 Back on Macross Frontier, Cathy briefs some of the SMS folks, including the SMS Pixie Squadron Zentradi, that communications with Gallia 4 are lost. Klan suggests using the new fold engine that Luca provided for Michael's mission. Kanaria states this won't happen as Luca won't be allowed to do that again. Indeed, Luca has been summoned to Leon's office, where Leon calmly listens to Luca explain his role within the LIA gives him the authority to do what he did in providing Micheal one of the new fold engines. Leon understands that Luca did this for his friends, but in doing so, he jeopardized the relationship between the government and LIA, to say nothing of putting a civilian in harm's way.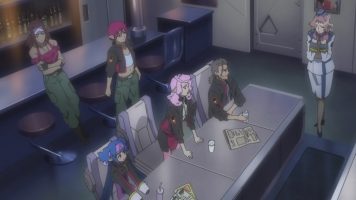 On Gallia 4, Sheryl is feeling a lot better, something Micheal isn't surprised about as he still holds the pill given her by Grace. Sheryl suits up, having been trained to be a pilot in school, and warns Micheal not to tell Grace what she's up to. Since Micheal has apparently found a way to counter the effect of the D-pulse, she's going with him to search for Ranka and Alto, whom they know never made it off the planet. Elsewhere on the planet, Brera Sterne receives his orders regarding Ranka from Grace. Ranka is said to be the secondary objective, which will change only if the primary mission fails or she shows signs of higher value. Grace will now prepare a weapon known as the Dimension Eater.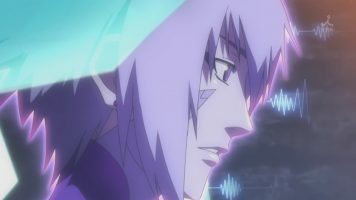 Alto discovers this Macross-class ship is actually "04" and named Global. It was the flagship of the 117th Research Fleet, which Ranka had been in when she was a child and rescued from the Vajra attack by Ozama. Alto makes it inside Global and discovers a research lab with Vajra specimens in it. He finds the ships data has only recently been erased and he also finds a large jewel with the image of Ranka and family inside. The jewel shatters when he touches it though. Meanwhile Brera makes his way down inside the ship with his fighter, wondering why he cares so much for Ranka while Ranka has a dream memory of a song and her mother. Ranka awakens to find herself on a pedestal while nearby, a giant queen Vajra is laying eggs.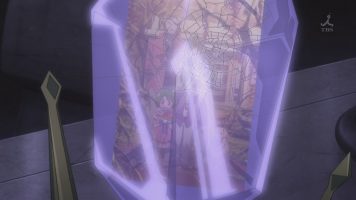 Ranka makes contact with Alto, who races on his jet pack to her location. The Vajra queen comes for Ranka, leading Brera to defend her by attacking the queen. Alto races to rescue Ranka, but a membrane of sorts closes around the pedestal. Alto cannot get through and Ranka's stomach starts reacting with a purple light. Soon, Alto and Brera find themselves ejected from the Global as the entire ship comes to life, bathed in purple light. Grace observes this with satisfaction from a distance while Alto returns to his fighter, which has recovered from the D-pulse. He launches, determined to rescue Ranka but is prevented by Brera, who states that Alto is unworthy of Ranka.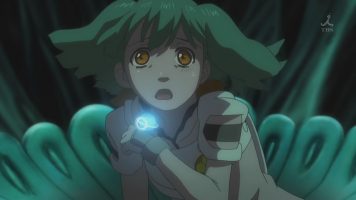 Before Brera can take a shot, his weapon is shot out of his fighter's hand as Micheal and Sheryl come on the scene in Micheal's fighter. Alto asks them to go after Ranka on the now flying Global with its fleet of ships while he takes care of Brera. Sheryl agrees to this as Brera and Alto get into a dogfight. However, Grace orders Brera out as she activates the LIA Dimension Eater weapon, which will take care of the Fairy of the Galaxy as well as destroy the Forward Division. Grace reveals herself to be a cyborg as she connects to the weapon, setting it off, the effect of which is like a massive space fold.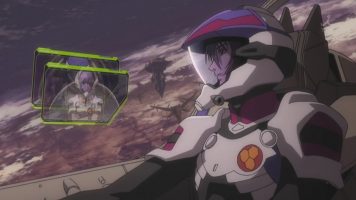 As the Dimension Eater effect appears to take out Grace, then the 33rd Marine Corps base, Micheal and Sheryl see the Global and Vajra ships attempting to fold out. As such, Micheal attempts to get their fighter close enough to also use the fold effect to follow the fleet. Meanwhile, the Dimension Eater effect is consuming the planet and as Alto thinks of Ranka, he pushes his fighter to try to escape the effect of the blast.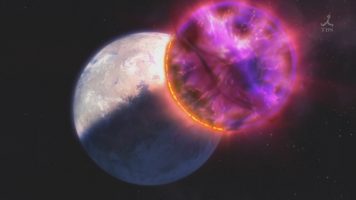 Thoughts/Review:
Yikes. There were some definite unexpected things in this episode of Macross Frontier. First, the Macross-class ship Global. As best as I can tell, up until now, only SDF-1 Macross had the ability to transform. SDF-2 Megaroad-01 supposedly did not have this ability and supposedly became its own class of ship. Now, either fans are wrong and there is no Megaroad-class or the Megaroad-class is an unofficial classification within the Macross universe (this might make sense seeing as how SDF-2 Megaroad-01 is considered a Macross-class ship AND the start of the Megaroad-class ship).
Next is Grace. I have a hard time believing she was destroyed in activating the Dimension Eater. She may be dead, but this is science fiction we are talking here and sometimes those who are apparently obviously dead really aren't. Her being a cyborg didn't surprise me, considering that Brera Sterne (her subordinate) is also one. I'm no clearer at understanding her objective though. She wants to kill Sheryl for some reason. Why? Having seen Macross Zero and knowing that Sara and Mao had the family name of "Nome," might this be a connection (Sheryl's family name being "Nome" as well)? If Sheryl is the target, why here and now? Clearly, Grace had been poisoning Sheryl for some time. Why is Sheryl apparently known as the Fairy of the Galaxy?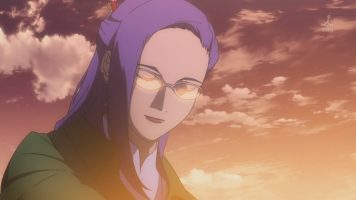 Also, why did Grace need to take out the 33rd Marine Corps? It seems that in order to do this originally, Grace and Leon were going to have them destroy each other. I guess the rebel Zentradi would then be at Grace's and Leon's disposal.
Speaking of the 33rd, what kind of military force were they anyway? Didn't they do any planetary exploration? Seriously, how do you have a large Zentradi base on Gallia 4 and not know that a Macross-class ship is in a nearby swamp? How do you not detect the installation of a bomb (for lack of better terms)? I suppose the later could be covered by the rebel Zentradi leader, but would he have been able to cover up SDF-4 Global (based on the "04" numbering, I'm assuming this Macross-class ship was designated as "SDF-4")?
Ranka. What is up with her? What is her connection with the Vajra? Is she some kind of experiment that somehow escaped? Also, why the stories that the 117th Research Fleet was destroyed by the Vajra if in fact it was not (or at least, not completely)? Does this mean that Ozama has been lying? I can't imagine this to be true.
With the memory flashes, I guess that Brera Sterne is in fact Ranka's real brother. This episode also proved that Brera Sterne is not the critter (that was always a long shot, but the critter could still be attached to Brera somehow).
I think it is safe to say that this episode had a tribute to the movie Aliens with the scene of the Queen Vajra laying eggs. 😊
This episode certainly didn't pull any punches.