Manga Mad – Tokyo Otaku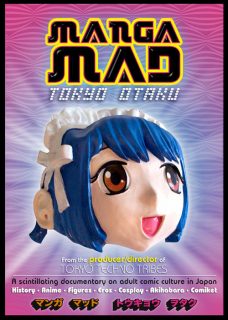 I was contacted Tuesday by an employee from SnagFilms. They were hosting an independent documentary film called Manga Mad – Tokyo Otaku. He figured that since I write an anime blog, I'd be interested in checking it out. I told him I'd give it a look-see but no promises that I'd do more than that. I went to the URL provided and started the video. After suffering through a short ad, the film started. While I had planned to just glance at the film and then watch it in detail later, I ended up watching the whole thing on the spot. Having seen it, I figured I'd review this documentary.
Manga Mag – Tokyo Otaku is the creation of filmmaker and musician Ray Castle, who currently lives in Tokyo. During the course of the film, Ray takes us through a brief history of manga's origins into the creation of anime. We get a look at today's manga, first in the telephone book-sized magazines and then the tankoubon with genre's such as shounen manga, boy's love manga, and ero (hentai) manga getting looked at. Ray focuses more on the hentai aspects, both in manga, but also those figures that the otaku buy. He attempts to give us an insight into the mindset of the Japanese when it comes to playing out all their sexual fantasies in manga (and doujinshi). If you've read the manga Genshiken, you may think about those guys as you watch this. I know I did.
Ray does not just stay on manga, but takes a look at the whole otaku culture of which manga plays a large part of (again, Genshiken sprang to mind). So we get taken on a short tour of Akihabara, the otaku capital in Japan. Ray gives us a nice look at the cosplay aspect of otaku life, especially when it comes to the otaku festival — Comiket. He takes his camera there and even interviews some otaku who spend am amazing amount of money on doujinshi and other stuff there. Despite the fact that I am well versed in how the otaku culture works (I've seen Otaku no Video, read and watched Genshiken, and done some studies on the side as well), I found myself very fascinated by everything presented here.
Ray manages to interview some interesting people for this documentary. One of the first people to discuss manga and the otaku culture is famed anime creator MATSUMOTO Leiji. This excited me because as regular blog readers know, I've started blogging his anime from the 1970's, Space Battleship Yamato. Ray also interviews the president of Comiket, one of the powers at Kodansha (manga publisher), one of the powers at Production I.G (anime producer), one of the powers at Gonzo (anime producer), a Japanese comic art historian, and many, many more folks (several manga-ka are interviewed). Those Japanese being interviewed who can speak English do so. Most of the Japanese who can't get a voice-over in English but a few get subtitles instead. There were a couple of voice-over people who may not have been the best choices for their rolls, but that's a very minor issue for me.
I need to make this point — this film is not work-safe and not safe for your kids to watch! Ray shows us actual h-manga and h-doujinshi covers and art which is not censored (beyond whatever censorship may have shown up in the original Japanese art). Though I am not into the hentai scene, I do understand its importance in the otaku culture and so I do understand the need to take a look at this aspect of the culture. After all, there's a lot of h-materials sold at Comiket and that is a HUGE doujinshi comic market. Basically, my point is you are going to get a look at this as if you were actually in Japan.
If you watch the film from SnagFilm's site (link further down), you should know that while this site is similar to YouTube or other streaming site, the controls for the video aren't the greatest. Just when the film started talking about the moe aspects of otaku culture, I was side-tracked by a phone call. Trying to get the film back to a specific point where the moe talks started proved rather difficult as the track bar kept wanting to go to other positions. I don't know if this was because I was on the site with Firefox 3 or not.
Also, the film is ad-supported, so there will be moments when you will be subjected to ads, but that's OK since it keeps the viewing free.
Bottom line: If you are interested in getting a fascinating look at the otaku culture in Japan starting with manga and working out to cosplay and the like, I highly recommend checking out this 59-minute film. You can view it online for free with the widget below, or you can buy the DVD from IndiepixFilms.com. And if the widget below doesn't show up or work (because it sometimes is tricky), here's the direct link to the SnagFilm's video stream of the film.
Update (03-Nov-2016): The film is no longer up on IndipixFilms. Not sure what happened.