Hayate The Combat Butler, Manga Volume 3

ハヤテのごとく!Manga Volume 3
Hayate no Gotoku Manga Volume 3
SPOILER Summary/Synopsis: The story of Wataru's visit to Nagi's residence continues where we discover that despite being officially engaged to Nagi, Wataru actually has feelings for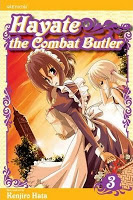 Isumi and isn't keen on the fact that Isumi appears to have feelings for "Hayate-sama." When Hayate learns that Isumi and Nagi have never seen a subway, he escorts them to try to see one while taking a trip to Wataru's place, only to have Isumi get separated and lost from Nagi and Hayate. The pair end up somewhere in a giant tunnel underground and get rescued from rats by Isumi of all people.
Hayate ends up going to Wataru's place on his own where he discovers that Wataru and his maid Saki live above a video rental shop, all that is left of his family's empire. Next, Hayate discovers Nagi has purchased a MushiKing arcade video game cabinet. Nagi finds she cannot beat Hayate at the game but even when Sakuya show's up, neither can beat Hayate. Following this, Nagi takes Hayate to her personal amusement park, which had been given to her by her grandfather a few years prior but unfortunately, she is still to short to ride any of the rides. So the employee mascots are relieved when someone actually shows up who can participate. However, Eight is also there in disguise and is looking for some sweet revenge.
After returning from this adventure, Maria has the filthy Hayate go take a bath. He's joined by Tama, who ends up shorting out the indoor onsen-style bath. The two of them head to the boiler room to fix the damage where Hayate discovers a shocking thing about the boilers and Tama ends up nearly getting them all drowned, forcing Hayate to save Maria. Next, Isumi is ready to go home but is missing her shawl. Due to its expense, Hayate is keen to find it, only to discover Tama about to shred it. Before he can react, Wataru saves the shawl and punishes Tama. He gets busted by Hayate after Wataru sniffs Isumi's shawl, revealing his feelings for the girl. Hayate has to teach Tama a lesson to protect Wataru's reputation.
Nagi angrily runs away to Wataru's place after a misunderstanding with Hayate. Sakuya's gaijin step-brother Gilbert has a kidnapping plan he presents to Saki and Nagi to test Hayate's love. However, his mecha unit has been given one of Eight's chips, thus Sakuya, Nagi, and Saki find themselves in danger and no Hayate is around..
Thoughts/Review: I absolutely loved how Isumi showed up to save Nagi and Hayate from the horde of rats. To have her show up after having been lost is one thing, but her non-flashy way of dispatching the rats just cracked me up.
With this third volume, I really do think the flow of the story is much better than it was in the anime. Most chapters smoothly move along and while there are chapters that make a more distinct break from the previous chapter, even those retain some continuity factors (the time/date, Isumi's extended visit, etc.). I didn't get that same sense of flow in the anime, which is not a slam on it, just a statement of fact.
The omake for this volume include the standard one-page "agent" story, character profiles (featuring Wataru, Saki, Nagi's grandfather Mikado, Eight's creator Shiori, and Eight himself), the two (formerly color) 4-koma strips, and a note from Hata-sensei. Also included is an image from Hata-sensei featuring Isumi and Hayate in a parody "normal end" moment that one might find in a Japanese visual novel and a three-page manga about Saki's family.
Viz continues to impress me with their adaptations. All the honorifics survive as well as the previously established "otaku friendly" terms. All of that makes reading the manga a more enjoyable experience for me. It is unfortunate that Viz still has no translator notes. Some of the cultural things would be nice to have spelled out, even if I knew some of them (like the Michael Jackson reference, complete with Never-Never Land).
Overall, just another fun read that reminds me of why I liked the first season of the anime adaptation so much. ^_^
Originally posted at
astronerdboy.blogspot.com
. If you are now reading this on another blog, it has been scraped from
AstroNerdBoy's
blog. You are encouraged to shun this pirate blog and come by the real McCoy. ^_^