Tsubasa: RESERVoir CHRoNiCLE Volume 18
SPOILER Summary/Synopsis: With Yuuko-san having received payment for the water (an egg, which plays a part in xxxHOLiC), she gives the group more information as to the motives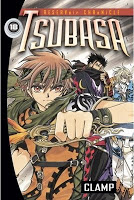 behind Fei Wong Reed. Despite everything, Sakura wants to go to where the clone-Syaoran is and redeem him if possible. Fai, Kurogane, and the real-Syaoran all agree to join Sakura despite knowing that continuing their journey is exactly what Fei wants. Yuuko-san grants their request but before they leave, Sakura leaves one of her encased feathers in the water reservoir under the Tokyo Government Building so that the water and the building will be protected.
The group travels to a place called Infinity where they are engaged in a life-or-death game called "chess," but only because Syaoran, Kurogane, and Fai are "pieces" that Sakura has to play and energize with her will power. The underground game has a huge payoff and since the group had witnessed the death and destruction that clone-Syaoran had caused to a world they visited, it is Sakura's wish (backed up by the others) that if they win the the final match of the game, the winnings will go to the damaged world to help it rebuild. The people running the game are impressed with the skills of this outsider group and their leader wishes to make things more interesting. Meanwhile, Sakura struggles with her feelings over the clone-Syaoran and the real-Syaoran.
At the end of the chapter, Fai's creation Chii notifies him that the one he is running from has awakened.
Thoughts/Review: Enter goth-Sakura. Remember when she was cheerful and bright? Now she's depressed and gloomy, but very determined. Considering all she's been through and learned recently, that's not unexpected.
Still, it is fascinating to see how CLAMP turned what had been a lighthearted shounen adventure tale and turned it very, very dark and bloody. It still takes some getting used to Fai being a vampire needing to feed off of Kurogane rather than being the guy who just teased Kurogane in a lighthearted fashion. It is this dark turn that has made the manga more interesting for me as a reader.
Now that Ashura has awakened, I guess it won't be long until the group is forced to deal with that, seeing as how Fai has been fleeing King Ashura since volume 1. I look forward to reading that story because I've always wondered why Fai felt the need to flee Ashura, yet wished the sleeping, sealed monarch well when Fai left to see Yuuko-san.
Originally posted at
astronerdboy.blogspot.com
. If you are now reading this on another blog, it has been scraped from
AstroNerdBoy's
blog. You are encouraged to shun this pirate blog and come by the real McCoy. ^_^