Macross Frontier — Final Thoughts (Review)
マクロスF
*SPOILERS* to follow. ^_^
Having watched the old school Macross, I was keen on seeing the series marking the 25th anniversary of the franchise — Macross Frontier. While this latest Macross series has many homages to the Macross titles that have come before, is very pretty to look out, and very nice to listen to (music-wise), the story is sadly only average.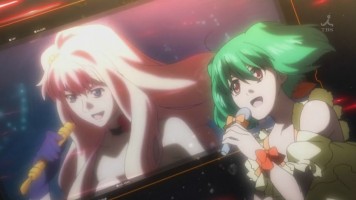 Things started off well enough with the first episode clearly being a tribute to the original Macross. Character-wise, Alto took the role of Hikaru. Ranka took the role of the nicer aspects of LINN Minmei. Sheryl took the role of the not as nice aspects of LINN Minmei (the pop idol). Ozama took the role of Focker (without the womanizing) and Cathy took the role of Misa (only without an interest in the male lead). Both Macross and Macross Frontier had "bridge bunnies" to help with the story but not play a major role in it. Naturally, both series deal with how song affects their enemy.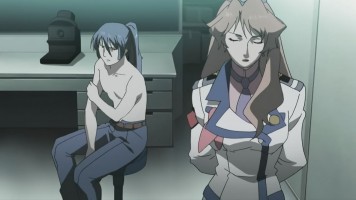 While one does not have to have seen any previous Macross title, I'm going to guess that one's enjoyment of Macross Frontier will be enhanced if one knows the different moments when the show gives tribute (or whatever you want to call it) to the Macross titles which have come before. Indeed, episode 10's clear nod to Macross Zero made me seek out and watch that 5-episode OVA in order to better appreciate the episode. That was a good thing because one of the characters from Macross Zero is mentioned a few times as part of the plot. Other references are just made to be made, such as Bobby name-dropping "Basara-sama" a couple of times, he being the hippie lead character of the Macross 7 TV series.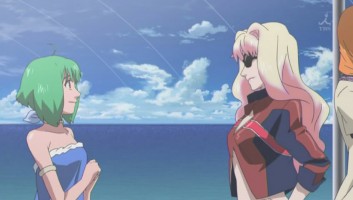 Though I have no problem with the references and tributes to previous Macross works, at times the writers used it to their advantage but more often than not, it became a hindrance. For example, in episode 12, Sheryl, Grace, and Alto head to the Zentradi 33rd Marine Corps base on Gallia 4. The Zentradi military leaders were clearly designed to look like the main Zentradi antagonist leaders from Macross. Then you have Ranka brought in Macross 7 style on a fighter equipped with special speakers to tame the wild, rebel Zentradi who are fighting the cultured Zentradi. The episode ends with what looks to be SDF-1 Macross after it finally returns to Earth. So far, nothing stands out as a problem here.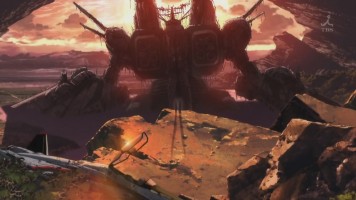 However in episode 13, things began to go south for me. After the rebels were tamed by Ranka's music, we discover that the discovered "mecha ship" isn't SDF-1 Macross, but SDF-4 Global. Here, the writers appear to do some retconning (because everything I've read online states that after SDF-1 Macross, SDF-2 Megaroad-01 was designed not to transform because transforming such a ship made no sense) since there were supposedly only two Macross class ships. Now there are four and why? Just to have a tribute and a tease?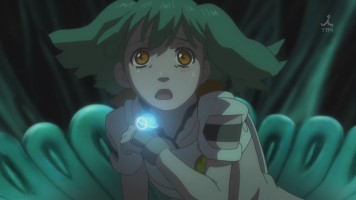 Further, the whole story with the Zentradi on the planet served no purpose. Amazingly we (through Alto and Ranka) discover that SDF-4 Global is on Gallia 4. We discover a rather nasty colony of Vajra, to include some rather large Vajra "battleships" (for lack of a better term). So I'm left to think, "how could the Zentradi not know about all this at their base's back door?" It seemed like the rebel Zentradi leader was in with Grace and Leon's little plot, but then Grace destroys the planet for some reason that still isn't clear to me, other than to "kill" her and reveal that she is in fact a cyborg. In the end, these were two episodes that were a tribute but served little purpose beyond that.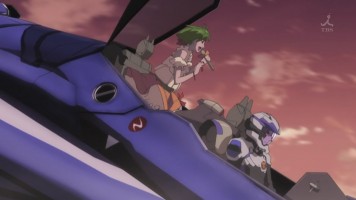 Speaking of the Zentradi, the SMS founder Richard Bilrer also appeared to be in on Leon and Grace's little conspiracy. Yet in the end, it seems like he may not have been that involved at all as we are left with the imagery of him gazing at a picture of Linn Minmei in his ring (designed like a locket). Nothing about it or his desire to use fold crystal really seemed to have a point but was presented as if it were a meaningful item.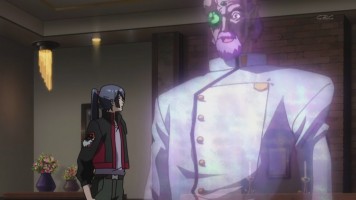 What else did I consider pointless? Alto's Kabuki history. There was an attempt to create drama by having Alto estranged from his family so that his decision to be a pilot can be questioned. Despite this, I couldn't buy the drama, mainly because if Alto disliked being in Kabuki plays so much (where he played the part of females), then why'd he keep his feminine hair style? Nothing about his family felt real to me and the character of Alto is just a stock, male lead who has great skills to get the job done, has women interested in him, is very nice and so won't choose a single woman, etc. This type of character has been around for ages and there was nothing about him that made me care about him at all.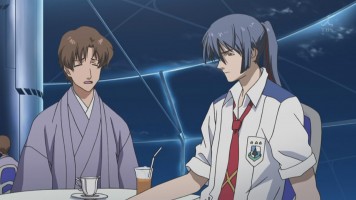 There were other elements of the story that I thought were pointless, but you get the idea I think. Sadly, the tributes, pointless sub-plots that go nowhere, cliched story elements (Grace and Leon wanting to rule the galaxy for example) and too many stock characters make for a story that ends up only average and nothing more. Trying to insert drama or even a forced love-triangle doesn't help. Don't get me wrong, I saw why Sheryl would be interested in Alto and I saw why Ranka would be interested in Alto but initially, the love-triangle aspects came off as very forced. Alto always seemed less interested in the girls as potential lovers than he was interested in just hanging out (when he felt like it of course). One might almost think that Alto was gay except he showed no interest in men either.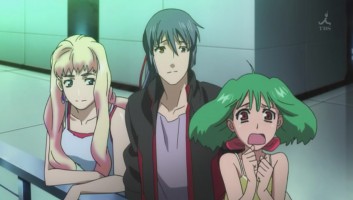 Still, not everything was merely average. The visuals on the anime look very nice. The battle scenes are great to watch thanks to some very good CGI work. The various settings are also well done I thought and most of the time, the animation is pretty good. The music of Ranka and Sheryl is pretty good but it didn't quite hit the threshold for me to want to import the CD. That's just me though.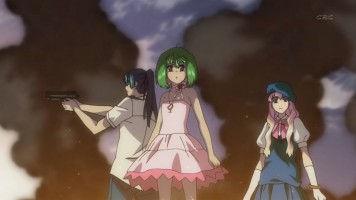 I would have enjoyed seeing more of the Zentradi and more Nene. Klan is one of my favorite characters and I enjoyed the moments were we were able to see glimpses of how the Zentradi are now. I'd hoped that with episode 13 the Zentradi would play a larger role in the main plot but alas, that was not to be. I would have also liked to have seen the crew of the Macross Quarter actually be pirates instead of their only act of piracy be the stealing of the ship, after which they go out and find all sorts of clues that have been floating around in space for lo these many years. The crew of the Macross Quarter I actually liked (including Cathy).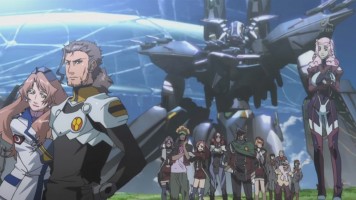 Based on the hits my blog postings for the series went, I know that there are a lot of people who appear to really have enjoyed Macross Frontier. While I felt the show got off to a good start, after episode 14, I began to grow weary of the series (though I was never bored with it) to the point that by the time episode 25 was done, I felt relief that I wouldn't have to watch another episode of Macross Frontier. That doesn't make the series bad, but it doesn't make it good either and that's the problem. It is just an average anime wrapped in a pretty package.