"Negima!?" is NOT "Season 2"
With the announcement that the first part of Negima!? will finally be released on DVD this December, FUNimation has officially stepped up its campaign to call Negima!? a second season of Negima!. It is not and I'm left to wonder why FUNimation is trying to call it so.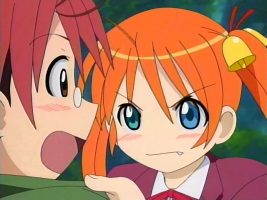 The Negima! anime was an attempt by Xebec to adapt the Mahou Sensei Negima! manga. Xebec made a lot of mistakes, so much so that they were forced to redo some scenes of the anime and I'm told an entire episode (their fixes are what FUNimation then licensed). Further, Xebec did a rather poor job of adapting the manga. While their efforts were OK through the Eva arc, Xebec then did everything they could to avoid going into the Kyoto arc, ultimately compressing the entire 3-volume arc into two episodes. Maybe Xebec knew they were out of the game but they then decided to wrap the series with their own story regarding Asuna. The series is ultimately a poor one for most fans of the manga.
With Xebec out of the picture, SHAFT was given the Negima franchise. Their first act was to create their own character designs rather than try to match Akamatsu-sensei's designs (which is what Xebec had done). SHAFT then produced two OVA episodes — the Haru (Spring) OVA which was basically an adaptation of a manga story and a Natsu (Summer) OVA, which was their own story.
After this, SHAFT launched Negima!?, where they took the characters from the manga but created an "alternate retelling" of the story. So while the characters may have similar abilities to their manga counterparts and their relationships may be similar, after that, there's nothing in common between the two series. Negima!? has nothing to do with the Negima! anime as far as continuing a story.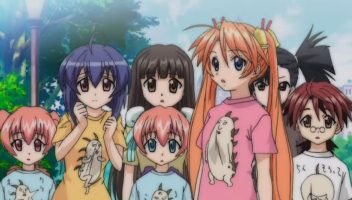 Despite this, FUNimation has decided that Negima!? is "season 2" of Negima! That begs the question, "Why?" That would be like calling Tenchi in Tokyo the second season of Tenchi Universe (which is the first Tenchi TV series, itself a non-canon spawn of the Tenchi Muyo! Ryo-ohki OVA series) when the titles have nothing to do with each other beyond having the same characters.
One possibility is that some people at FUNimation have no clear understanding of what they have and merely assume that it is a second season of Negima! However, that would suggest that whomever is the Negima! brand manager isn't up to speed on their product and that's not a good thing.
A second possibility is that since U.S. fans toss the word "season" around for sequel series (unless the first series is very long like Naruto, in which case said fans have no choice but to use the correct term "series" to describe the sequel), FUNimation figures it will be just easier to use "2nd season" and moves on. Unfortunately, this will only cause confusion from the casual fans who don't read anime blogs, ANN, or BBS's to learn about anime titles.
The third possibility is that FUNimation is deliberately making a marketing choice to attempt to mislead people into thinking that Negima!? just continues the Negima! story. While I've not seen all of Negima!?, I can say that it is a very hit-or-miss series. As such, FUNimation may be concerned that sales won't be as good if people hear Negima!? is an alternate retelling rather than a continuation.
Whatever the reason behind it, I wish FUNimation would just called Negima!? what it is rather than officially market it as a second season of Negima! A second season, it is not. It is its own series.