ANN has a piece citing Moonphase which states that the December issue of Newtype has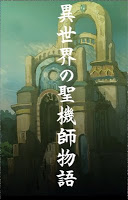 confirmed that the Tenchi spinoff Isekai no Seikishi Monogatari is in fact in production. I kinda thought we had that confirmation back in October, but likely this announcement is to get Newtype some extra sales from the Japanese Tenchi otaku. I won't pick it up because frankly, the last two times I've tried to score a brand new magazine from Japan have failed so I'm not even going to bother. However, if anyone of you guys score a copy, let me know what is therein (and if there's anything image-wise that might be scan-worthy).
Oddly enough, the official website at www.seikishi.com doesn't work for me (it may be still being worked on) though AIC's page does.
Originally posted at
astronerdboy.blogspot.com
. If you are now reading this on another blog, it has been scraped from
AstroNerdBoy's
blog. You are encouraged to shun this pirate blog and come by the real McCoy. ^_^